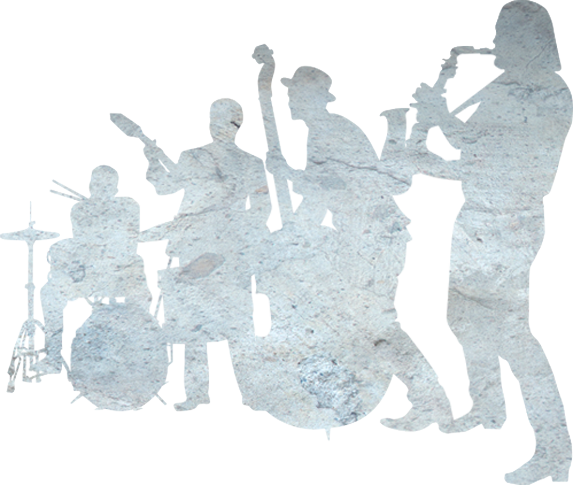 Music City's authentic late night jazz club
Serving classic New Orleans prohibition and pre-prohibition cocktails, local brews, and New Orleans cuisine.
HAPPY HOUR SPECIALS
Mon-Wed 5-7pm, Thurs 5pm-8:30pm
Martini Monday:
1/2 price Martinis, *Salsa night 9-11:30 1/2 price Margaritas, *Service Industry Night - half off select food & drinks
Tuesdays:
Half Price Old Fashioned and Beignets, $2 off all Drafts
Wednesdays Wooten & Wine:
$6 wines / $10 off bottles (Cava, Malbec, Pinot)
Thursdays

(until 8:30pm):
$8 French Quarter inspired cocktails (Sazerac, Lavender Sidecar, French 75) and 1/2 price beignets
Sunday Brunch:
$5 Mimosas and Bloody Mary's & 2pm-5pm $15 cocktail flights
TONIGHT'S SHOWS
Re-Evolution
6:00pm-8:30pm, $10 at the door
Featuring Brian Cornish on saxophone, Regi Wooten on bass, Nioshi Jackson on drums, Adam Charney on guitar, and Marc Payne on piano. Re-Evolution is heavily influenced by traditional and classic jazz cutting edge artists such as John Coltrane, Miles Davis, Wes Montgomery, Bill Evans, McCoy Tyner, Elvin Jones, Thelonious Monk and many more...
Giovanni Rodriguez & 12 Manos
9:00pm-11:30pm, $10 at the door
Giovanni Rodriguez is an exciting multi-instrumentalist and Nashville favorite on the Salsa and jazz scene. An electric night of Salsa dancing! Ernesto Lago Violin (Cuba) - violin/vocals Alex Rivas (Cuba) - piano/vocals Yosvany Cordero (Cuba) - bongos/cowbell Brian Allen (Indiana) - bass Jesus Agreda (Venezuela) - timbales/drums Giovanni Rodriguez (Dominican Republic) - congas/vocals

David Williford
6:00pm-8:30pm, $10 at the door
Woodwind player and composer David Williford was born and raised in Knoxville, TN. Currently residing in Nashville, he works as a performer, composer, and educator. With early musical experiences playing blues, soul, and rock with his father, and studying modern jazz and classical music with artists like Don Aliquo, he has found a diverse and soulful place in the changing music scene. His working band presents original music, free improvisations, and re-imagined standards to Nashville regularly.

Apart from his own projects, David has performed and recorded with a wide variety of artists as a player and arranger. Some highlights include Dynamo, Mike Hicks, The Nashville Jazz Composers Collective, Jeff Coffin, Sory Diabaté, Rick Wilkerson, The Great Barrier Reefs, Charles Butler, Michael Toman, and David Rodgers.
Clinically Speaking / Crazy People Dance Party
9:00pm-11:30pm, $15 at the door
9pm-9:50pm: Cage Free (Kiran Gupta, Val Lupescu and Daniel Cox)
10pm-11:30pm: Clinically Speaking (Brian Allen and Wes Little)
Crazy People Dance Party is the result of two talented instrumentalists who decide to take matters into their own hands. Their debut record, Clinically Speaking, indulges the creative and eccentric style of Nashville's hippest rhythm section—bassist Brian Allen and drummer Wes Little. Celebrated by a performance at Rudy's Jazz Room in Nashville, the record will be released on all streaming services and in physical form on September 24th, 2019.
Showcasing their extensive musical knowledge and technical mastery, the album features eleven original compositions that take the listener on a journey marked by syncopated funk rhythms, playful odd-meter grooves, and lyrical solos.
"While we were on the road with Robben Ford, we started coming up with grooves during sound check. We would record them on our phones and revisit the ideas during writing sessions," mentions Little. "When we got in the studio, Brian would have his bass in hand and I would accompany on keyboards. Then, we'd record drum tracks, overdub guitar parts and percussion, and eventually invite some of our favorite players to join us. This record is a great example of the work that we've done together—we're extremely proud of it."
With the help of guests including Ford, Jeff Coffin, and Guthrie Trapp, among others, the record is full of surprises, quirks, and catchy melodies that may even inspire your grandma to get down and dance. It's undeniably funky undercurrent gives Allen and Little the freedom to stretch as soloists while blending genres and integrating a diverse sonic palette.
"We come from similar backgrounds, ones that are steeped in the tradition of jazz, funk, and R&B, but have worked to become as versatile as possible. In the case of "Gringo Montuno," we stay authentic to the Latin style, even though we primarily make our living off of other music," says Allen.
When they're not working as a unit, their respective touring and recording credits include Stevie Wonder, Sting, Dolly Parton, Jason Isbell, Sturgill Simpson, Jonathan Davis, Warren Haynes, John Scofield, Larry Carlton, Miranda Lambert, Thomas Rhett, and Joe Nichols, among others.
Following the release of Clinically Speaking, Allen and Little plan to embark on a series of clinics and educational programs that focus on musicality, professionalism, and excelling as a rhythm section. "Brian and I understand how to make a rhythm section work on both a personal and musical level, which is quite rare," claims Little. "We look forward to sharing our respective insights in a practical and educational manner."
More information can be found on their website,
clinicallyspeakingmusic.com
.
Additional Websites and Links:
Weslittle.com
,
brianallen.com
Facebook:
facebook.com/weslittle
facebook.com/brianallen
Instagram: @weslittledrums_weslove @brianonbass16

Halfbrass
6:00pm-8:30pm, $10 at the door
Halfbrass is Nashville's own funky brass band! Born under the influence of classic New Orleans tradition, Halfbrass mixes traditional brass band music with funk, jazz and rock. In its first year, Halfbrass was named a "Top 5 Local Band" by The Nashville Rage.
Halfbrass' core members are Kevin Rimmer (trumpet), Chris West (saxophone), Oscar Utterstrom (trombone), Neil Konouchi (tuba), and Justin Amaral (drums).

Since their debut in 2002, Halfbrass has continued to deliver their sound to audiences across the country. The band is a hit at events such as weddings, parties, corporate functions, and even backyard crawfish boils. They have performed for groups including The Food Network, The Nashville Roller Girls, Tomato Art Fest, ASCAP, Berklee College of Music, and Vanderbilt University.

Halfbrass has recorded and played with national & local artists including Big Bad Voodoo Daddy, Charlie Peacock, Bekka Bramlett, Old Union, and many others.

When you're ready to party, Halfbrass is there. "Laissez les bon temps rouler!"


Regi Wooten & Friends
9:00pm-11:30pm, $12 at the door
Every Wednesday, Regi Wooten assembles a cast of Nashville's best as they dig deep into the roots of funk, jazz, blues, rock, and soul. You never know who might jump on stage! Don't miss a beat!

Hot Club Gypsy Jazz Thursdays; Rudy's French Connection
6:00pm-8:30pm, $10 at the door
Hot Club Gypsy Jazz Thursdays; Rudy's French Connection

Every Thursday we honor our New Orleans and French roots and Rudy's comes alive with a variety of small groups in the Django style of gypsy jazz swing. There's no better place to chill, cozy up and relax after work. Enjoy $8 French Quarter inspired cocktails (Sazerac, Lavender Sidecar, French 75), have a glass of Côtes du Rhône, and enjoy some gumbo or beignets while listening to the rhythm and mood of hot club jazz in Nashville's most intimate and romantic room.
Elias/Enslow 5tet
9:00pm-12:00am, $10 at the door
Elias/Enslow 5tet consists of Nikki Elias, Tyler Enslow, Marc Widenhofer, Jeff Goodkind and Don Aliquo. The groups influences consist of Joe Henderson, Chick Corea, Sarah Vaughan, Bill Evans Trio and more. This new and exciting group forged of some of Nashville's top local jazz cats cultivates and creates a rare musical experience.

Cliff Richmond & The CliffNotes
5:30pm-7:30pm, $8 at the door
Cliff Richmond & the CliffNotes serve up a unique blend of soulful, swinging & funky jazz, They incorporate a wide range of styles from mainstream jazz, to rhythm & blues, Latin to reggae. Founded by Cliff (guitar & vocals) the CliffNotes always features some of Nashville's most accomplished and versatile musicians and vocalists.

Gregory Tardy w/ Mark Boling, Roger Spencer & Griffen Photoglou
8:00pm-11:00pm, $20 at the door
"Truly an awesome leader-performer and you'll revel in his inventiveness and finesse." -Jazz & Blues Report Saxophonist, multi-reedist, and composer Gregory Tardy is one of the most versatile jazz musicians of his generation, equally comfortable in a variety of musical and improvisational situations. Born into a musical family, he began his musical career studying classical clarinet. In his early 20s, while preparing for a symphony career he discovered jazz saxophone and hasn't looked back. In 1992, he started playing with the legendary drummer, Elvin Jones, and he recorded his first CD, Crazy Love. As a sought after sideman he has played with many prominent jazz artists including: Andrew Hill, Tom Harrell, Dave Douglas, Wynton Marsalis, Jay McShann, Nicholas Payton, Roy Hargrove, Steve Coleman, Betty Carter, Don Byron, Bill Frisell, Rashied Ali , Ellis Marsalis, Brian Lynch, John Patitucci, and many more. He has also performed and/or recorded along with many other notable saxophonists, such as Joe Lovano, Mark Turner, Chris Potter, Dewey Redman, Ravi Coltrane, and others. In more recent years, Tardy has gone full circle, by focusing on his clarinets more, using them on recordings by Tom Harrell, Ohad Talmor/Steve Swallow, Stefan Harris, Chris Potter and Andrew Hill. His performance schedule has taken him all over the world, playing at all of the major jazz festivals and on some of the biggest stages in jazz. As a sideman, he has been featured on several Downbeat Albums of the Year and also several Grammy nominated recordings; including a Grammy winning CD with Brian Lynch in 2006. He also has recorded fourteen CDs under his own name featuring his unique compositions, blending his love of traditional jazz with a more modern seeking style. His latest release "Chasing After The Wind" was released in the fall of 2016.
Geoff Pfeifer
11:30pm-2:00am, $10 at the door
The Geoff Pfeifer Quartet, gritty, edgy, the real deal NYC style jazz. Saxophonist Geoff Pfeifer brings some of Nashville's top jazz cats out, and you'll be sure to feel the energy. Playing a mix of original material and Wayne Shorter tunes, Pfeifer leads the group.

Geoff Pfeifer, a Nashville based musician and composer, has been living and performing in Nashville since 2005. Geoff studied saxophone with Ted Nash and Ralph Lalama and composition with Mike Holober and Jim McNeely. He is a saxophonist and arranger with the R&B band Chubby and The Dots and plays the 2nd Tenor Saxophone chair in The Establishment Big Band.

Saturday Showcase w/ the Matt Endahl Trio feat. Nick Arbogast and Justin King
12:00pm-3:00pm, no cover
Saturday Showcases feature local bands comprised of some of Nashville's finest educators, with special guests sitting in each week. Shows are free and all ages are welcome! Join us for lunch and drinks!

Matt Endahl is one of Nashville's most in-demand jazz pianists, composers and educators, performing in groups led by Jeff Coffin, Chester Thompson, Imer Santiago, Duffy Jackson, Christina Watson, Marcus Finnie, and many others. He also plays regularly with the Dara Tucker Band, Joshua Carswell, the Tyler Mire Big Band, Rahsaan Barber's Everyday Magic, and the Jason Eskridge Band. Matt has also shared the stage with legendary figures like Arthur Blythe, Jimmy Heath, Henry Grimes, David Liebman, Steve Coleman, Jane Ira Bloom and the late Marcus Belgrave.
Maurice Frank
5:30pm-7:30pm, $10 at the door
Whether accompanied by a quartet, a big band, or performing with a B-3 organ trio, one thing is absolutely certain – Maurice Frank takes center stage. His silky, texture laden voice is always swinging with intuitive and soulful phrasing and deeply personal interpretations of a wide range of Great American Songbook standards, Latin and contemporary Jazz, and Blues melodies. His current album release "Mad Romance and Love" has received enthusiastic acclaim. (The inviting, beautifully intuitive vocal interpreter extraordinaire Maurice Frank is a classic example of a brilliant, engaging artist who is touching countless Jazz fans! - Johnathan Widran, JW Vibe). Maurice, or "Moe" as his friends call him is a native New Yorker now living in south Florida and regularly performs in some of NY cities top Jazz clubs, and a variety FL venues from intimate restaurant and club settings and private events, to open-air concerts and festivals. Along the way, Moe has developed a devoted following and has established himself as a truly unique vocalist in the tradition of some of the genre's greatest singers.
The 3D Jazz Trio
8:00pm-11:00pm, $15 at the door
Fiercely swinging on purpose, with purpose this powerhouse trio plays original, traditional and contemporary standards from all genres of music. Their unique style and innovative arrangements are always super-charged by their boundless musical joy.

Sherrie, Amy, and Jackie met in May of 2014 at the Cleveland Playhouse while playing in The DIVA Jazz Orchestra as part of Maurice Hines' award-winning show Tappin' Thru Life. From their first shared downbeat, they became kindred-swinging spirits and the resulting musical synergy was fast and fierce...or as the New York Times said…"Blistering Hot!"

Since its inception the trio has played at many of the country's most prestigious venues including:
Dizzy's Club Coca-Cola (NYC,) Mezzrow (NYC,) New World Stages (NYC,) Lincoln Center Out-of-Doors (NYC,) National Sculpture Gardens (D.C.,) Washington Women in Jazz Festival (D.C.,) the Cleveland Playhouse (Clvd, Oh) Tri-C Jazz Festival (Clvd, Oh,) Blu Jazz (Akron, Oh) The Bop-Stop (Clvd, Oh) Nighttown (Clvd, Oh.,)The Delaware Theater Company (Wilmington, DE,) True Blue Jazz Festival (Rehoboth Beach, DE.,) World Café Live (Phila, PA) Maple City Jazz Festival (Honesdale, PA,) The Deer Head Inn (DWG, PA,) COTA Jazz Festival (DWG, PA,) South (Phila, PA) and The Penn's Landing Playhouse (Phila. PA.) They were featured on The Kate TV's "live" music series with Maurice Hines (PBS) and twice on WVIA radio's Homegrown Music Series.

Jackie, Amy and Sherrie are also dedicated and enthusiastic educators. In 2019 the group received a rousing standing ovation as they headlined the opening performance at Jazz Educator's Network Conference in Reno, NV. They were recently guest soloists with the Binghamton University Jazz ensemble (NY); and they've presented workshops and clinics at numerous high schools, colleges and universities throughout the country. This summer they will serve as artists-in-residence at Maryland Summer Jazz in Rockville, MD.

The 3D Jazz Trio's most prestigious honor to date was being invited to perform at legendary music icon Nancy Wilson's 80th Birthday Party. It was held on February 20, 2017 at the Taglyan Complex in Los Angeles California. We performed at the request of Ms. Wilson herself.

Jackie Warren: Cleveland Jazz Legend Award Winner. Sought After Guest Soloist. Revered Educator at Tri-C College.

Amy Shook: Critically Acclaimed Jazz Bassist. Artist-in-Residence – Clinician at Capital Jazz Project. Multi-instrumentalist and composer.

Sherrie Maricle: Kennedy Center - Mary Lou Williams Lifetime Achievement Award Winner. Ovation Award for Best Music Direction. Two-time New York University Music Department Teacher of the Year.
Nikki Elias and the Cosmic Collective
11:30pm-2:00am, $10 at the door
The Cosmic Collective covers multiple styles of music; from Jazz and Bossa nova to Pop, R&B, Funk, and Motown. The group boasts a range of accomplishments, including house dance band at The Grand Hotel in Mackinac Island, MI and a feature on Greg Pogue's Jazz Station on ACME Radio.

The band consists of formally trained musicians active in the Nashville area, vocalist Nikki Elias, bassist Tyler Enslow, Drummer Jed Smith, Keyboardist Jeff Goodkind, and saxophonist DeVante' Buford.

Their new electric jazz album, Abstract Notions, sports a feature from Jeff Coffin of Béla Fleck & The Flecktones and David Matthews Band, and is currently available on iTunes, Spotify, Amazon, and CD Baby.

Jazz Brunch with Crystal Miller
11:00am-2:00pm, $20 at the door
All you can eat buffet and live jazz with Crystal Miller.

Crystal Miller will move you with the music that moves her. That's why, when you hear Crystal, you hear the combination of ALL of her musical experiences. When asked which genre of music she prefers, she'll tell you, "That's like asking a woman to choose one favorite pair of shoes--It's VIRTUALLY IMPOSSIBLE!!--different genres speak to me for different reasons"--like the memories of the R&B, Pop and Rock of her youth, to the stories and harmonies of Country and Bluegrass that she has sung with bands like Diane King and Littlestone, to the impassioned lyrics and sensual, soul-affirming rhythms of the Latin music that she now sings with the Marcela Pinilla Band. Combining those beats and rhythms with the jazz sensibilities learned during her time as a student at the Nashville Jazz Workshop, as well as singing with her Jazz fathers, the EZ Jazz Quartet, is Crystal's current passion. Music lovers will surely enjoy their favorites and be introduced to new faves, when Crystal Miller and her band perform.

Photo credit Todd Schanbaum
Cocktail Occasion w/ Regi Wooten & Brian Cornish
2:30pm-5:00pm, no cover
Enjoy Sunday afternoon cocktail flights from 2pm-5pm. This Sunday we have the musical virtuoso duo of Regi Wooten, "The Teacha", "Mr. Meditation" Brian Cornish, and special guests. Every Sunday from 2pm-5pm Rudy's offers an array of it's incredible cocktail flights.
The Duffy Jackson Show
6:00pm-8:30pm, $15 at the door
A true legendary jazz drummer, Jackson is the son of Chubby Jackson, and played drums as a young child making appearances with Count Basie, Duke Ellington, Woody Herman, and Buddy Rich before he finished high school. In 1971 he relocated to Los Angeles, where he played with Monty Alexander, Ray Brown, Herb Ellis, Lena Horne, Milt Jackson, and Barney Kessel. Following a tour of Japan with Benny Carter, he appeared on television for two years with Sammy Davis, Jr. (1974-1976). Later in the 1970s he played with Grover Mitchell and did a tour of Europe with the Count Basie Orchestra.

In the 1980s Jackson worked with Lionel Hampton, Al Jarreau, James Moody, and Sonny Stitt, and in 1985 re-joined the Basie orchestra while Thad Jones was its leader. Following this he worked with Illinois Jacquet and Artie Shaw, then re-joined the Basie Orchestra under Frank Foster. In the 1990s, he relocated to Fort Lauderdale, where he played with Harry Allen, Billy Ross, and the Manhattan Transfer.
Jazz Jam
9:00pm-12:00am, $10 at the door
Rudy's hosts the official pro jazz jam. Come out and experience some of music city's best as they take the stage with Nashville's next generation of jazz performers!

We welcome all ages to this show.

Nashville Composer Collective
6:00pm-8:30pm, $10 at the door
Nashville Composer Collective returns to Rudy's Jazz Room to showcase their 13 most gifted jazz writers. The compositions are sure to span a wide range of moods and flavors. There will be several pieces for a standard rhythm section and horns, but more unexpected ensembles are in store for the evening as well. Come experience the eclectic flavors Nashville has to offer!
Giovanni Rodriguez & 12 Manos
9:00pm-11:30pm, $10 at the door
Giovanni Rodriguez is an exciting multi-instrumentalist and Nashville favorite on the Salsa and jazz scene. An electric night of Salsa dancing! Ernesto Lago Violin (Cuba) - violin/vocals Alex Rivas (Cuba) - piano/vocals Yosvany Cordero (Cuba) - bongos/cowbell Brian Allen (Indiana) - bass Jesus Agreda (Venezuela) - timbales/drums Giovanni Rodriguez (Dominican Republic) - congas/vocals