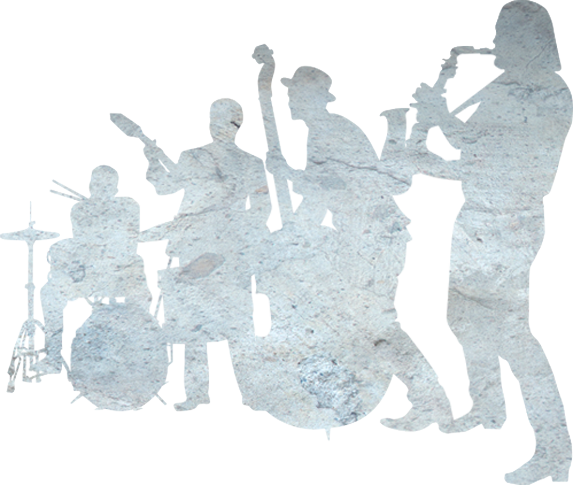 Music City's authentic late night jazz club
Serving classic New Orleans prohibition and pre-prohibition cocktails, local brews, and New Orleans cuisine.

HAPPY HOUR SPECIALS
Mon-Wed 5-7pm, Thurs 5pm-8:30pm
Martini Monday:
1/2 price Martinis, *Salsa night 9-11:30 1/2 price Margaritas, *Service Industry Night - half off select food & drinks
Tuesdays:
Half Price Old Fashioned and Beignets, $2 off all Drafts
Wednesdays Wooten & Wine:
$6 wines / $10 off bottles (Cava, Malbec, Pinot)
Thursdays

(until 8:30pm):
$8 French Quarter inspired cocktails (Sazerac, Lavender Sidecar, French 75) and 1/2 price beignets
Sunday Brunch:
$5 Mimosas and Bloody Mary's & 2pm-5pm $15 cocktail flights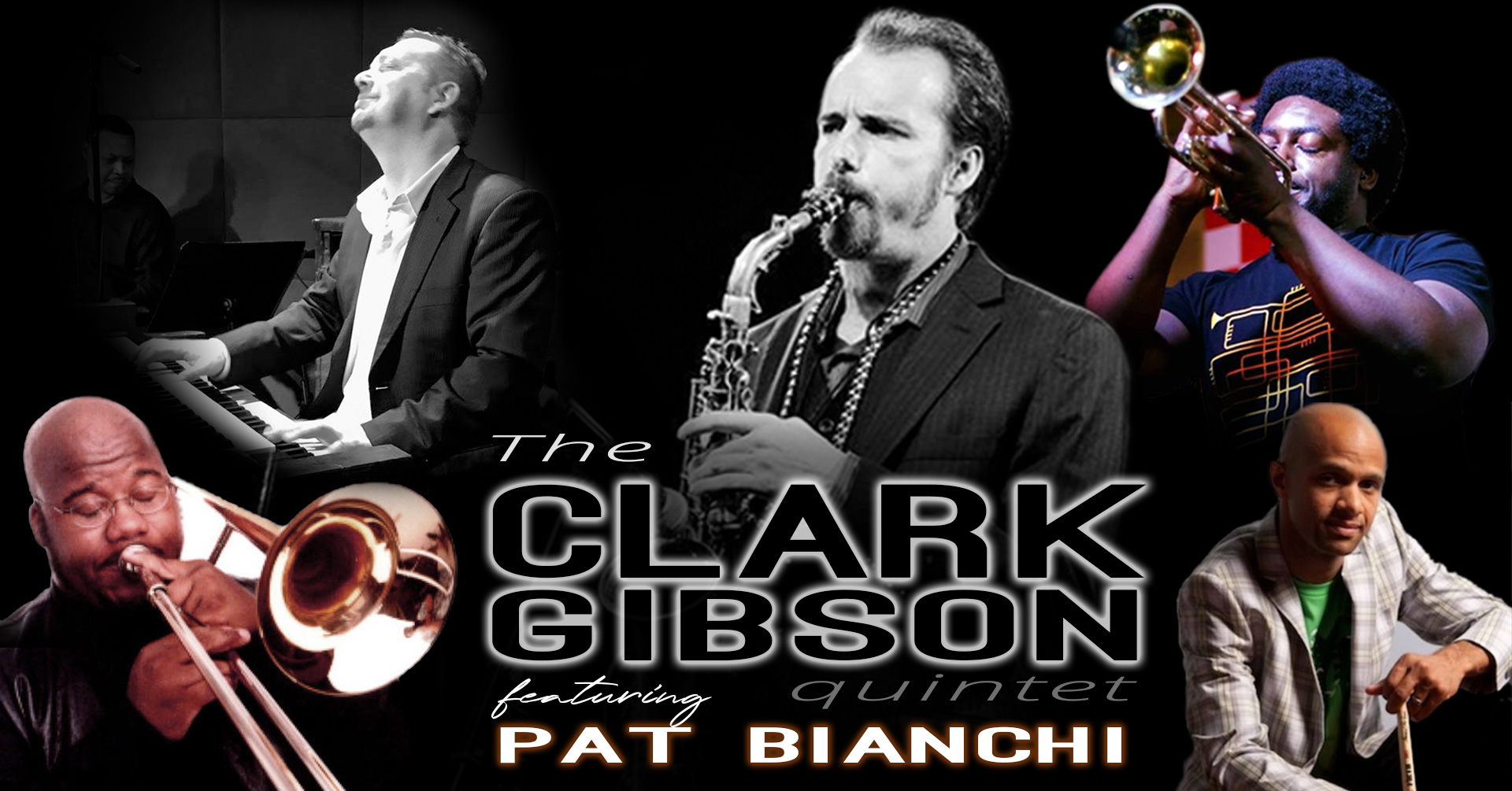 The Clark Gibson Quintet featuring Pat Bianchi
Clark Gibson's powerhouse quintet featuring two-time grammy nominated organist and winner of Downbeat Magazine's 2016 rising star poll Pat Bianchi, plays Rudy's Jazz Room August 30th. The quintet, comprised of Nashville's elite jazz masters, includes Marcus Finnie (drums), Emmanuel Echem (trumpet), and Roland Barber (trombone).
TONIGHT'S SHOWS
Re-Evolution
6:00pm-8:30pm, $10 at the door
Featuring Brian Cornish on saxophone, Regi Wooten on bass, Nioshi Jackson on drums, Adam Charney on guitar, and Marc Payne on piano. Re-Evolution is heavily influenced by traditional and classic jazz cutting edge artists such as John Coltrane, Miles Davis, Wes Montgomery, Bill Evans, McCoy Tyner, Elvin Jones, Thelonious Monk and many more...
Giovanni Rodriguez & 12 Manos
9:00pm-11:30pm, $10 at the door
Giovanni Rodriguez is an exciting multi-instrumentalist and Nashville favorite on the Salsa and jazz scene. An electric night of Salsa dancing! Ernesto Lago Violin (Cuba) - violin/vocals Alex Rivas (Cuba) - piano/vocals Yosvany Cordero (Cuba) - bongos/cowbell Brian Allen (Indiana) - bass Jesus Agreda (Venezuela) - timbales/drums Giovanni Rodriguez (Dominican Republic) - congas/vocals

Chris Autry Presents: The Six Dudes Sextet
6:00pm-8:30pm, $10 at the door
The Six Dude Sextet consist of Roy Agee, Doug Moffet, Andy Reiss, Chris Autry, Duffy Jackson, and the one and only George Tidwell.

George Tidwell's extensive and impressive legacy as a trumpet-flugelhorn master in Music City extends back to the mid-'60s, and is particularly magnificent in terms of idiomatic versatility and collaborative excellence. Tidwell's been on a host of great recordings, and the musicians he's played with range from Louis Armstrong and Elvis Presley to Johnny Cash, Paul McCartney, and Bob Wills and the Texas Playboys.

The "Dudes" playing with George have impressive resumes themselves. Each have played on countless recordings and behind many legendary artist of all styles of music. From Count Basie to Prince to Faith Hill, they've done it all.
Soul Renegade
9:00pm-11:30pm, $10 at the door
Showcasing their own arrangements on everything from jazz standards to classic hits from R&B and soul, Soul Serenade swings hard but plays nice. Memphis' own Derrick Williams' silky smooth voice (and saxes) fronts this band conjuring up vocal stylings of Nat King Cole and Ray Charles, among others. The rhythm section is rounded out by 7 string guitarist John Gallo from Detroit, Nashville native Andrew Piarrot on acoustic bass, and drummer Brian Czach from New York City.

Les Sabler w/ Fred Johnson
6:00pm-8:30pm, $15 at the door
The Montreal native and established recording artist made his home in Nashville five years ago and is is returning for another performance at Rudy's Jazz Room.

Acclaimed Jazz Vocalist Fred Johnson has toured internationally has opened for or recorded and toured worldwide with jazz and R& B legends Ramsey Lewis, Chick Corea, Sonny Rollins, Christian McBride, Richard Elliot, George Benson, Boney James, Joe Zawinul, Ottmar Liebert, David Sanborn, B. B. King, Patti LaBelle, Herbie Mann, Dizzy Gillespie, Nat Adderley and Miles Davis. Les' seventh CD Jobim Tribute has been well received by critics and radio. Reaching #1 on Amazon Brazilian Jazz and Latin Jazz best sellers and #36 Latin Music one week after its release. "Like the artists that influenced me most I set out to blend a variety of styles while balancing art and technique." said Sabler. His catalogue reflects this outlook and direction and his performances demonstrate an eclectic mix of passion and energy.

"Sabler's playing is dynamic like John Scofield's, melodic like George Benson's and compelling like Jeff Beck's. But Sabler's sound is not just a conglomeration of his influences, his playing is clearly and refreshingly his own." • Phil Matlock / MAC

"Les Sabler has created an irresistible recording that crosses the boundaries between genres. Antonio Carlos Jobim would be pleased." • Scott Yanow / Jazz Times, Jazziz, Downbeat

"Les Sabler delivers a winner on Jobim Tribute as he salutes and remembers a man and his music with a measure of taste and a touch of class, on one of the most compelling and engaging tribute albums to a legend." Edward Blanco / AllAboutJazz.com

"Les sounds great playing and singing these gems. While the source of this music is Brazilian, he's made them more Latin in feel, which is refreshing. I like his voice in the baritone range – and extra kudos for singing (at times) in Portuguese!" • Robert Lamm / Chicago

"a shimmering guitar style that is sleek, chic and sexy." • Steve Persall / Players Magazine

"Les' jazz guitar work is incredible." • Troy Vanliere / CCM

"You really make my Electric Nylon guitar SING!" • Roger Sadowsky, Sadowsky Guitars

"Long recognized as possessing the magic formula for top notch contemporary jazz, Les Sabler has come roaring back with his brand new single 'In The Light'. It is the kind of easy grooving number that succinctly demonstrates exactly what Sabler is all about." • Dennis Poole

"The place, where virtuosity meets emotion." • Hans-Bernd Hulsman / www.smooth-jazz.de
Regi Wooten & Friends
9:00pm-11:30pm, $12 at the door
Every Wednesday, Regi Wooten assembles a cast of Nashville's best as they dig deep into the roots of funk, jazz, blues, rock, and soul. You never know who might jump on stage! Don't miss a beat!

Hot Club Gypsy Jazz Thursdays; Rudy's French Connection
6:00pm-8:30pm, $10 at the door
Hot Club Gypsy Jazz Thursdays; Rudy's French Connection

Every Thursday we honor our New Orleans and French roots and Rudy's comes alive with a variety of small groups in the Django style of gypsy jazz swing. There's no better place to chill, cozy up and relax after work. Enjoy $8 French Quarter inspired cocktails (Sazerac, Lavender Sidecar, French 75), have a glass of Côtes du Rhône, and enjoy some gumbo or beignets while listening to the rhythm and mood of hot club jazz in Nashville's most intimate and romantic room.
Diane Marino
9:00pm-12:00am, $10 at the door
When you combine an accomplished vocalist, pianist, and arranger all in one individual, you have the dynamic Diane Marino. Diane was born in Manhattan, NYC. She started her early piano training of classical studies and jazz improvisation from the age of 10. Diane graduated from NYC'S 'Famed' High School for the Performing Arts and later received her B.M. degree from Mannes College of Music in Manhattan as a piano performance major where she studied piano with world-renowned concert pianist Murray Perahia. In her over 25 year career, Diane has performed Great American Song Book, traditional jazz, Latin and Brazilian jazz to captivated audiences in jazz venues, performing arts centers and festivals such as Birdland - NYC, Blues Alley - D.C., Vitello's Jazz Club - L.A., Arts Garage-Del Ray Beach, Twins Jazz-D.C., Nighttown-Cleveland, Heidi's Jazz Club-Cocoa Beach, Trumpets Jazz Club -NJ, Germantown Performing Arts Center, The Metropolitan Room-NYC, Bethesda Blues & Jazz - D.C, Montreux Atlanta Festival, Town Point Jazz Festival, Music City Jazz & Heritage Festival, to name a few.

Diane Marino (Piano/Vocals)
NYC native & M&M Records Recording Artist Diane Marino has recorded, performed, and shared the stage with jazz legends Houston Person, Ralph Lalama, Joe Henderson, Ricky Woodard, Clayton Cameron, Wycliffe Gordon, Kirk Whalum, and more. She has recorded six CD's- all of which have received widespread airplay and critical acclaim.
Diane has performed Great American Song Book, traditional jazz, Latin and Brazilian jazz to captivated audiences at festivals, performing arts centers and national jazz venues.

Don Aliquo (Sax/Flute)
Saxophonist Don Aliquo has been described as a player "with an articulate flow of always surprising ideas, sophisticated with a dexterous technique and an incredibly smooth tenor sound that seduces rather than shouts." Although his early influences are saxophonists John Coltrane, Stanley Turrentine and Dexter Gordon, his recent playing also displays the influences of Lester Young, Stan Getz and Joe Henderson as well.Don is currently Professor of Saxophone and Jazz Studies at Middle Tennessee State University where he also served as the Director of Jazz Studies from 2002-2012.

Frank Marino (Bass)
An accomplished bassist of vast diversity and a NY native, Frank Marino has performed /recorded with Houston Person, Wycliffe Gordon, Clayton Cameron, Harry Allen, Ralph Lalama, just to name a few. As founder of M&M Records and The Piano Den Recording Studio, he has produced, recorded and played on all Jazz pianist/vocalist Diane Marino's CD's.

Neil Tufano (Drums)
Drummer Neil Tufano started playing professionally at age 16 and by age 21 he was touring with famed Jazz Piano Giant Monty Alexander. Spending most of his drumming career in New York freelancing with a multitude of artists, he carved out a successful career, covering a variety of musical genres. In 2004 he moved to Nashville TN, as Neil puts it "to try something new ". Being well versed in all styles, he was a perfect fit for the demands of sessions and the Nashville music scene. You can find Neil today at his state of the art recording studio where he writes music, teaches and produces other artists

Anna Arata
5:30pm-7:30pm, $10 at the door
The Anna Arata Vintet is a swing band devoted to bringing audiences tunes from & inspired by the 30's & 40's. Line up: Keys: Will Padgett Drums: Johnny Richeson Bass: Carter Murphey
Dave Potter
8:00pm-11:00pm, $15 at the door
Dave Potter is quickly becoming known as a formidable musician. A native of North Carolina, Dave began performing with many of his elders in the RDU area at the age of 16. After relocating to Tallahassee to attend Florida State University, Dave quickly sought out Marcus Roberts as a musical mentor, an important relationship that endures today. In addition to his role as the long time drummer of the Jason Marsalis Vibes Quartet, Dave has performed with Roberts, Ellis Marsalis, Marcus Printup, Russell Gunn, Takana Miyamoto, Greg Tardy, and many others. Dave recently released his first album as a bandleader on Summit Records which features Roberts, Marsalis, and bassist Rodney Jordan among other contributors . Now located in Atlanta, Dave maintains a busy teaching and performing schedule while continuing to tour the globe as a member of The Jason Marsalis Vibes Quartet.
Geoff Pfeifer
11:30pm-2:00am, $10 at the door
The Geoff Pfeifer Quartet, gritty, edgy, the real deal NYC style jazz. Saxophonist Geoff Pfeifer brings some of Nashville's top jazz cats out, and you'll be sure to feel the energy. Playing a mix of original material and Wayne Shorter tunes, Pfeifer leads the group.

Geoff Pfeifer, a Nashville based musician and composer, has been living and performing in Nashville since 2005. Geoff studied saxophone with Ted Nash and Ralph Lalama and composition with Mike Holober and Jim McNeely. He is a saxophonist and arranger with the R&B band Chubby and The Dots and plays the 2nd Tenor Saxophone chair in The Establishment Big Band.

Alayna Renae
12:00pm-3:00pm, no cover
Nashville based vocalist Alayna Renae's contemporary sound reflects the ever-changing fusion of Jazz and Neo-Soul. Alayna creates an atmosphere to transcend you from any situation. Inspired by singers like Ella Fitzgerald and Erykah Badu, she sings from her soul. Whether you hear familiar standards or original compositions, her music portrays where she is in her life journey. She's backed by some of Nashville's most up-and-coming instrumentalists who are sure to inspire you. Alayna is currently working on her first album entitled "Surprising Imagery" to be released early 2019.
Jody Nardone Trio
5:30pm-7:30pm, $10 at the door
"Thanks to a dynamic style that can shift from the whispered beauty of Bill Evans to the percussive flights of McCoy Tyner, Nardone has emerged as one of Nashville's preeminent jazz pianists. His reputation is also blowing up nationwide, where he is receiving raves in Downbeat and Jazziz for his role in the Crimson Jazz Trio, a Nashville-to-L.A. combo led by former King Crimson drummer Ian Wallace and former Vital Information bassist Tim Landers."

-Michael McCall, Nashville Scene
Stephanie Adlington
8:00pm-11:00pm, $15 at the door
Stephanie Adlington, otherwise known as, "The Siren Of The South", is a working singer, songwriter, actor, and vocal coach. Born and raised in Grafton, WV, Miss Stephanie is a graduate of the prestigious Royal Academy of Music in London, England, and also attended the Eastman School of Music in Rochester, NY, and (pre-college) Carnegie Melon University in Pittsburgh, PA. While in London, Stephanie recorded with the folk-rock band Renaissance, which produced three critically acclaimed international albums. Known for her unique vocal styling, an evening with Miss Stephanie carries her audience back to the prohibition era - a scandalous rendezvous in a wicked speakeasy, where swagger goes and bourbon flows. Her show titled, "The Jazz, Pearls, and Bourbon Review" is a throwback to the glorious days of old school jazz: think top-shelf juke joint meets Southern hospitality. Drink in an infusion of bourbon, Johnny Mercer, Billie Holiday, Patsy Cline, and Fats Waller and you just sidled up to the bar next to, "The Siren Of The South".
Oracle Blue
11:30pm-2:00am, $10 at the door
Oracle Blue is enticingly unequivocal when it comes to genre-branding, marrying musical nostalgia with newfangled soundscapes. Under the banners of Swank-Pop and Alt-Jazz they craft for themselves a realm entirely their own with strong female vocals garnished by multi-instrumentalists in the rhythm and horn sections.

The band's resume includes performances at Montreux, Vienne and Umbria Jazz Festivals, a DownBeat Student Music Award for Outstanding Performance in the Blues/Pop/Rock category, and the honor of being selected through competition by five-time GRAMMY Award winner Lalah Hathaway to open for two performances on her 2018 'Honestly' tour. Their debut album, Gilded Kingdoms, is comprised primarily of original works, and also includes reimaginings of jazz standards "Don't Explain" (Billie Holiday) and "On Green Dolphin Street" (Bronisalw Kaper). Gilded Kingdoms is available on iTunes, Spotify, Amazon, and at OracleBlueBand.com.

Jazz Brunch with The Tyler Bullock Group
11:00am-2:00pm, $20 at the door
All you can eat buffet and live jazz with the Tyler Bullock Group

Tyler Bullock is a 16 year old up-and-coming jazz pianist raised in Nashville, Tennessee. He holds the first chair in piano at the Tennessee All State Jazz Band and was recently selected to perform with the Berklee Global Jazz Institute at the Newport Jazz Festival this summer. Tyler incorporates the improvisational styles of Kenny Barron and Herbie Hancock into his playing, and he has studied with local pianists such as Jody Nardone, Lori Mechem, and Bruce Dudley. He will be performing with Griffin Photoglou on drums and Jack Aylor on bass.
Cocktail Occasion with Regi Wooten & Brian Cornish
2:00pm-5:00pm, no cover
Enjoy Sunday afternoon flights with the musical virtuoso duo of Regi Wooten, "The Teacha", "Mr. Meditation" Brian Cornish, and special guests. Every Sunday from 2pm-5pm Rudy's offers an array of it's increadible cocktail flights.
The Duffy Jackson Swing Band
6:00pm-8:30pm, $15 at the door
A true legendary jazz swing drummer, Jackson is the son of Chubby Jackson, and played drums as a young child making appearances with Count Basie, Duke Ellington, Woody Herman, and Buddy Rich before he finished high school. In 1971 he relocated to Los Angeles, where he played with Monty Alexander, Ray Brown, Herb Ellis, Lena Horne, Milt Jackson, and Barney Kessel. Following a tour of Japan with Benny Carter, he appeared on television for two years with Sammy Davis, Jr. (1974-1976). Later in the 1970s he played with Grover Mitchell and did a tour of Europe with the Count Basie Orchestra.

In the 1980s Jackson worked with Lionel Hampton, Al Jarreau, James Moody, and Sonny Stitt, and in 1985 re-joined the Basie orchestra while Thad Jones was its leader. Following this he worked with Illinois Jacquet and Artie Shaw, then re-joined the Basie Orchestra under Frank Foster. In the 1990s, he relocated to Fort Lauderdale, where he played with Harry Allen, Billy Ross, and the Manhattan Transfer.
Jazz Jam
9:00pm-12:00am, $10 at the door
Rudy's hosts the official pro jazz jam. Come out and experience some of music city's best as they take the stage with Nashville's next generation of jazz performers!

We welcome all ages to this show.

Re-Evolution
6:00pm-8:30pm, $10 at the door
Featuring Brian Cornish on saxophone, Regi Wooten on bass, Nioshi Jackson on drums, Adam Charney on guitar, and Marc Payne on piano. Re-Evolution is heavily influenced by traditional and classic jazz cutting edge artists such as John Coltrane, Miles Davis, Wes Montgomery, Bill Evans, McCoy Tyner, Elvin Jones, Thelonious Monk and many more...
Giovanni Rodriguez & 12 Manos
9:00pm-11:30pm, $10 at the door
Giovanni Rodriguez is an exciting multi-instrumentalist and Nashville favorite on the Salsa and jazz scene. An electric night of Salsa dancing! Ernesto Lago Violin (Cuba) - violin/vocals Alex Rivas (Cuba) - piano/vocals Yosvany Cordero (Cuba) - bongos/cowbell Brian Allen (Indiana) - bass Jesus Agreda (Venezuela) - timbales/drums Giovanni Rodriguez (Dominican Republic) - congas/vocals