Music City's Authentic Jazz Club
HAPPY HOUR SPECIALS
Mondays:
5-7pm $6 Wells ~ 9pm-close $7 Cuba Libres
Wednesdays:
5-7pm $6 Wells, $4 Yazoo Drafts
Thursdays:
5-7pm $8 Sazeracs, French 75, Daquiris
Sunday:
5pm-12am $8 Wines (Cab, Malbec, Pinot Grigio), $1 off all drafts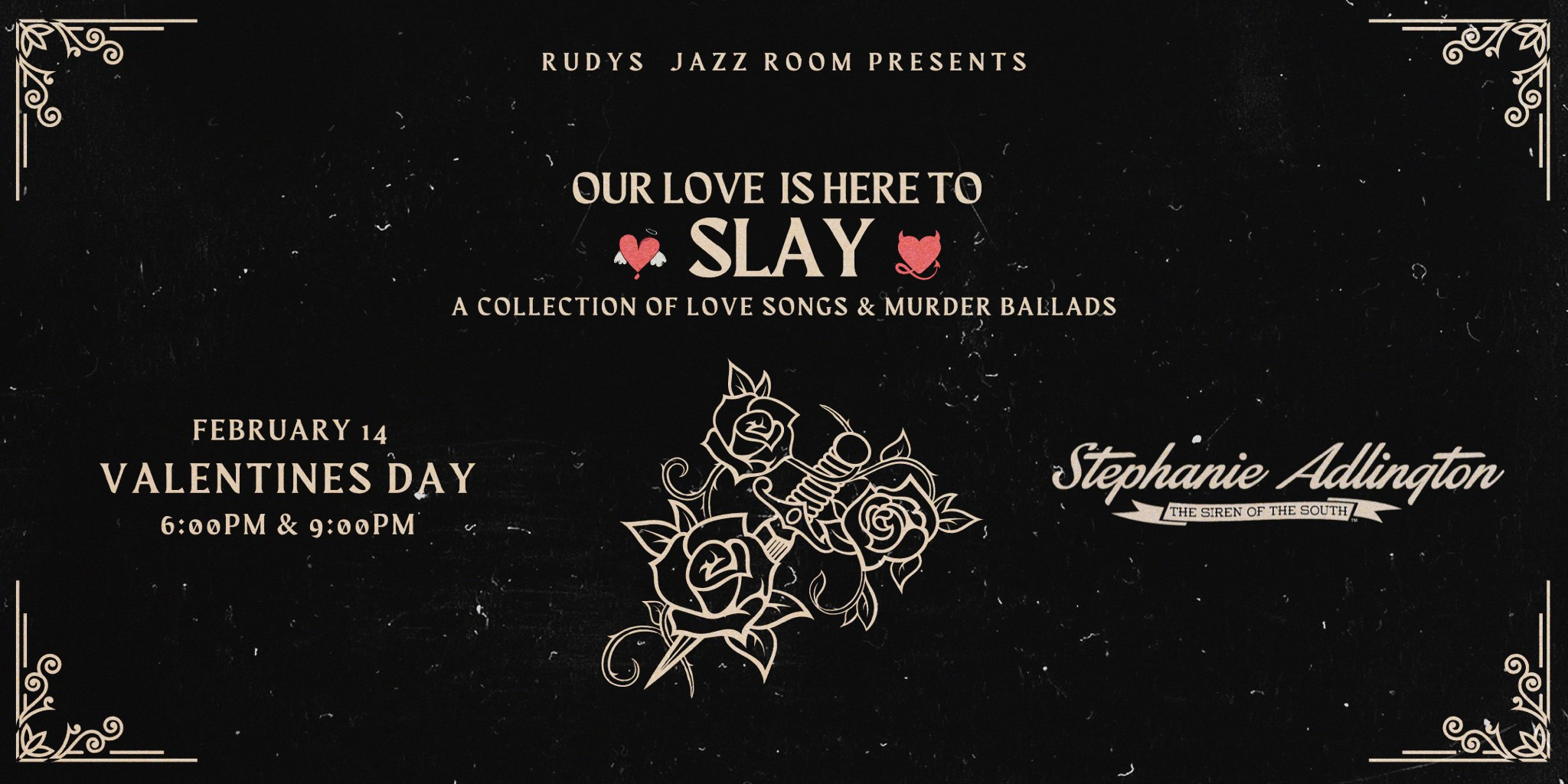 Stephanie Adlington Presents: Valentine's Day "Our Love is Here to SLAY"
Celebrate both sides of LOVE on Valentine's Day! Whether a Valentine or an Anti-Valentine, enjoy sultry ballads of love and murder while enjoying libations and savory treats!
Purchase tickets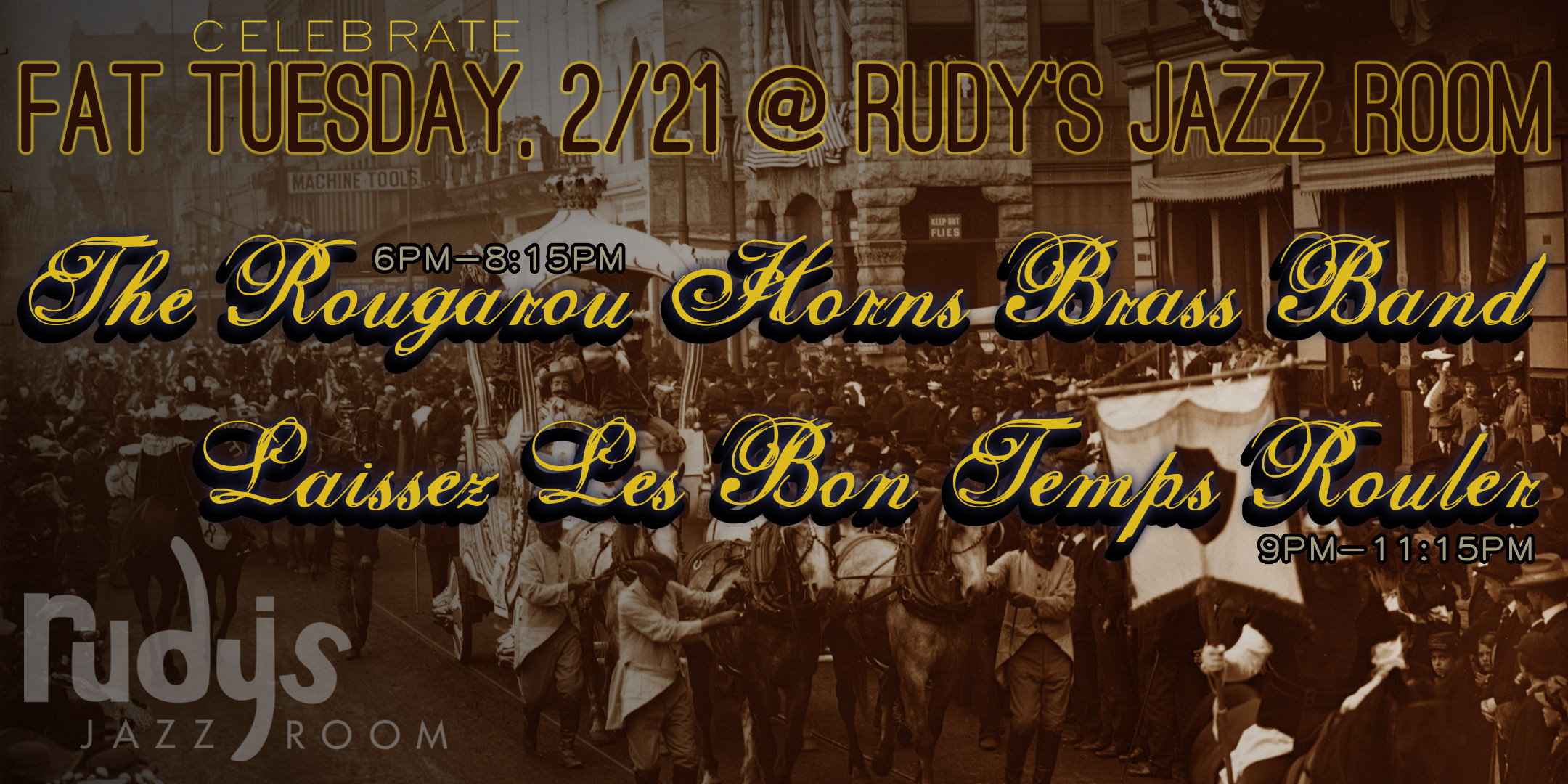 Celebrate Fat Tuesday on February 21 at Rudy's Jazz Room with The Rougarou Horns Brass Band and Laissez Les Bon Temps Rouler. Drink specials & our authentic New Orleans cuisine including specials like Chef Braden's Jambalaya, our famous chicken andouille & shrimp gumbo, red beans and rice, King Cake, beignets and more! We will bring the party and the beads, you just bring yourself for a night of guaranteed fun!!
TONIGHT'S SHOWS
Lisa Stewart And Her Jazz Combo
6:00pm-8:15pm, $15 at the door
Purchase tickets

Lisa Stewart, a native Mississippian, takes the listener back in time with sound that you'd expect to hear at a 1940's jazz club in New York City.

The daughter of folk artist (potter), Frank Stewart and mother Earline, a classically trained pianist, she has always been surrounded by the arts. One could say she has mud and music in her veins.

Stewart moved to Nashville after receiving The Roy Acuff scholarship to study music at Belmont University. During her senior year, she was making plans to attend Julliard in NYC when Byron Gallimore recorded a jazz piano demo on Stewart. By that afternoon, Stewart's effortless, four octave voice had four major labels vying for her to join their roster. She signed as the first new female artist at BNA, a division of RCA, and recorded two albums for the label, touring the U.S. and Europe.

Television producer, the late Jim Owens, was so impressed with Stewart's charisma and well spoken interview as a guest on one of his TV shows, he offered her the co-host seat of the nationally syndicated entertainment news show, #1 Country. This opportunity opened the door to Stewart's career in national television and the silver screen.

Stewart has appeared in several films and has shared scenes with Oscar winners Gwyneth Paltrow ("County Strong") and Melissa Leo ("Novitiate"-Sundance Award winner).

Stewart is also a BMI award winning songwriter ("Sky Full of Angels" Reba McEntire), has written for movie soundtracks and is passionate about creating music in multiple genres.

With her stellar combo, captivating stage presence and a voice as smooth as Tupelo honey, it's a show you don't want to miss!
Regi Wooten & Friends
9:00pm-11:15pm, $15 at the door
Purchase tickets

Known as "The Teacha", Regi Wooten is one of the most innovative, talented and dynamic musicians around the scene, and has pushed the boundaries of jazz, funk, soul, R&B, rock, and even bluegrass to some of the most extreme musical limits. From picking, slapping, strumming, thumping, and tapping to some of the most ear bending advanced chords you'll hear on any instrument, Regi has earned world-wide notoriety and comparisons to other innovators such as Jimi Hendrix, Frank Zappa and Chuck Berry. Perfecting, creating and discovering new techniques and jazz theory while incorporating and layering into strong funk grooves for keen listeners to uncover and pick up on is one of his many notable fortes.

At only nine years old Regi started teaching his younger brother Victor Wooten bass guitar and Joseph Wooten keyboards, and soon the Wooten Brothers Band was formed featuring; Regi on ukelele, Roy on drums, Rudy on Saxophone, Joe on Keys and Victor on bass. Regi was ten years old at the time, Roy was nine, Rudy was eight, Joseph was five and Victor was two. The rest, as they say, is Musical History.

Assembling a cast of Nashville's best, Regi Wooten and Friends dig deep into the roots of funk, jazz, blues, rock, and soul. You never know who might jump on stage! Don't miss a beat!