No reservations, all seating is first come first seated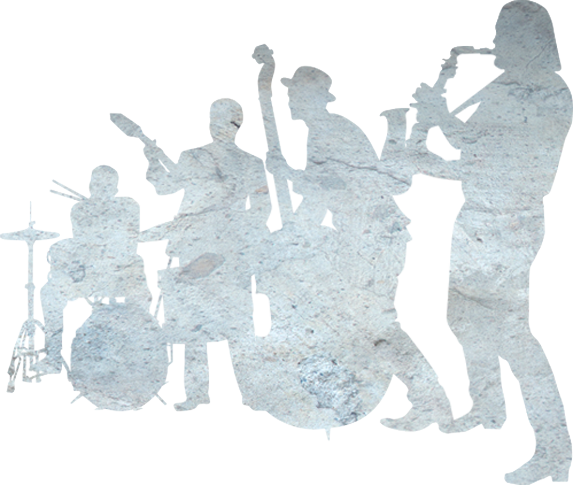 Music City's authentic late night jazz club
Serving classic New Orleans prohibition and pre-prohibition cocktails, local brews, and New Orleans cuisine.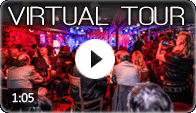 HAPPY HOUR SPECIALS
Mon-Wed 5-7pm, Thurs 5pm-8:30pm
Martini Monday:
1/2 price Martinis, *Salsa night 9-11:30 1/2 price Margaritas, *Service Industry Night - half off select food & drinks
Tuesdays:
Half Price Old Fashioned and Beignets, $2 off all Drafts
Wednesdays Wooten & Wine:
$6 wines / $10 off bottles (Cava, Malbec, Pinot)
Thursdays

(until 8:30pm):
$8 French Quarter inspired cocktails (Sazerac, Lavender Sidecar, French 75) and 1/2 price beignets
Sunday Brunch:
$5 Mimosas and Bloody Mary's & 2pm-5pm $15 cocktail flights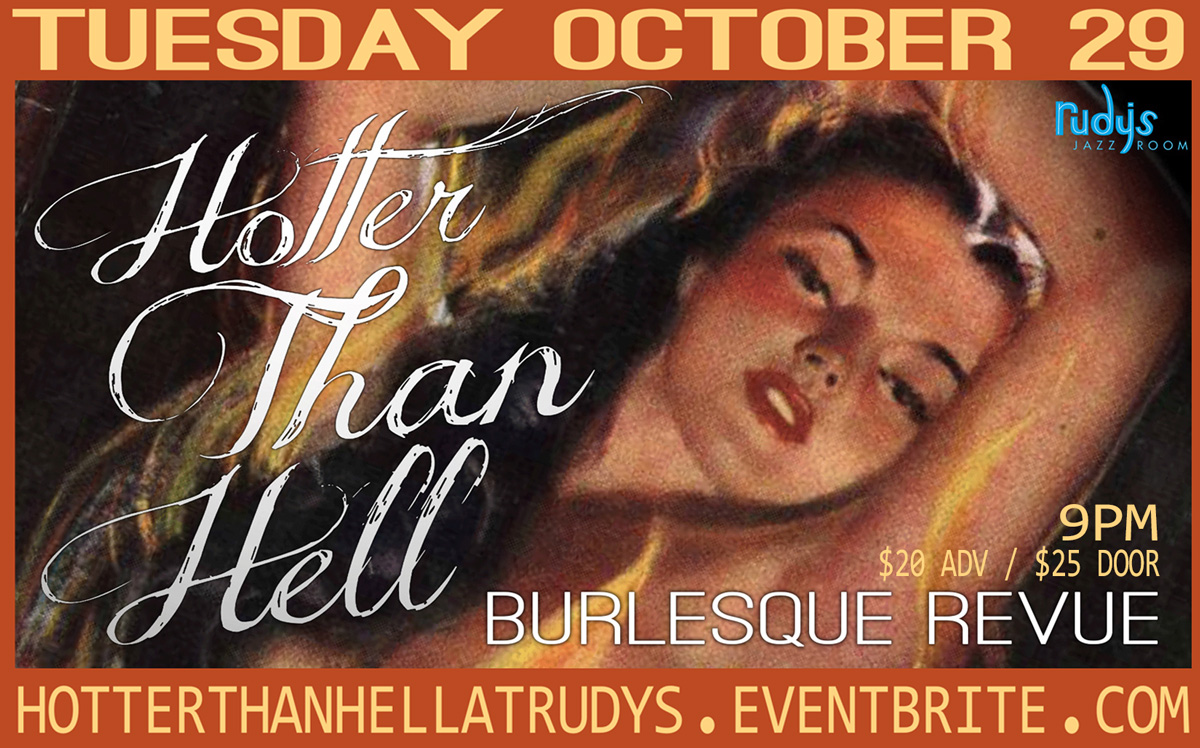 Hotter Than Hell - October 29
Come let the delightful devils of Hotter Than Hell lead you into the dark at this sensational Halloween soiree that is sure to send a shiver down your spine! Feast your eyes on the burlesque temptresses and their LIVE jazz band as they roll out the red carpet on the highway to Hell to welcome you to an intimate experience that will leave you feeling hot under the collar!
Advance ticket purchase gets an entry into door prize drawing.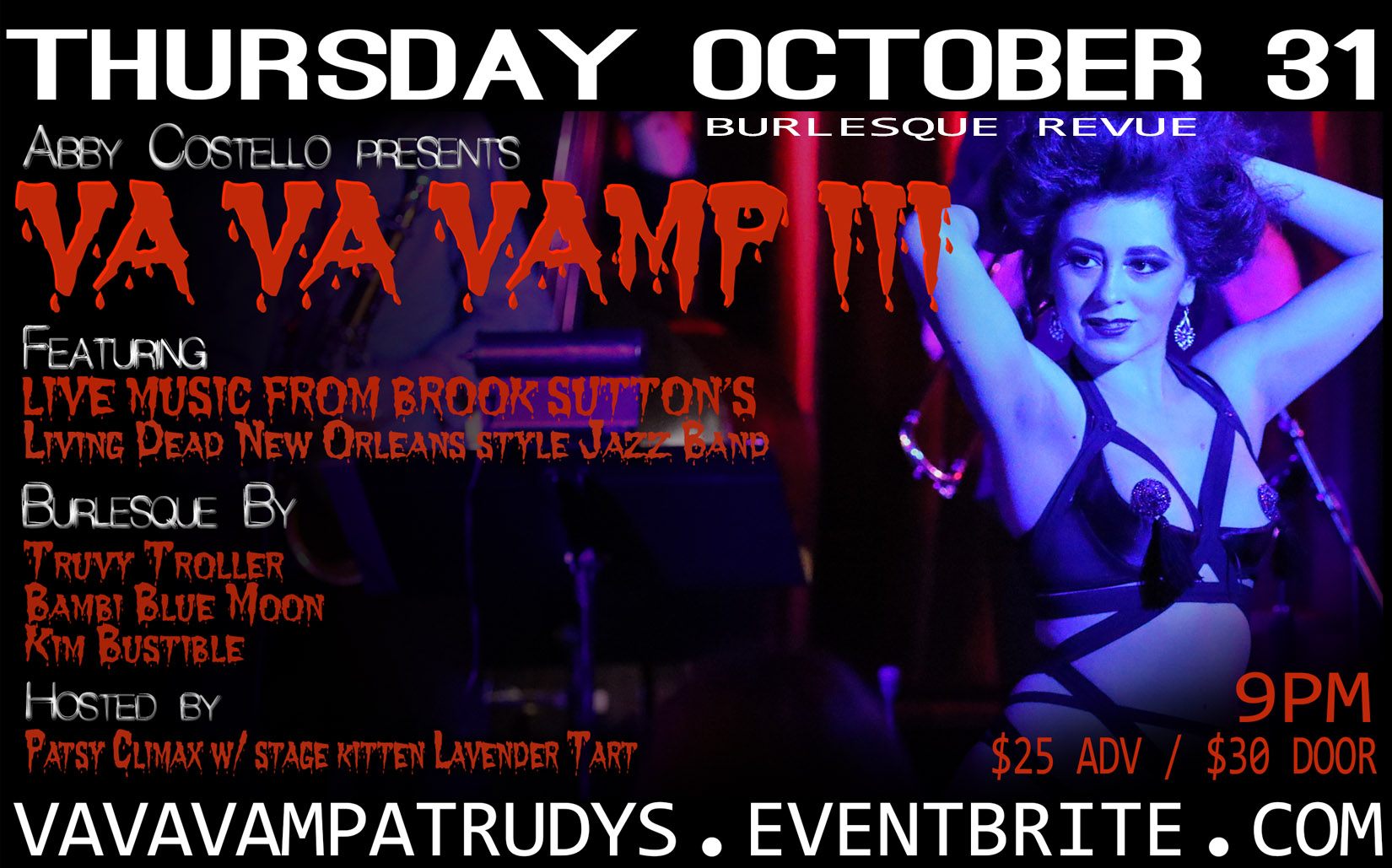 VA VA VAMP - October 31
Come into our lair and experience an otherworldly night of Vampire Burlesque sure to thrill and chill you! These vampiric vixens will be accompanied by Brook Sutton and his living dead New Orleans style Jazz band. They will have you in their thrall and thirsting for more!
Join us Thursday, October 31st at Rudy's Jazz Room for a night you'll never forget! Corpse Reviver punch and cocktail specials all night! Advance ticket purchase gives you an entry into live door prize drawing.
TONIGHT'S SHOWS
Caravan Tales
5:30pm-7:30pm, $10 at the door
From Paris to New York, from Jamaica to Brazil, the jazz of this quartet is colored by the origins and travels of its participants.

Jerome Degey, platinum producer, composer, arranger, and guitarist from Paris also speaks and plays the Brazilian musical language fluently (Kenia, Rolando Faria, Les Etoiles).

From Kingston Jamaica, Keith Jones, just back from his tours with French violinist Jean-Luc Ponty, started his fruitful L.A. career (Santana, Wayne Shorter, Al Jarreau, the Crusaders, Joe Sample) with Brazilian superstar Airto Moreira and Flora Purim.

Grammy Award-winning pianist and accordionist Will Barrow has played, toured, and recorded with an eclectic array of artists including jazz siblings Eloise, Ronnie, and Hubert Laws, the late disco diva Vickie Sue Robinson, R&B singer Freda Payne, Wanda Jackson, BeBe Winans, Karen Parks, Suzy Bogguss and the Gatlin Brothers.

On drums, Nioshi Jackson is a go-to live/tour and session musician in Music City. He has worked with the likes of Michael McDonald, Larry Carlton, Ricky Skaggs, Chester Thompson, Victor Wooten, and many others.
Bruce Dudley Quartet plays Monk
8:00pm-11:00pm, $20 at the door
Celebrating the 102nd birthday of jazz legend Thelonious Monk this month, pianist Bruce Dudley leads a quartet that features tenor saxophonist Don Aliquo, bassist Jonathan Wires, and drummer Marcus Finnie playing Monk's compositions. The quartet will cull through Monk's collection of works and perform some of his less often heard compositions, as well as re-imagining some of his more familiar pieces. Evidence of him lasting legacy, Monk's music sounds as fresh and modern now as it did when it first appeared in clubs in New York City in the 1940's and 50's.
Jeff Goodkind Quartet
11:30pm-2:00am, $10 at the door
Jeff Goodkind with Adam Griffith on guitar, Patrick Atwater on bass, Marc Widenhofer on drums and special guest Don Aliquo on sax.

Pianist, keyboardist, percussionist and composer Jeff Goodkind was born and raised in California. While finishing up a B.A. in ethnomusicology at UCLA, he followed his musical interests in Los Angeles' eclectic music scene, from where he performed on six continents. Now calling Nashville home, Jeff seeks to incorporate the rich local soundscape into his own compositional voice.

Saturday Showcase w/ the Mike Valeras Trio
12:00pm-3:00pm, no cover
With over 25 years experience in guitar performance and education, Mike Valeras has garnered a reputation as one of the most respected musicians, composers and guitar instructors in Nashville.

Having honed his skills in the rich, musical breeding ground of the Boston area, Mike earned his B.M. in music education from Berklee College of Music and his M.M. in performance from the University of Massachusetts. In addition, he spent five years under the tutelage of legendary Jazz educator, Charlie Banacos (Mike Stern, Wayne Krantz, Jeff Berlin).

Mike has worked with many of the industry's most respected musicians, including Steve Vai, John Scofield, Billy Sheehan, Larry Coryell, Keith Carlock, Jeff Berlin, Kirk Covington, Ike Stubblefield, The Platters, The Coasters, Michael Whittaker, Adam Nitti, Wes Little, Brian Allen, Roy Vogt and Bob Harsen.

Mike is an adjunct professor of guitar at Belmont University, an instructor at the esteemed Guitar Workshop Plus camp, a contributing clinician for the D'Addario Education Collective, and he offers courses of private study to any musician, artist or writer who wishes to expand their musical vocabulary. Many of Mike's former students have gone on to perform with some of the most well known names in music.

In addition to his sideman work in the Nashville area, Mike continues to push the parameters of modern jazz with his own project, The Mike Valeras Trio, which has released three independent albums and received notable press worldwide.
Les Sabler
5:30pm-7:30pm, $10 at the door
The Montreal native and established recording artist made his home in Nashville five years ago and is returning for another performance at Rudy's Jazz Room with a stellar quintet featuring Clay Perry, keyboards; Brian Allen, bass; Robert Harsen, drums and Vincent Heckard, percussion.

Les' seventh CD Jobim Tribute has been well received by critics and radio. Reaching #1 on Amazon Brazilian Jazz and Latin Jazz best sellers and #36 Latin Music one week after its release.

"Like the artists that influenced me most I set out to blend a variety of styles while balancing art and technique." said Sabler. His catalogue reflects this outlook and direction and his performances demonstrate an eclectic mix of passion and energy.

"Sabler's playing is dynamic like John Scofield's, melodic like George Benson's and compelling like Jeff Beck's. But Sabler's sound is not just a conglomeration of his influences, his playing is clearly and refreshingly his own." - Phil Matlock / MAC

"Les Sabler has created an irresistible recording that crosses the boundaries between genres. Antonio Carlos Jobim would be pleased." - Scott Yanow / Jazz Times, Jazziz, Downbeat

"Les Sabler delivers a winner on Jobim Tribute as he salutes and remembers a man and his music with a measure of taste and a touch of class, on one of the most compelling and engaging tribute albums to a legend." Edward Blanco / AllAboutJazz.com

"Les sounds great playing and singing these gems. While the source of this music is Brazilian, he's made them more Latin in feel, which is refreshing. I like his voice in the baritone range – and extra kudos for singing (at times) in Portuguese!" - Robert Lamm / Chicago

"a shimmering guitar style that is sleek, chic and sexy." - Steve Persall / Players Magazine

"Les' jazz guitar work is incredible." - Troy Vanliere / CCM

You really make my Electric Nylon guitar SING!" - Roger Sadowsky, Sadowsky Guitars

Long recognized as possessing the magic formula for top notch contemporary jazz, Les Sabler has come roaring back with his brand new single 'In The Light'. It is the kind of easy grooving number that succinctly demonstrates exactly what Sabler is all about. - Dennis Poole

The place, where virtuosity meets emotion." - Hans-Bernd Hulsman / www.smooth-jazz.de
Diane Marino Quintet
8:00pm-11:00pm, $15 at the door
When you combine an accomplished vocalist, pianist, and arranger all in one individual, you have the dynamic Diane Marino. Diane was born in Manhattan, NYC. She started her early piano training of classical studies and jazz improvisation from the age of 10. Diane graduated from NYC'S 'Famed' High School for the Performing Arts and later received her B.M. degree from Mannes College of Music in Manhattan as a piano performance major where she studied piano with world-renowned concert pianist Murray Perahia. In her over 25 year career, Diane has performed Great American Song Book, traditional jazz, Latin and Brazilian jazz to captivated audiences in jazz venues, performing arts centers and festivals such as Birdland - NYC, Blues Alley - D.C., Vitello's Jazz Club - L.A., Arts Garage-Del Ray Beach, Twins Jazz-D.C., Nighttown-Cleveland, Heidi's Jazz Club-Cocoa Beach, Trumpets Jazz Club -NJ, Germantown Performing Arts Center, The Metropolitan Room-NYC, Bethesda Blues & Jazz - D.C, Montreux Atlanta Festival, Town Point Jazz Festival, Music City Jazz & Heritage Festival, to name a few.
Diane Marino (Piano/Vocals)
NYC native & M&M Records Recording Artist Diane Marino has recorded, performed, and shared the stage with jazz legends Houston Person, Ralph Lalama, Joe Henderson, Ricky Woodard, Clayton Cameron, Wycliffe Gordon, Kirk Whalum, and more. She has recorded six CD's- all of which have received widespread airplay and critical acclaim.
Diane has performed Great American Song Book, traditional jazz, Latin and Brazilian jazz to captivated audiences at festivals, performing arts centers and national jazz venues.
Don Aliquo (Sax)
Saxophonist Don Aliquo has been described as a player "with an articulate flow of always surprising ideas, sophisticated with a dexterous technique and an incredibly smooth tenor sound that seduces rather than shouts." Although his early influences are saxophonists John Coltrane, Stanley Turrentine and Dexter Gordon, his recent playing also displays the influences of Lester Young, Stan Getz and Joe Henderson as well.
Frank Marino (Bass)
An accomplished bassist of vast diversity and a NY native, Frank Marino has performed /recorded with Houston Person, Wycliffe Gordon, Clayton Cameron, Harry Allen, Ralph Lalama, just to name a few. As founder of M&M Records and The Piano Den Recording Studio, he has produced, recorded and played on all Jazz pianist/vocalist Diane Marino's CD's.
Neil Tufano (Drums)
Drummer Neil Tufano started playing professionally at age 16 and by age 21 he was touring with famed Jazz Piano Giant Monty Alexander. Spending most of his drumming career in New York freelancing with a multitude of artists, he carved out a successful career, covering a variety of musical genres. In 2004 he moved to Nashville TN, as Neil puts it "to try something new ". Being well versed in all styles, he was a perfect fit for the demands of sessions and the Nashville music scene. You can find Neil today at his state of the art recording studio where he writes music, teaches and produces other artists
Jerome Degey(Guitar)
Jerome Degey, platinum producer, composer, arranger, and one of Nashvilles newest elite guitarists comes from Paris France. Jerome relocated to Nashville recently and has been dazzling audiences and musicians alike with his finess, tone, and elegant and tasty musicality.
www.dianemarino.com
Geoff Pfeifer
11:30pm-2:30am, $10 at the door
The Geoff Pfeifer Quartet, gritty, edgy, the real deal NYC style jazz. Saxophonist Geoff Pfeifer brings some of Nashville's top jazz cats out, and you'll be sure to feel the energy. Playing a mix of original material and Wayne Shorter tunes, Pfeifer leads the group.

Geoff Pfeifer, a Nashville based musician and composer, has been living and performing in Nashville since 2005. Geoff studied saxophone with Ted Nash and Ralph Lalama and composition with Mike Holober and Jim McNeely. He is a saxophonist and arranger with the R&B band Chubby and The Dots and plays the 2nd Tenor Saxophone chair in The Establishment Big Band.

Jazz Brunch with Mel Deal
11:00am-2:00pm, $20 at the door
All you can eat buffet and live jazz with Mel Deal.
Mel Deal has been performing as a jazz guitarist in the Nashville area for over forty years. He was a close friend and student of the late jazz guitar great, Jimmy Raney. He also studied with Pat Martino, and Lenny Breau.

As an instrumentalist, he has performed with the Nashville Symphony, The Nashville Opera Co., The Huntsville Symphony Orchestra, The Nashville Chamber Orchestra, The Birmingham Symphony, Midland/Odessa Texas Symphony, and The Germantown Chamber Orchestra in Memphis, TN. Artists he has performed with include: Michael Feinstein, Melba Moore, Lorna Luft, Idina Menzel, Rita Coolidge, Willie Nelson, Neil Sedaka, Jimmy Webb, Ricky Woodard, Gatemouth Brown, Groove Holmes, Gene Bertoncini, Jack Wilkins, Mark Feldman, Paul McCandless, and Mundell Lowe.

In addition to a playing career, Mel is part of the faculty at The Nashville Jazz Workshop. He has taught jazz guitar clinics at The University Of N. Alabama, Hume Fogg and Battleground Academy, and was a guitar instructor at Montgomery Bell Academy for fifteen years.

Cocktail Occasion w/ Regi Wooten & Brian Cornish
2:30pm-5:00pm, no cover
Enjoy Sunday afternoon cocktail flights from 2pm-5pm. This Sunday we have the musical virtuoso duo of Regi Wooten, "The Teacha", "Mr. Meditation" Brian Cornish, and special guests. Every Sunday from 2pm-5pm Rudy's offers an array of it's incredible cocktail flights.
The Duffy Jackson Show
6:00pm-8:30pm, $15 at the door
A true legendary jazz drummer, Jackson is the son of Chubby Jackson, and played drums as a young child making appearances with Count Basie, Duke Ellington, Woody Herman, and Buddy Rich before he finished high school. In 1971 he relocated to Los Angeles, where he played with Monty Alexander, Ray Brown, Herb Ellis, Lena Horne, Milt Jackson, and Barney Kessel. Following a tour of Japan with Benny Carter, he appeared on television for two years with Sammy Davis, Jr. (1974-1976). Later in the 1970s he played with Grover Mitchell and did a tour of Europe with the Count Basie Orchestra.

In the 1980s Jackson worked with Lionel Hampton, Al Jarreau, James Moody, and Sonny Stitt, and in 1985 re-joined the Basie orchestra while Thad Jones was its leader. Following this he worked with Illinois Jacquet and Artie Shaw, then re-joined the Basie Orchestra under Frank Foster. In the 1990s, he relocated to Fort Lauderdale, where he played with Harry Allen, Billy Ross, and the Manhattan Transfer.
Jazz Jam
9:00pm-12:00am, $10 at the door
Rudy's hosts the official pro jazz jam. Come out and experience some of music city's best as they take the stage with Nashville's next generation of jazz performers!

We welcome all ages to this show.

Re-Evolution
6:00pm-8:30pm, $10 at the door
Featuring Brian Cornish on saxophone, Regi Wooten on bass, Nioshi Jackson on drums, Adam Charney on guitar, and Marc Payne on piano. Re-Evolution is heavily influenced by traditional and classic jazz cutting edge artists such as John Coltrane, Miles Davis, Wes Montgomery, Bill Evans, McCoy Tyner, Elvin Jones, Thelonious Monk and many more...
Giovanni Rodriguez & 12 Manos
9:00pm-11:30pm, $10 at the door
Giovanni Rodriguez is an exciting multi-instrumentalist and Nashville favorite on the Salsa and jazz scene. An electric night of Salsa dancing! Ernesto Lago Violin (Cuba) - violin/vocals Alex Rivas (Cuba) - piano/vocals Yosvany Cordero (Cuba) - bongos/cowbell Brian Allen (Indiana) - bass Jesus Agreda (Venezuela) - timbales/drums Giovanni Rodriguez (Dominican Republic) - congas/vocals

Cheryl Deserée
6:00pm-8:30pm, $10 at the door
Cheryl Deserée is an award winning Western Swing artist. Raised on the wrong side of the tracks in a sleepy town in the California desert, this cigar smoking, Samoan pinup writes about life and love with wit, grit & honesty. Saving Country Music has said her songs "have that classic country way of encapsulating a moment or feeling most people experience in their lives in a poetic, yet plainspoken way" and that "with a sultry, smoky, jazzy style, a hot shit cast of studio players, and original songs penned by Cheryl herself, she has let her presence be known". Rockabilly n' Blues Radio says "Cheryl blends her traditional country, western swing and jazz influences in a unique style that is all her own."
Greg Bryant Expansion: Complete Communion
9:00pm-11:30pm, $10 at the door
The Greg Bryant Exapnsion Complete Communion features Derrek Phillips, Rashad Tha Poet, Abstract Black, and other special guests...

Born in Nashville, Greg Bryant became aware of music at an early age and gravitated towards the sounds of jazz, Blues, and R&B - being drawn to artists like Herbie Hancock, Weather Report, Miles Davis, BB King, Jimi Hendrix, Stevie Wonder, and James Brown. He studied piano as a child, did hip-hop as a teenager, and began playing bass in college in 1998. Bryant co-led and formed The Human Sound and the Cornerstone Jazz Trio. These musical units encouraged and provided the outlet for his musical discovery. While living in the Washington DC area for a time, participation in jazz club HR-57s jam sessions ignited the desire and passion in him to form his own group. In 2004, Greg Bryant moved back to Nashville and formed his own quintet with area players including Chris West (sax), Reagan Mitchell (sax), Jason Hoffheins (drums) and Brian Mesko (guitar.) Their weekly performances displayed their original compositions and conceptions of standards. In 2008, Greg began devoting his time to a new project ranging from quartet to sextet size called the Greg Bryant Expansion.

Big Bad Rhythm
6:00pm-8:30pm, $10 at the door
When pianist Brian Holland and drummer Danny Coots first played together some years ago it was in Kigali, Rwanda. They vowed to record a duo album together and after returning to the U.S. they did... just two months later. Nashville guitar legend, Andy Reiss joined them in the studio as Holland/Coots began their 5th album and a trio was born, B.A.D. Rhythm (B.A.D. stands for Brian, Andy and Danny). After 2 albums and playing gigs and festivals, the incomparable Pat Bergeson was added on guitar and harmonica along with Sacramento bassist, Sam Rocha and Big Bad Rhythm was born. A hard hitting classic two guitar swing band playing jazz, blues and Boogie Woogie.
Regi Wooten & Friends
9:00pm-11:30pm, $10 at the door
Every Wednesday, Regi Wooten assembles a cast of Nashville's best as they dig deep into the roots of funk, jazz, blues, rock, and soul. You never know who might jump on stage! Don't miss a beat!

Hot Club Gypsy Jazz Thursdays; Rudy's French Connection
6:00pm-8:30pm, $10 at the door
Hot Club Gypsy Jazz Thursdays; Rudy's French Connection

Every Thursday we honor our New Orleans and French roots and Rudy's comes alive with a variety of small groups in the Django style of gypsy jazz swing. There's no better place to chill, cozy up and relax after work. Enjoy $8 French Quarter inspired cocktails (Sazerac, Lavender Sidecar, French 75), have a glass of Côtes du Rhône, and enjoy some gumbo or beignets while listening to the rhythm and mood of hot club jazz in Nashville's most intimate and romantic room.
Kateri Farrell
9:00pm-12:00am, $10 at the door
Kateri is a vocalist & flutist currently based in Nashville, TN. A budding soul/jazz artist, she captivates listeners with her sultry, soulful vocals and uniquely fresh and funky flute improvisation. Kateri received her music degree from the University of Wisconsin-Eau Claire where she studied flute and was a featured vocalist/flute player with the prestigious Jazz Ensemble I. Upon recommendations from several musician friends, she moved to Nashville in 2015 and quickly became involved in jazz, funk, soul, and singer-songwriter communities among others. Experienced in a variety of genres, Kateri can be seen performing in the greater Nashville area with groups such as retro-soul artist Lydia Brittan to Salsa/jazz musician Giovanni Rodriguez & 12 Manos. She is a member of The Jason Eskridge Band and shares the stage with Nashville's top soul artists. Kateri is working on material for her first EP set to be released in 2019.

Talisha Holmes
5:30pm-7:30pm, $8 at the door
While blending jazz, soul and whatever else might pop up, singer and songwriter Talisha Holmes gives us both energy and intimacy. Her raw, earnest and sensitive vocals will be accompanied by Cliff Richmond and CliffNotes (CliffNotes features some of Nashville's most accomplished and versatile musicians and vocalists.) Together, they'll serve up a unique fusion of soul, swing, funk, R&B and Latin inspired grooves."
MILEStones: Tribute to Miles Davis
8:00pm-11:00pm, $20 at the door
MILEStones is a Nashville based musical acknowledgement to jazz legend Miles Davis dedicated to paying homage to the late great trumpeter's music. With a focus on the two "great quintets" he led in the 1950's and 60's, MILEStones sets out to bring back to life the mood and aura that made his music so distinct, utilizing the exact arrangements and instrumentation that he recorded on so many of his classic albums. Led by drummer Brian Czach, MILEStones will take you on a nostalgic journey back to the music that changed the landscape of jazz music forever.
Oracle Blue
11:30pm-2:00am, $10 at the door
Oracle Blue is enticingly unequivocal when it comes to genre-branding, marrying musical nostalgia with newfangled soundscapes. Under the banners of Swank-Pop and Alt-Jazz they craft for themselves a realm entirely their own with strong female vocals garnished by multi-instrumentalists in the rhythm and horn sections.

The band's resume includes performances at Montreux, Vienne and Umbria Jazz Festivals, a DownBeat Student Music Award for Outstanding Performance in the Blues/Pop/Rock category, and the honor of being selected through competition by five-time GRAMMY Award winner Lalah Hathaway to open for two performances on her 2018 'Honestly' tour. Their debut album, Gilded Kingdoms, is comprised primarily of original works, and also includes reimaginings of jazz standards "Don't Explain" (Billie Holiday) and "On Green Dolphin Street" (Bronisalw Kaper). Gilded Kingdoms is available on iTunes, Spotify, Amazon, and at OracleBlueBand.com.