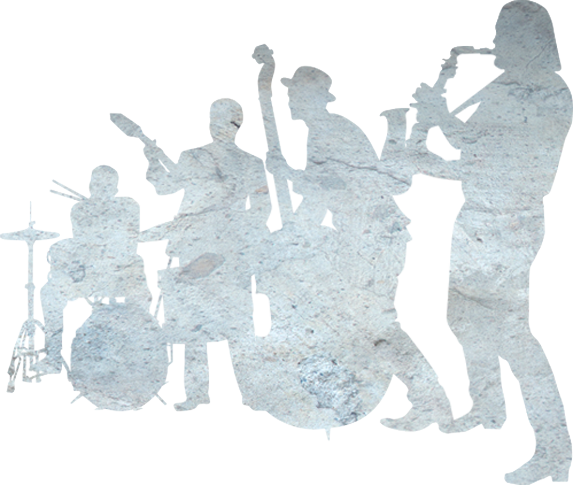 Music City's authentic late night jazz club
Serving classic New Orleans prohibition and pre-prohibition cocktails, local brews, and New Orleans cuisine.

HAPPY HOUR SPECIALS
Mon-Wed 5-7pm, Thurs 5pm-8:30pm
Martini Monday:
1/2 price Martinis, *Salsa night 9-11:30 1/2 price Margaritas, *Service Industry Night - half off select food & drinks
Tuesdays:
Half Price Old Fashioned and Beignets, $2 off all Drafts
Wednesdays Wooten & Wine:
$6 wines / $10 off bottles (Cava, Malbec, Pinot)
Thursdays

(until 8:30pm):
$8 French Quarter inspired cocktails (Sazerac, Lavender Sidecar, French 75) and 1/2 price beignets
Sunday Brunch:
$5 Mimosas and Bloody Mary's & 2pm-5pm $15 cocktail flights
Sunday Jazz Brunch
$20 includes all you can eat buffet and the best live jazz in Nashville! Every Sunday, 11am-2pm.
TONIGHT'S SHOWS
Hot Club Gypsy Jazz Thursdays w/ The Gypsy Hombres
6:00pm-8:30pm, $10 at the door
Hot Club Gypsy Jazz Thursdays; Rudy's French Connection

Every Thursday we honor our New Orleans and French roots and Rudy's comes alive with a variety of small groups in the Django style of gypsy jazz swing. There's no better place to chill, cozy up and relax after work. Enjoy $8 French Quarter inspired cocktails (Sazerac, Lavender Sidecar, French 75), have a glass of Côtes du Rhône, and enjoy some gumbo or beignets while listening to the rhythm and mood of hot club jazz in Nashville's most intimate and romantic room.

The acoustic violin/guitar based trio, The Gypsy Hombres, blend traditional jazz with European, South American, and classical music to create a sound unlike any other musical group. The Hombres' repertoire embraces a wide variety of composers and styles; from Brahms and Chopin to George Gershwin, Duke Ellington and Louis Armstrong to international folk songs, all while retaining the gypsy spirit. But besides just adding their own arrangements and personalities to standards, they are also accomplished composers with several original songs featured on their various recordings.

Equally at ease with swing, tangos, and waltzes, the Hombres provide plenty of inspiration for dancing, and their free spirit and natural improvisation can win over any audience.

Not just entertaining, their music is ideal for the serious listener, because of their high level of musical ability. In fact, their musicianship is so impressive, the Nashville Chamber Orchestra commissioned their composer in residence, Conni Ellisor, to write a piece incorporating some of the Hombres original songs, melodies and reifs. The result was "Nuage de la Nuit", a twenty-seven minute tribute to the legendary gypsy guitarist Django Reinhardt, featuring the Gypsy Hombres. The performance was broadcast by National Public Radio.
Matty Ride
9:00pm-12:00am, $10 at the door
Originally hailing from the Pacific Northwest, Matty Ride grew up in the very stomping grounds and hometown of Bing Crosby. It's there that his love for some of the great singers of the American Songbook such as Nat King Cole, Sinatra and of course Bing Crosby, took hold. Now based in Nashville, Matty Ride recaptures the spirit of the American Songbook through his original compositions. His clever rhymes, tongue and cheek topics, and witty lyrics showcase an urbane sense of style and playfulness.
Ask Matty Ride to describe his music and he'll tell you with a laugh "I'm just making the type of music your grandparents probably made your parents to."
For more visit
www.mattyride.com

Charles Wigg Walker
5:30pm-7:30pm, $10 at the door
Join Rudy's for the return of our Friday happy hour soul and jazz series with Charles "Wigg" Walker, Nashville's original soul singer, and his six piece band and horn section. Born in Nashville, Tennessee on July 12, 1940, Charles "Wigg" Walker is one of the few remaining original soul singers from back in the day when old school R&B/soul was brand new on the music scene. Wigg's experience and maturity in the field of soul music gives him authenticity and perspective that is unmatched.

In 1960, Charles moved to New York City and in 1962 Charles began recording with Chess Records out of Chicago, Charles soon signed on as lead singer with the J.C. Davis Band and began touring the country opening for the greats of the era including James Brown, Jackie Wilson, Etta James, Wilson Pickett, Little Willie John, Otis Redding, and Sam Cooke. The J.C. Davis Band recorded some real barnstormers for Chess like "Sweet Sweet Love" and "The Chicken Scratch." In 1964, Charles formed his own group, Little Charles and the Sidewinders. They became one of the most in demand soul bands in New York City's nightclub scene, performing at the Apollo Theater, Small's Paradise and venturing out to Las Vegas and Atlantic City. They subsequently recorded for Chess and Decca labels. The Sidewinders stayed together through the 60's, and in 1969 Charles cut some sides for Botanic Records. The Sidewinders reformed in 1973 and worked as a show band in hotels, nightclubs, and casinos without the benefit of a recording contract. In 1979, Charles signed on with Motown as a staff writer.

With a resurgence of old school soul and R&B Wigg is finding his groove with a younger audience while rekindling memories for the old school crowd.

Charles "Wigg" Walker - vocals
Pat Bergeson - guitar
Charles Treadway - organ
Roland Barber - trombone
Evan Cobb - sax
Pete Abbott - drums
Laura Mayo
8:00pm-11:00pm, $15 at the door
The vocal presence of Laura Mayo represents the divine potential of jazz to move the human spirit. Echoing the tradition of Ella Fitzgerald, Anita O'Day and Keely Smith - she is a conduit to the foundation of the genre, while effortlessly expanding the boundaries of its form.

Born in Memphis, Laura has spent the better of a decade as the vocal ace of Nashville's premier recording studios. Her talents have been featured on national tours, performing with acts such as Cory Chisel and Quinn Deveaux.

Delivering her interpretation of jazz standards, Laura Mayo will be joined by a preeminent collection of Nashville instrumentalists including Matt Endahl (piano), Todd Parks (bass), and Chris Brown (drums).
Jake Botts Quartet
11:30pm-2:00am, $10 at the door
Jake Botts is a dynamic alto saxophonist with a bebop and soul-influenced vocabulary, a unique sense of melody, and a pure, powerful, tone. Originally from the San Francisco Bay Area, Jake graduated from the New School for Jazz and Contemporary Music in New York City where he studied with jazz and commercial saxophone luminaries such as Vincent Herring, Jaleel Shaw, and Ian Hendrickson-Smith of the Roots. Shortly after his graduation in 2017, Jake relocated to Nashville, TN where he quickly began working as a professional saxophonist.

Jake draws influence from not only the pioneers of bebop such as Charlie Parker, Julian Cannonball Adderley, and Sonny Stitt, but also from the R&B and soul world of artists such as Maceo Parker, Lenny Pickett, and the Daptone Horns. Because of his wide-ranging sources of inspiration, his playing has a natural backdrop of the bebop and jazz lineage along with the vigor and aesthetic of soul music.

Cliff Richmond & The CliffNotes
5:30pm-7:30pm, $8 at the door
Cliff Richmond & the CliffNotes serve up a unique blend of soulful, swinging & funky jazz, They incorporate a wide range of styles from mainstream jazz, to rhythm & blues, Latin to reggae. Founded by Cliff (guitar & vocals) the CliffNotes always features some of Nashville's most accomplished and versatile musicians and vocalists.

Diane Marino Quartet
8:00pm-11:00pm, $15 at the door
When you combine an accomplished vocalist, pianist, and arranger all in one individual, you have the dynamic Diane Marino. Diane was born in Manhattan, NYC. She started her early piano training of classical studies and jazz improvisation from the age of 10. Diane graduated from NYC'S 'Famed' High School for the Performing Arts and later received her B.M. degree from Mannes College of Music in Manhattan as a piano performance major where she studied piano with world-renowned concert pianist Murray Perahia. In her over 25 year career, Diane has performed Great American Song Book, traditional jazz, Latin and Brazilian jazz to captivated audiences in jazz venues, performing arts centers and festivals such as Birdland - NYC, Blues Alley - D.C., Vitello's Jazz Club - L.A., Arts Garage-Del Ray Beach, Twins Jazz-D.C., Nighttown-Cleveland, Heidi's Jazz Club-Cocoa Beach, Trumpets Jazz Club -NJ, Germantown Performing Arts Center, The Metropolitan Room-NYC, Bethesda Blues & Jazz - D.C, Montreux Atlanta Festival, Town Point Jazz Festival, Music City Jazz & Heritage Festival, to name a few.
Diane Marino (Piano/Vocals)
NYC native & M&M Records Recording Artist Diane Marino has recorded, performed, and shared the stage with jazz legends Houston Person, Ralph Lalama, Joe Henderson, Ricky Woodard, Clayton Cameron, Wycliffe Gordon, Kirk Whalum, and more. She has recorded six CD's- all of which have received widespread airplay and critical acclaim.
Diane has performed Great American Song Book, traditional jazz, Latin and Brazilian jazz to captivated audiences at festivals, performing arts centers and national jazz venues.
Don Aliquo (Sax)
Saxophonist Don Aliquo has been described as a player "with an articulate flow of always surprising ideas, sophisticated with a dexterous technique and an incredibly smooth tenor sound that seduces rather than shouts." Although his early influences are saxophonists John Coltrane, Stanley Turrentine and Dexter Gordon, his recent playing also displays the influences of Lester Young, Stan Getz and Joe Henderson as well.
Frank Marino (Bass)
An accomplished bassist of vast diversity and a NY native, Frank Marino has performed /recorded with Houston Person, Wycliffe Gordon, Clayton Cameron, Harry Allen, Ralph Lalama, just to name a few. As founder of M&M Records and The Piano Den Recording Studio, he has produced, recorded and played on all Jazz pianist/vocalist Diane Marino's CD's.
Neil Tufano (Drums)
Drummer Neil Tufano started playing professionally at age 16 and by age 21 he was touring with famed Jazz Piano Giant Monty Alexander. Spending most of his drumming career in New York freelancing with a multitude of artists, he carved out a successful career, covering a variety of musical genres. In 2004 he moved to Nashville TN, as Neil puts it "to try something new ". Being well versed in all styles, he was a perfect fit for the demands of sessions and the Nashville music scene. You can find Neil today at his state of the art recording studio where he writes music, teaches and produces other artists
www.dianemarino.com
Geoff Pfeifer
11:30pm-2:00am, $10 at the door
The Geoff Pfeifer Quartet, gritty, edgy, the real deal NYC style jazz. Saxophonist Geoff Pfeifer brings some of Nashville's top jazz cats out, and you'll be sure to feel the energy. Playing a mix of original material and Wayne Shorter tunes, Pfeifer leads the group.

Geoff Pfeifer, a Nashville based musician and composer, has been living and performing in Nashville since 2005. Geoff studied saxophone with Ted Nash and Ralph Lalama and composition with Mike Holober and Jim McNeely. He is a saxophonist and arranger with the R&B band Chubby and The Dots and plays the 2nd Tenor Saxophone chair in The Establishment Big Band.

Jazz Brunch with Sweet Megg and The Wayfarers
11:00am-2:00pm, $20 at the door
All you can eat buffet and live jazz with the Lindsey Miller Quintet

Sweet Megg and her wayfaring musicians will transport you, not to the past but to a new world of their own making. The band is lead by the charmingly enigmatic Sweet Megg, who imbues each song with her own concoction of melancholy and euphoria that will delight you, surprise you, and break your heart all at once. The band seamlessly incorporates elements of New Orleans Swing, Harlem swing, Parisian cabaret, and gut bucket blues into one charming musical performance. Saxophonist Ryan Weisheit reimagines a world where Sidney Bechet, Lester Young, and Charlie Parker blow side by side. Together Sweet Megg, Ryan, and all the Wayfarers create a world where jazz is alive and well and living in New York.
Cocktail Occasion with The Arianna Hume Duo
2:00pm-5:00pm, no cover
Enjoy Sunday afternoon flights with Arianna Hume and Ryan Casey. Every Sunday from 2pm-5pm Rudy's offers an array of it's increadible cocktail flights.

Originating from Nashville, Tennessee, jazz vocalist Arianna Hume and guitarist Ryan Casey joined together in 2016 to form the Arianna Hume Duo to arrange and perform stylistic covers of popular 1940's and 50's jazz standards. Their expansive repertoire includes the works of Frank Sinatra, Billie Holiday, Ella Fitzgerald, Etta James, George Gershwin, and many more. Additionally, the duo specializes in rearranging contemporary music to fit seamlessly with this music of the past, performing works by artists such as Norah Jones, Van Morrison, Elvis Presley, and Stevie Wonder in such a way to produce a stripped-down, vintage sound.
The Duffy Jackson Trio
6:00pm-8:30pm, $15 at the door
A true legendary jazz drummer, Jackson is the son of Chubby Jackson, and played drums as a young child making appearances with Count Basie, Duke Ellington, Woody Herman, and Buddy Rich before he finished high school. In 1971 he relocated to Los Angeles, where he played with Monty Alexander, Ray Brown, Herb Ellis, Lena Horne, Milt Jackson, and Barney Kessel. Following a tour of Japan with Benny Carter, he appeared on television for two years with Sammy Davis, Jr. (1974-1976). Later in the 1970s he played with Grover Mitchell and did a tour of Europe with the Count Basie Orchestra.

In the 1980s Jackson worked with Lionel Hampton, Al Jarreau, James Moody, and Sonny Stitt, and in 1985 re-joined the Basie orchestra while Thad Jones was its leader. Following this he worked with Illinois Jacquet and Artie Shaw, then re-joined the Basie Orchestra under Frank Foster. In the 1990s, he relocated to Fort Lauderdale, where he played with Harry Allen, Billy Ross, and the Manhattan Transfer.
Jazz Jam
9:00pm-12:00am, $10 at the door
Rudy's hosts the official pro jazz jam. Come out and experience some of music city's best as they take the stage with Nashville's next generation of jazz performers!

We welcome all ages to this show.

Re-Evolution
6:00pm-8:30pm, $10 at the door
Featuring Brian Cornish on saxophone, Regi Wooten on bass, Nioshi Jackson on drums, Adam Charney on guitar, and Marc Payne on piano. Re-Evolution is heavily influenced by traditional and classic jazz cutting edge artists such as John Coltrane, Miles Davis, Wes Montgomery, Bill Evans, McCoy Tyner, Elvin Jones, Thelonious Monk and many more...
Giovanni Rodriguez & 12 Manos
9:00pm-11:30pm, $10 at the door
Giovanni Rodriguez is an exciting multi-instrumentalist and Nashville favorite on the Salsa and jazz scene. An electric night of Salsa dancing! Ernesto Lago Violin (Cuba) - violin/vocals Alex Rivas (Cuba) - piano/vocals Yosvany Cordero (Cuba) - bongos/cowbell Brian Allen (Indiana) - bass Jesus Agreda (Venezuela) - timbales/drums Giovanni Rodriguez (Dominican Republic) - congas/vocals

Jonathan Wires
6:00pm-8:30pm, $10 at the door
Jonathan Wires is a bassist, composer, and educator. Originally from New Hampshire, Jonathan received his Bachelor of Arts in Music Performance from the University of Memphis. In 2011, he pursued a Master's Degree in Jazz Studies from Middle Tennessee State University, which brought him to Nashville, TN. In addition to performing and composing, Jonathan has been an active educator at both Middle Tennessee State University (MTSU) and Nashville State Community College. Under Jeff Coffin's Ear Up label, Jonathan released his first recording entitled "Weaving" which features Jeff Coffin, Matt Endahl, and Joshua Hunt with guest appearances by Lindsey Miller, Don Aliquo, James Westfall, and Jamey Simmons.

Featuring:
Jonathan Wires - Bass
Matt Endahl - Piano
Adam Davis - Guitar
David Wiliford - Saxophone
Jordan Perlson - Drums
Elias/Enslow 5tet
9:00pm-11:30pm, $10 at the door
Elias/Enslow 5tet consists of Nikki Elias, Tyler Enslow, Marc Widenhofer, Jeff Goodkind and Don Aliquo. The groups influences consist of Joe Henderson, Chick Corea, Sarah Vaughan, Bill Evans Trio and more. This new and exciting line up will show you a rare musical experience in the best way imaginable.

Annie Sellick and the Chris Walters Trio
6:00pm-8:30pm, $15 at the door
Nashville native and jazz vocalist Annie Sellick has been packing the house at Rudy's Jazz Room with her fabulous show. Join Annie again for another very special evening of live material with Chris Walters (piano), Jonathan Wires (bass) and Chris Brown (drums). Sit back and tap your toes letting one of the most entertaining singers in the biz welcome you to the world of music dear to her heart.

This former Dead-head has mingled with jazz royalty since her musical beginning in Murfreesboro, TN where she "sat in" with the late guitarist Roland Gresham Sr. and was hired on the spot, setting her on a professional course for the next twenty years. She was voted "Best Jazz Artist" by readers of the Nashville Scene five years in a row. She sang for a sold out crowd with the Nashville symphony. She was the resident vocalist for the Nashville Jazz Orchestra for eleven years. Grassroots spread like wildfire and she started making guest appearance with 16-piece big bands around the country. She's toured with Mark O'Connor's Hot Swing, recorded albums and performed with jazz luminaries Joey DeFrancesco, Gerald Clayton, the Jeff Hamilton Trio, Akira Tana and Tommy Emmanuel, with whom she is the featured performer for his Christmas Classics Tours. You might have seen her perform with her six-piece swing band Annie and the Hot Club or sing with her husband and guitarist Pat Bergeson while she accompanying herself in the duo with body-percussion. She's excited to play locally again with a piano trio, her first musical love for band instrumentation.

"Annie Sellick is very much a jazz singer but she is also a storyteller and her rendition of emotionally complex songs is masterful...she is also a stunning visual performer" - Roger Crane the L.A. Jazz Scene

"It's quite obvious she is totally at home as a live performer, immediately engaging her audiences with an innate ability to make everyone in the room feel like she is performing just for them. - Robyn Carey Allgeyer
Regi Wooten & Friends
9:00pm-11:30pm, $12 at the door
Every Wednesday, Regi Wooten assembles a cast of Nashville's best as they dig deep into the roots of funk, jazz, blues, rock, and soul. You never know who might jump on stage! Don't miss a beat!

CLOSED
6:00pm-8:30pm
Rudy's will be closed