No reservations, all seating is first come first seated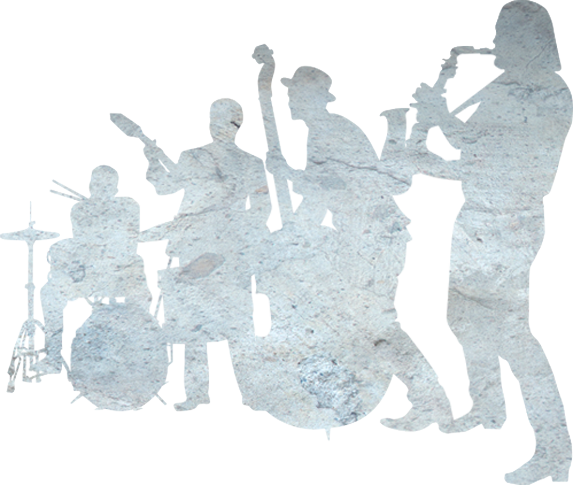 Music City's authentic late night jazz club
Serving classic New Orleans prohibition and pre-prohibition cocktails, local brews, and New Orleans cuisine.
HAPPY HOUR SPECIALS
Mon-Wed 5-7pm, Thurs 5pm-8:30pm
Martini Monday:
1/2 price Martinis, *Salsa night 9-11:30 1/2 price Margaritas, *Service Industry Night - half off select food & drinks
Tuesdays:
Half Price Old Fashioned and Beignets, $2 off all Drafts
Wednesdays Wooten & Wine:
$6 wines / $10 off bottles (Cava, Malbec, Pinot)
Thursdays

(until 8:30pm):
$8 French Quarter inspired cocktails (Sazerac, Lavender Sidecar, French 75) and 1/2 price beignets
Sunday Brunch:
$5 Mimosas and Bloody Mary's & 2pm-5pm $15 cocktail flights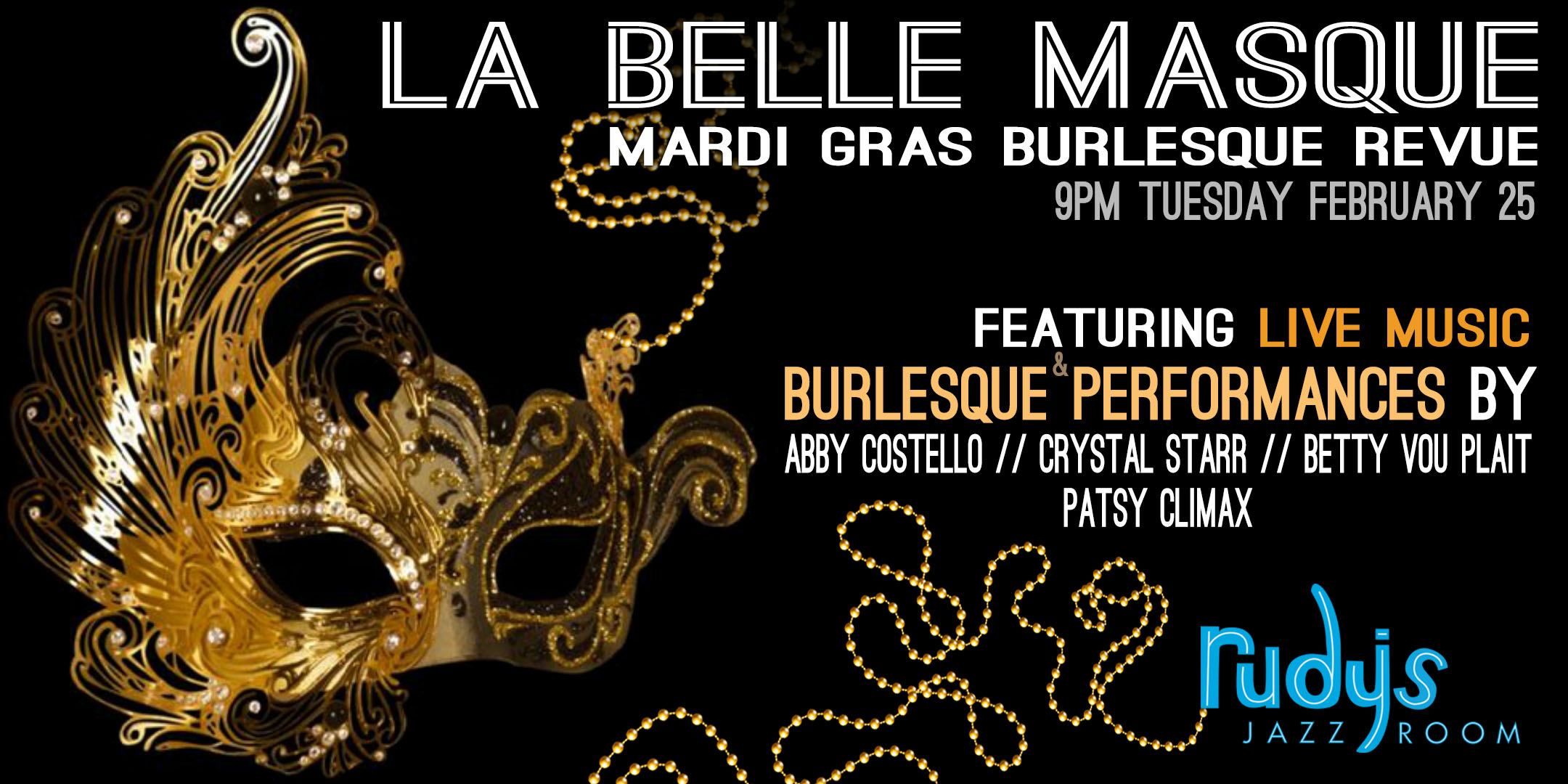 Experience a spectacular night of Mardi Gras merriment and burlesque that will take your breath away, all to the accompaniment of Brook Sutton's live New Orleans style jazz band. Sit back, relax, and enjoy the show while the Rudy's Royal Court shows you a dazzling good time, bringing you a taste of the French Quarter Carnival celebration, so mark your calendars and prepare to be entertained!
TONIGHT'S SHOWS
Re-Evolution
6:00pm-8:30pm, $10 at the door
Featuring Brian Cornish on saxophone, Regi Wooten on bass, Nioshi Jackson on drums, Adam Charney on guitar, and Marc Payne on piano. Re-Evolution is heavily influenced by traditional and classic jazz cutting edge artists such as John Coltrane, Miles Davis, Wes Montgomery, Bill Evans, McCoy Tyner, Elvin Jones, Thelonious Monk and many more...
Giovanni Rodriguez & 12 Manos
9:00pm-11:30pm, $10 at the door
Giovanni Rodriguez is an exciting multi-instrumentalist and Nashville favorite on the Salsa and jazz scene. An electric night of Salsa dancing! Ernesto Lago Violin (Cuba) - violin/vocals Alex Rivas (Cuba) - piano/vocals Yosvany Cordero (Cuba) - bongos/cowbell Brian Allen (Indiana) - bass Jesus Agreda (Venezuela) - timbales/drums Giovanni Rodriguez (Dominican Republic) - congas/vocals

Wendy Burns
6:00pm-8:30pm, $10 at the door
Wendy Burns, a 1940's flare vocalist/ flutist, and Trio, presents: "I'm Confessin", Songs of Reason"

An evening of Classic Jazz and Swing Standards as well as original material. Songs that Confess of love as well as confessions of what lead to a broken heart. A Combination of Happy love songs, and a few classic victim songs dating all the way back to the year 1924. Set lists includes songs of the years gone by, Louis Armstrong, Sammy Kahn, Ira Gershwin, Cole Porter, that deserve to never be forgotten. Songs about real life that weren't just written to rhyme, but were written from the heart, to create songs of reason.

Wendy was Influenced and inspired at a young age by a radio show "Big Band Saturday Night"on the AM dial, and she fell in love with the melodies and words of the Great American Songbook. From this she has quite a repertoire of classics jazz swing songs and stays true to the style they were written in. "There's something truly special in staying on the path of the composer's melody and the lyricist's words. It's sort of like walking in their shoes and stepping back in time". They weren't just rhyming words but were putting their feelings to music. So instead of just creating songs of rhyme, they were Songs of Reason."
The David Rodgers Experiment
9:00pm-11:30pm, $15 at the door
California native David Rodgers is one of the most exciting talents in Nashville's jazz scene today. Currently an active member of Keb' Mo's band as keyboardist, he has also recorded on numerous records including Keb's Grammy-winning Oklahoma (2019). He has toured and performed worldwide at the Montreux Jazz Festival, North Sea Jazz Festival, and the Playboy Jazz Festival, among many others. David holds a bachelor of music degree from Vanderbilt University's Blair School of Music where he pursued both classical and jazz piano performance, and holds a masters of music degree from Belmont University where he studied commercial composition.

Combining his classical training with deep improvisational roots in both jazz and blues, David is the winner of the 2016 James Miltenberger International Jazz Piano Competition, and has also performed with several regional orchestras, most recently with his very own composition, "Concerto for Jazz Piano & Orchestra." His compositions have been performed and recorded internationally, including guest appearances at the 2018 Jazz Education Network's Young Composers Showcase where the U.S. Airmen of Note played his winning big band composition, as well as in Canada where he was invited as a guest artist to the Banff Centre's International Workshop in Jazz & Creative Music. In addition to being an active Korg-endorsed artist, he was also a finalist for ROLI's first-ever International Next Awards for which he was invited to London to perform as a soloist. He has released two albums as a leader: his 2017 genre-bending, debut project Songs For A Generation; as well as his 2019 album, Doorways.

Les Sabler
6:00pm-8:30pm, $10 at the door
The Montreal native and established recording artist made his home in Nashville five years ago and is returning for another performance at Rudy's Jazz Room with a stellar quintet featuring Clay Perry, keyboards; Brian Allen, bass; Robert Harsen, drums and Vincent Heckard, percussion.

Les' seventh CD Jobim Tribute has been well received by critics and radio. Reaching #1 on Amazon Brazilian Jazz and Latin Jazz best sellers and #36 Latin Music one week after its release.

"Like the artists that influenced me most I set out to blend a variety of styles while balancing art and technique." said Sabler. His catalogue reflects this outlook and direction and his performances demonstrate an eclectic mix of passion and energy.

"Sabler's playing is dynamic like John Scofield's, melodic like George Benson's and compelling like Jeff Beck's. But Sabler's sound is not just a conglomeration of his influences, his playing is clearly and refreshingly his own." - Phil Matlock / MAC

"Les Sabler has created an irresistible recording that crosses the boundaries between genres. Antonio Carlos Jobim would be pleased." - Scott Yanow / Jazz Times, Jazziz, Downbeat

"Les Sabler delivers a winner on Jobim Tribute as he salutes and remembers a man and his music with a measure of taste and a touch of class, on one of the most compelling and engaging tribute albums to a legend." Edward Blanco / AllAboutJazz.com

"Les sounds great playing and singing these gems. While the source of this music is Brazilian, he's made them more Latin in feel, which is refreshing. I like his voice in the baritone range – and extra kudos for singing (at times) in Portuguese!" - Robert Lamm / Chicago

"a shimmering guitar style that is sleek, chic and sexy." - Steve Persall / Players Magazine

"Les' jazz guitar work is incredible." - Troy Vanliere / CCM

You really make my Electric Nylon guitar SING!" - Roger Sadowsky, Sadowsky Guitars

Long recognized as possessing the magic formula for top notch contemporary jazz, Les Sabler has come roaring back with his brand new single 'In The Light'. It is the kind of easy grooving number that succinctly demonstrates exactly what Sabler is all about. - Dennis Poole

The place, where virtuosity meets emotion." - Hans-Bernd Hulsman / www.smooth-jazz.de
Regi Wooten & Friends
9:00pm-11:30pm, $12 at the door
Every Wednesday, Regi Wooten assembles a cast of Nashville's best as they dig deep into the roots of funk, jazz, blues, rock, and soul. You never know who might jump on stage! Don't miss a beat!

Hot Club Gypsy Jazz Thursdays; Rudy's French Connection
6:00pm-8:30pm, $10 at the door
Hot Club Gypsy Jazz Thursdays; Rudy's French Connection

Every Thursday we honor our New Orleans and French roots and Rudy's comes alive with a variety of small groups in the Django style of gypsy jazz swing. There's no better place to chill, cozy up and relax after work. Enjoy $8 French Quarter inspired cocktails (Sazerac, Lavender Sidecar, French 75), have a glass of Côtes du Rhône, and enjoy some gumbo or beignets while listening to the rhythm and mood of hot club jazz in Nashville's most intimate and romantic room.
Alayna Renae
9:00pm-12:00am, $10 at the door
Nashville based vocalist Alayna Renae's contemporary sound reflects the ever-changing fusion of Jazz and Neo-Soul. Alayna creates an atmosphere to transcend you from any situation. Inspired by singers like Ella Fitzgerald and Erykah Badu, she sings from her soul. Whether you hear familiar standards or original compositions, her music portrays where she is in her life journey. She's backed by some of Nashville's most up-and-coming instrumentalists who are sure to inspire you. Alayna is currently working on her first album entitled "Surprising Imagery" to be released early 2019.

Marcus Finnie Trio
5:30pm-7:30pm, $10 at the door
David Rodgers Marcus Finnie and Jimmy Sullivan join together to perform original music and arrangements. David and Marcus met touring two years with the legendary and Grammy Award winning Taj Mahal and Keb Mo (Tajmo) back in 2017. You don't wanna miss these two joined by Jimmy Sullivan on bass.

"David Rodgers has loved music for as long as he can remember. When he was a baby, his mother would play him Mozart, and he began training in piano at age 4. "Loving music is almost an understatement, because there's really no word to describe how much I enjoy doing what I do," Rodgers said. "I'm so lucky to be able to say that." At Blair School of Music, the classically trained pianist found his interest in jazz music exploding. Rodgers is graduating with a degree in piano performance alongside a newly released album of jazz originals he composed, arranged and performed. Then there's his spot in the touring band of Grammy Award-winning blues musicians Keb' Mo' and Taj Mahal." Writing credit: Amy Wolf - Vanderbilt News

As a Memphis native and Nashville resident, Marcus has Toured with Kirk Whalum, keb Mo, Taj Mahal, Lady Antebellum, Larry Carlton, Donna Summer, India Arie, Billy Preston, Earl Klugh and many others. Marcus has also recorded with Grammy and Stellar Award nominated and winning artists' Kirk Whalum, Keb mo & Taj Mahal, India Arie, Michael McDonald, Lalah Hathaway, Smokie Norful, Donnie McClurkin, American Idols' Ace Young, Rodney Crowell, Vickie Winans, Rachel Lampa, and several others.
2018 NIMAS Jazz Instrumentalist of the Year Jimmy Sullivan is one of Music City's most sought after bassists. Since leaving New York for Nashville in 2014, Jimmy has performed and recorded with a multitude of artists spanning many different genres and styles. While being an incredibly versatile musician, jazz remains his passion and his love for the art form shines through in his many performances at Rudy's Jazz Room as both a sideman and band leader.
Bob Sabellico "Soul Jazz & Jam"
8:00pm-11:00pm, $15 at the door
Bob Sabellico is a Guitarist, Synthesist & Composer that has been on the Nashville scene for many years. Hailing from Philadelphia, Bob's music emotes a Jazz and R&B style that is in the pocket but never afraid to run outside the lines.. Bob's career has put him along side world class musicians like Dennis Chambers, Will Kennedy, Pat Martino, Chuck Loeb, Gerald Albright and many more. Bob will be joined by Jody Nardone on piano, Vail Johnson on bass, and Raymond Massie on drums. This is a high energy show with immense talent on stage that you don't want to miss.
Geoff Pfeifer
11:30pm-2:00am, $10 at the door
The Geoff Pfeifer Quartet, gritty, edgy, the real deal NYC style jazz. Saxophonist Geoff Pfeifer brings some of Nashville's top jazz cats out, and you'll be sure to feel the energy. Playing a mix of original material and Wayne Shorter tunes, Pfeifer leads the group.

Geoff Pfeifer, a Nashville based musician and composer, has been living and performing in Nashville since 2005. Geoff studied saxophone with Ted Nash and Ralph Lalama and composition with Mike Holober and Jim McNeely. He is a saxophonist and arranger with the R&B band Chubby and The Dots and plays the 2nd Tenor Saxophone chair in The Establishment Big Band.

Saturday Showcase w/ the John Allen Trio
12:00pm-3:00pm, no cover
Saturday Showcases is our weekly no-cover all ages lunch showcase featuring local bands, educators, young artists and Special guests. Shows are free and all ages are welcome! Join us for lunch and drinks! This week we have the John Allen Trio.
Steve Pardo's DOS
5:30pm-7:30pm, $10 at the door
From acclaimed game and TV composer & audio designer Steve Pardo (sax/winds), DOS features original music from some of the most recent game soundtracks he's worked on, and from his Instagram feed @stevepardo. DOS is digital and analog, acoustic and electronic, determined and improvised.
Steve Pardo is a professional saxophone/woodwind/multi-instrumentalist, and composes rich soundtracks for a wide range of games and TV for both indie and AAA studios. On top of co-founding his audio and music team, SkewSound, Steve is known for his audio design leadership and inventions at video game studio Harmonix, impacting games and franchises such as Rock Band, Dance Central, and Fantasia: Music Evolved. Steve is actively involved in AI and machine-learning based generative music, and develops interactive music VR experiences with Trio VR. Find out more at
stevepardo.com
.
DOS features Steve (sax/winds) and the talents of Mike Baggetta (guitar), Amy Pardo (flute), Jon Estes (bass), Liz Estes (violin), and Brian Fitch (drums).
Keith Brown Trio
8:00pm-11:00pm, $15 at the door
The Keith Brown Trio Features Keith Brown on piano/keyboards, Dezron Douglas on bass and Darrell Green on Drums. Their repertoire consist of mostly original music that is energetic, challenging but always based in soulfulness. The band also performances some of Brown's arrangements of jazz standards and pop tunes from Michael Jackson, Stevie Wonder, Brandy and more. Under the direction of Brown each member still has plenty of space to add their own individual voice to the music and tell their experiences using their instruments.

Keith L. Brown is a pianist, composer, arranger and educator. Born in Memphis and raised in Knoxville, TN, Keith began playing piano and bass at an early age. Raised in a musical family, both Keith's parents played music and many of his aunts and uncles are exceptionally musically talented as well. His father Donald Brown is a world renowned jazz pianist/composer having performed with many greats and his mother Dorothy is a pianist also and plays various woodwind instruments. Keith first learned to play songs of R&B artists like Stevie Wonder by ear and then started classical piano lessons at 8yrs old. His father helped nurture Keith's musical ambitions by teaching him how to play his original compositions and jazz standards. Keith and his brothers, Kenneth (drums) and Donald Jr., were deep into hip-hop and rap music growing up. Keith began to study jazz seriously after he graduated high school. It was at this time that he really began to be influenced by other great Memphis pianists such as Phineas Newborn Jr., James Williams, and Mulgrew Miller. By age 18, Keith was playing piano and bass around Knoxville in a variety of jazz, r&b, funk, and country bands. Later Keith would go on to earn his Bachelor of Music degree from the University of Tennessee at Knoxville in 2009 and completed his Masters of Music Degree in May 2011. Currently Keith resides in NY where he continues to be in demand making a name for himself as a pianist and composer both nationally and internationally.

Since he began playing jazz, at the age of 18, Keith has been fortunate to perform and record with some amazing musicians both as a leader and a sideman. Keith currently tours as the pianist for Charles Tolliver and Jazzmeia Horn and has shared the stage with great jazz artists such as Camille Thurman & The Darrell Green Trio, Dezron Douglas, Sherman Irby, Steve Stagle, Terreon Gully, Kenneth Whalum III, David Weiss, Mike Clark, Bill Saxton, Joe Farnsworth, Greg Tardy, John Clayton, Benny Golson, and Bobby Watson to name a few. Keith continues to draw inspiration from his roots in R&B, Funk, Classical, Jazz and Hip-Hop and constantly explores new ways of integrating these influences.
Oracle Blue
11:30pm-2:00am, $10 at the door
Oracle Blue is enticingly unequivocal when it comes to genre-branding, marrying musical nostalgia with newfangled soundscapes. Under the banners of Swank-Pop and Alt-Jazz they craft for themselves a realm entirely their own with strong female vocals garnished by multi-instrumentalists in the rhythm and horn sections.

The band's resume includes performances at Montreux, Vienne and Umbria Jazz Festivals, a DownBeat Student Music Award for Outstanding Performance in the Blues/Pop/Rock category, and the honor of being selected through competition by five-time GRAMMY Award winner Lalah Hathaway to open for two performances on her 2018 'Honestly' tour. Their debut album, Gilded Kingdoms, is comprised primarily of original works, and also includes reimaginings of jazz standards "Don't Explain" (Billie Holiday) and "On Green Dolphin Street" (Bronisalw Kaper). Gilded Kingdoms is available on iTunes, Spotify, Amazon, and at OracleBlueBand.com.

Stephanie Adlington
11:00am-2:00pm, $20 at the door
Stephanie Adlington, otherwise known as, "The Siren Of The South", is a working singer, songwriter, actor, and vocal coach. Born and raised in Grafton, WV, Miss Stephanie is a graduate of the prestigious Royal Academy of Music in London, England, and also attended the Eastman School of Music in Rochester, NY, and (pre-college) Carnegie Melon University in Pittsburgh, PA. While in London, Stephanie recorded with the folk-rock band Renaissance, which produced three critically acclaimed international albums. Known for her unique vocal styling, an evening with Miss Stephanie carries her audience back to the prohibition era - a scandalous rendezvous in a wicked speakeasy, where swagger goes and bourbon flows. Her show titled, "The Jazz, Pearls, and Bourbon Review" is a throwback to the glorious days of old school jazz: think top-shelf juke joint meets Southern hospitality. Drink in an infusion of bourbon, Johnny Mercer, Billie Holiday, Patsy Cline, and Fats Waller and you just sidled up to the bar next to, "The Siren Of The South".
Matt Endahl Trio
2:30pm-5:00pm, no cover
Matt Endahl is a jazz pianist, composer and educator. He is one of Nashville's most in-demand pianists, performing in groups led by Jeff Coffin, Chester Thompson, Imer Santiago, Duffy Jackson, Christina Watson, Marcus Finnie, and many others. He also plays regularly with the Dara Tucker Band, Joshua Carswell, the Tyler Mire Big Band, Rahsaan Barber's Everyday Magic, and the Jason Eskridge Band. Matt has also shared the stage with legendary figures like Arthur Blythe, Jimmy Heath, Henry Grimes, David Liebman, Steve Coleman, Jane Ira Bloom and the late Marcus Belgrave.
The Duffy Jackson Show
6:00pm-8:30pm, $12 at the door
See the fabulous Duffy Jackson Show with some of Nashville's most seasoned jazz professionals every Sunday night at Rudy's Jazz Room, all Ages Welcome!

A true legendary jazz drummer, Jackson is the son of Chubby Jackson, and played drums as a young child making appearances with Count Basie, Duke Ellington, Woody Herman, and Buddy Rich before he finished high school. In 1971 he relocated to Los Angeles, where he played with Monty Alexander, Ray Brown, Herb Ellis, Lena Horne, Milt Jackson, and Barney Kessel. Following a tour of Japan with Benny Carter, he appeared on television for two years with Sammy Davis, Jr. (1974-1976). Later in the 1970s he played with Grover Mitchell and did a tour of Europe with the Count Basie Orchestra.

In the 1980s Jackson worked with Lionel Hampton, Al Jarreau, James Moody, and Sonny Stitt, and in 1985 re-joined the Basie orchestra while Thad Jones was its leader. Following this he worked with Illinois Jacquet and Artie Shaw, then re-joined the Basie Orchestra under Frank Foster. In the 1990s, he relocated to Fort Lauderdale, where he played with Harry Allen, Billy Ross, and the Manhattan Transfer.
Jazz Jam
9:00pm-12:00am, $10 at the door
Rudy's hosts the official pro jazz jam. Come out and experience some of music city's best as they take the stage with Nashville's next generation of jazz performers!

We welcome all ages to this show.

Re-Evolution
6:00pm-8:30pm, $10 at the door
Featuring Brian Cornish on saxophone, Regi Wooten on bass, Nioshi Jackson on drums, Adam Charney on guitar, and Marc Payne on piano. Re-Evolution is heavily influenced by traditional and classic jazz cutting edge artists such as John Coltrane, Miles Davis, Wes Montgomery, Bill Evans, McCoy Tyner, Elvin Jones, Thelonious Monk and many more...
Giovanni Rodriguez & 12 Manos
9:00pm-11:30pm, $10 at the door
Giovanni Rodriguez is an exciting multi-instrumentalist and Nashville favorite on the Salsa and jazz scene. An electric night of Salsa dancing! Ernesto Lago Violin (Cuba) - violin/vocals Alex Rivas (Cuba) - piano/vocals Yosvany Cordero (Cuba) - bongos/cowbell Brian Allen (Indiana) - bass Jesus Agreda (Venezuela) - timbales/drums Giovanni Rodriguez (Dominican Republic) - congas/vocals