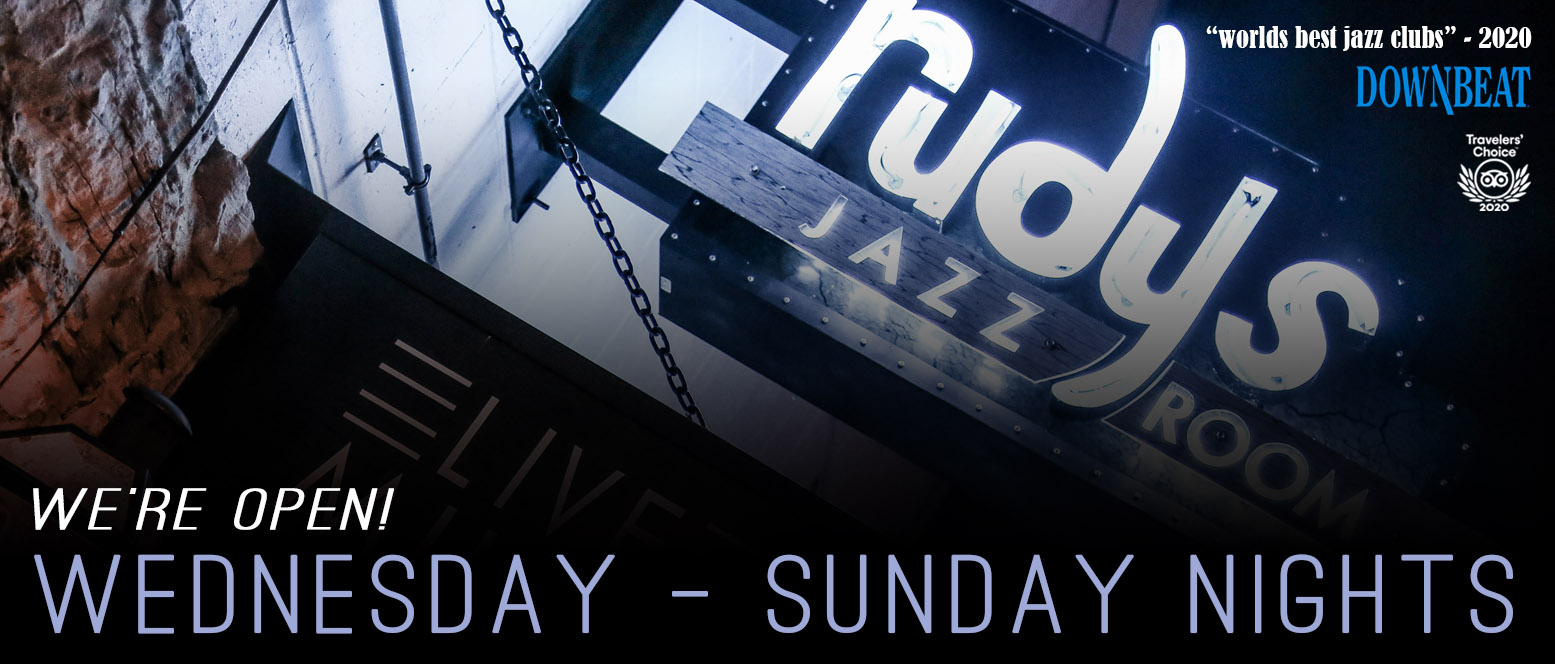 We are excited to be back with live music shows every Wednesday, Thursday, Friday and Saturday night each week! Check out our Covid Safety page for Covid Safety information, and our information page on seating.
We will be open Wednesdays through Sundays beginning in August. Please check back on this page as well as our socials for announcements of additional open days.
If you like what we do please consider making a donation to
Help Support Rudy's Jazz Room
.
TONIGHT'S SHOWS
John Hanrahan's A Love Supreme Electric Band
6:00pm-8:15pm, $22 at the door
The group will present an explorative rendition of John Coltrane's seminal 1965 suite "A Love Supreme", along with a special selection of material from Coltrane's other works. Featuring Jayve Montgomery, Mike Baggetta, Clifton Hyde, Matt Endahl, Jonathon Wires & John Hanrahan, this show promises to be THE JAZZ EVENT to heat up your summer.
Jayve Montgomery is a Nashville sound artist and multi-instrumentalist of the Chicago school of Free, Creative, and Improvised musics, Sonic Healing Ministries sector. Guitarist Mike Baggetta's singular and very personal musical style seeks to blur the lines between composition and improvisation, while connecting a wide range of musical genres that influence him. Clifton Hyde has performed as pianist for composer/tabla player, Zakir Hussain, and his piano and steel guitar can be heard on the feature film, "Sun Dogs".
Matt Endahl, a pianist, composer and educator, has shared the stage with legendary figures like Jimmy Heath, Henry Grimes, David Liebman, Jane Ira Bloom, and the late Arthur Blythe and Marcus Belgrave. Jonathon Wires Jazz Bass playing has been recorded on around 30 records ranging from rock, jazz, folk, to classically influenced music. A veteran of the Chicago music scene, drummer/singer John Hanrahan has made a strong and versatile impression in bands throughout the country, as well as with his project, released in 2016, performing John Coltrane's A Love Supreme.
Each one of these performers are quite famous on their own, but when they come together, you can expect an amazing show. Join us to spend an evening with some of Nashville's finest musicians!
More info at:
johnhanrahandrums.com
Dara Tucker
9:00pm-11:15pm, $25 at the door
Now based in NYC, award-wining vocalist and songwriter Dara Tucker returns to Nashville for one night, July 24th, in celebration of her new CD "Dreams of Waking: Music For A Better World." Backed by long time bandmates pianist Matt Endahl, drummer Derrek Phillips and bassist Greg Bryant, Tucker will perform original compositions and tunes from her new recording - new arrangements of social justice anthems penned by James Taylor, Marvin Gaye and Stevie Wonder.

"The songs are performed in ways that celebrate the rigorous jazz tradition of excellence while speaking to contemporary social and political issues." Ron Wynn - Nashville Scene

"There's a comforting, lullaby quality about Dara's penetrating voice that is both aware and assuring." Mark Myers - Jazzwax/ Wall Street Journal

"Industry-decorated singer Dara Tucker exalts exquisite timbre, stirring melodies and warm harmonies on Dreams of Waking: Music for a Better World..." Susanne Lorge - New York City Jazz Record