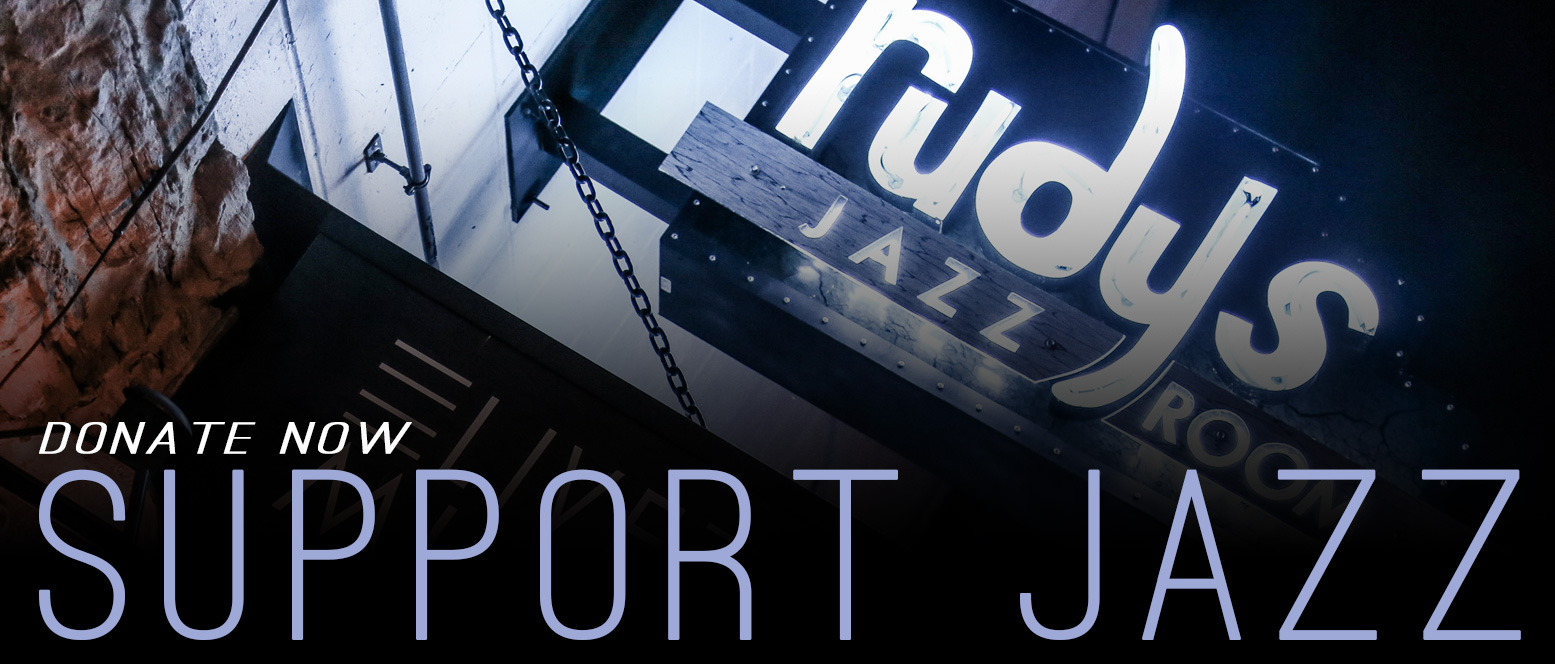 Because of COVID-19 and city mandates restricting the use of our space such that we cannot currently operate we must rely on public assistance and generosity to get through these times.  We ask, if you have the means, value what Rudy's brings to your life and would like to support the continuation of what we do by bringing live jazz to Nashville and nurturing the live creative process in an intimate setting, that you consider donating what you can and feel comfortable with to our cause, no matter how small it may be.
Money donated will assist Rudy's Jazz Room general business financial needs getting through these times until we can reopen. In the meantime, we thank you in advance for your support.  Be safe and we will all get through this and resume normal daily life soon.
Support Rudy's Jazz Room Now

Regi Wooten & Brian Cornish Live Stream Duo
7:00pm-8:00pm, no cover
Regi Wooten "The Teacha", and "Mr. Meditation" Brian Cornish, formed a duo in early 2019, holding a residency at Rudy's Jazz Room on Sunday's. They are back for a very special, one-night-only performance on the Rudy's Live Stream series, "Sustain the Swing" Thursday July, 16th at 7pm CST.

Sit back and relax while this virtuosic duo takes you on a journey out of this world, through the cosmos, atop their tapestry in sound.

Jonathan Wires Quintet Live Stream
7:00pm-8:00pm, no cover
A Nashville all-star cast with Jonathan Wires on bass, Matt Endahl on piano, David Williford on sax, Adam Davis on guitar and Jordan Perlson on drums.  Bassist, composer, and educator Jonathan Wires is originally from New Hampshire, and received his Bachelor of Arts in Music Performance from the University of Memphis. In 2011, he pursued a Master's Degree in Jazz Studies from Middle Tennessee State University, which brought him to Nashville, TN. In addition to performing and composing, Jonathan has been an active educator at both Middle Tennessee State University (MTSU) and Nashville State Community College. Under Jeff Coffin's Ear Up label, Jonathan released his first recording entitled "Weaving" which features Jeff Coffin, Matt Endahl, and Joshua Hunt with guest appearances by Lindsey Miller, Don Aliquo, James Westfall, and Jamey Simmons.

Diane Marino Quartet Live Stream
7:00pm-8:00pm, no cover
When you combine an accomplished vocalist, pianist, and arranger all in one individual, you have the dynamic Diane Marino. Diane was born in Manhattan, NYC. She started her early piano training of classical studies and jazz improvisation from the age of 10. Diane graduated from NYC'S 'Famed' High School for the Performing Arts and later received her B.M. degree from Mannes College of Music in Manhattan as a piano performance major where she studied piano with world-renowned concert pianist Murray Perahia. In her over 30 year career, Diane has performed Great American Song Book, traditional jazz, Latin and Brazilian jazz to captivated audiences in performing arts centers, festivals and notable Jazz venues such as Birdland - NYC, Blues Alley - D.C., Catalina Jazz Club - L.A., Vitello's Jazz Club - L.A., Arts Garage-Del Ray Beach, Vibrato Jazz – L.A., Twins Jazz-D.C., Nighttown-Cleveland, Heidi's Jazz Club-Cocoa Beach, Trumpets Jazz Club -NJ, Germantown Performing Arts Center, The Metropolitan Room-NYC, Bethesda Blues & Jazz - D.C, Montreux Atlanta Festival, Town Point Jazz Festival, Music City Jazz & Heritage Festival, to name a few.

Diane Marino (Piano/Vocals)
NYC native & M&M Records Recording Artist Diane Marino has recorded, performed, and shared the stage with jazz legends Houston Person, Ralph Lalama, Joe Henderson, Ricky Woodard, Clayton Cameron, Wycliffe Gordon, Kirk Whalum, and more. She has recorded six CD's- all of which have received widespread airplay and critical acclaim.
Diane has performed Great American Song Book, traditional jazz, Latin and Brazilian jazz to captivated audiences at festivals, performing arts centers and national jazz venues.

Cole Burgess (Sax /Flute)
Nashville based saxophonist Cole Burgess has performed with such notable artists as Mel Torme, Liza Minelli and The Nashville Jazz Orchestra, to name a few. Previously one of the lead soloists for the Establishment Big Band, he took over the leadership role on July 1, 2014. Known for his powerful yet smooth tenor sound, thoughtful improvisations and his ever present sense of humor, Cole Burgess is certainly a guiding force in the Establishment's new direction

Frank Marino (Bass)
An accomplished bassist of vast diversity and a NY native, Frank Marino has performed /recorded with Houston Person, Wycliffe Gordon, Clayton Cameron, Harry Allen, Ralph Lalama, just to name a few. As founder of M&M Records and The Piano Den Recording Studio, he has produced, recorded and played on all Jazz pianist/vocalist Diane Marino's CD's.

Neil Tufano (Drums)
Drummer Neil Tufano started playing professionally at age 16 and by age 21 he was touring with famed Jazz Piano Giant Monty Alexander. Spending most of his drumming career in New York freelancing with a multitude of artists, he carved out a successful career, covering a variety of musical genres. In 2004 he moved to Nashville TN, as Neil puts it "to try something new ". Being well versed in all styles, he was a perfect fit for the demands of sessions and the Nashville music scene. You can find Neil today at his state of the art recording studio where he writes music, teaches and produces other artists.