No reservations, all seating is first come first seated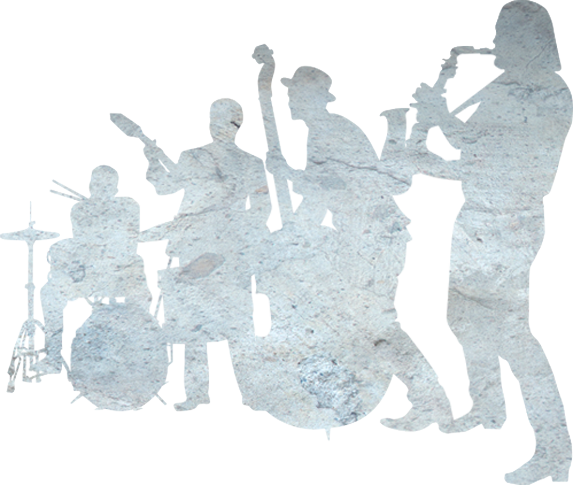 Music City's authentic late night jazz club
Serving classic New Orleans prohibition and pre-prohibition cocktails, local brews, and New Orleans cuisine.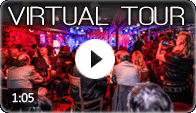 HAPPY HOUR SPECIALS
Mon-Wed 5-7pm, Thurs 5pm-8:30pm
Martini Monday:
1/2 price Martinis, *Salsa night 9-11:30 1/2 price Margaritas, *Service Industry Night - half off select food & drinks
Tuesdays:
Half Price Old Fashioned and Beignets, $2 off all Drafts
Wednesdays Wooten & Wine:
$6 wines / $10 off bottles (Cava, Malbec, Pinot)
Thursdays

(until 8:30pm):
$8 French Quarter inspired cocktails (Sazerac, Lavender Sidecar, French 75) and 1/2 price beignets
Sunday Brunch:
$5 Mimosas and Bloody Mary's & 2pm-5pm $15 cocktail flights
TONIGHT'S SHOWS
Re-Evolution
6:00pm-8:30pm, $10 at the door
Featuring Brian Cornish on saxophone, Regi Wooten on bass, Nioshi Jackson on drums, Adam Charney on guitar, and Marc Payne on piano. Re-Evolution is heavily influenced by traditional and classic jazz cutting edge artists such as John Coltrane, Miles Davis, Wes Montgomery, Bill Evans, McCoy Tyner, Elvin Jones, Thelonious Monk and many more...
Giovanni Rodriguez & 12 Manos
9:00pm-11:30pm, $10 at the door
Giovanni Rodriguez is an exciting multi-instrumentalist and Nashville favorite on the Salsa and jazz scene. An electric night of Salsa dancing! Ernesto Lago Violin (Cuba) - violin/vocals Alex Rivas (Cuba) - piano/vocals Yosvany Cordero (Cuba) - bongos/cowbell Brian Allen (Indiana) - bass Jesus Agreda (Venezuela) - timbales/drums Giovanni Rodriguez (Dominican Republic) - congas/vocals

Anna Arata
6:00pm-8:30pm, $10 at the door
The Anna Arata Vintet is a swing band devoted to bringing audiences tunes from & inspired by the 30's & 40's. Line up: Keys: Will Padgett Drums: Johnny Richeson Bass: Carter Murphey
David Williford
9:00pm-11:30pm, $10 at the door
Woodwind player and composer David Williford was born and raised in Knoxville, TN. Currently residing in Nashville, he works as a performer, composer, and educator. With early musical experiences playing blues, soul, and rock with his father, and studying modern jazz and classical music with artists like Don Aliquo, he has found a diverse and soulful place in the changing music scene. His working band presents original music, free improvisations, and re-imagined standards to Nashville regularly.

Apart from his own projects, David has performed and recorded with a wide variety of artists as a player and arranger. Some highlights include Dynamo, Mike Hicks, The Nashville Jazz Composers Collective, Jeff Coffin, Sory Diabaté, Rick Wilkerson, The Great Barrier Reefs, Charles Butler, Michael Toman, and David Rodgers.

Cheryl Deserée
6:00pm-8:30pm, $10 at the door
Cheryl Deserée is an award winning Western Swing artist. Raised on the wrong side of the tracks in a sleepy town in the California desert, this cigar smoking, Samoan pinup writes about life and love with wit, grit & honesty. Saving Country Music has said her songs "have that classic country way of encapsulating a moment or feeling most people experience in their lives in a poetic, yet plainspoken way" and that "with a sultry, smoky, jazzy style, a hot shit cast of studio players, and original songs penned by Cheryl herself, she has let her presence be known". Rockabilly n' Blues Radio says "Cheryl blends her traditional country, western swing and jazz influences in a unique style that is all her own."
Regi Wooten & Friends
9:00pm-11:30pm, $12 at the door
Every Wednesday, Regi Wooten assembles a cast of Nashville's best as they dig deep into the roots of funk, jazz, blues, rock, and soul. You never know who might jump on stage! Don't miss a beat!

Hot Club Gypsy Jazz Thursdays; Rudy's French Connection
6:00pm-8:30pm, $10 at the door
Hot Club Gypsy Jazz Thursdays; Rudy's French Connection

Every Thursday we honor our New Orleans and French roots and Rudy's comes alive with a variety of small groups in the Django style of gypsy jazz swing. There's no better place to chill, cozy up and relax after work. Enjoy $8 French Quarter inspired cocktails (Sazerac, Lavender Sidecar, French 75), have a glass of Côtes du Rhône, and enjoy some gumbo or beignets while listening to the rhythm and mood of hot club jazz in Nashville's most intimate and romantic room.
Caravan Tales
9:00pm-12:00am, $10 at the door
From Paris to New York, from Jamaica to Brazil, the jazz of this quartet is colored by the origins and travels of its participants.

Jerome Degey, platinum producer, composer, arranger, and guitarist from Paris also speaks and plays the Brazilian musical language fluently (Kenia, Rolando Faria, Les Etoiles).

From Kingston Jamaica, Keith Jones, just back from his tours with French violinist Jean-Luc Ponty, started his fruitful L.A. career (Santana, Wayne Shorter, Al Jarreau, the Crusaders, Joe Sample) with Brazilian superstar Airto Moreira and Flora Purim.

Grammy Award-winning pianist and accordionist Will Barrow has played, toured, and recorded with an eclectic array of artists including jazz siblings Eloise, Ronnie, and Hubert Laws, the late disco diva Vickie Sue Robinson, R&B singer Freda Payne, Wanda Jackson, BeBe Winans, Karen Parks, Suzy Bogguss and the Gatlin Brothers.

On drums, Nioshi Jackson is a go-to live/tour and session musician in Music City. He has worked with the likes of Michael McDonald, Larry Carlton, Ricky Skaggs, Chester Thompson, Victor Wooten, and many others.

James Austin Jr. - Songs in the Key of Wonder
5:30pm-7:30pm, $15 at the door
James Austin Jr. plays a mix of jazz standards and arrangements of classic Stevie Wonder tunes from his recent project "Songs in the Key of Wonder".
James Austin Jr., is an accomplished jazz pianist and bandleader who has performed with a long list of jazz luminaries. In recognition of his highly skilled musicianship, James has received numerous accolades and awards, including the honor of being selected as a semi-finalist in the prestigious Thelonious Monk International Jazz Piano competition. He has honed his craft under the tutelage of a number of legendary musicians including extensive study with Barry Harris. James' recent release Songs in the Key of Wonder showcases his tasteful jazz and latin arrangements of a selection of classic compositions from the songbook of the great Stevie Wonder (who James regards one of the greatest composers of all time). Others have covered Stevie's songs, however, James' arrangements have a particularly appealing flavor and infectious groove.
Songs in the Key of Wonder on Youtube
Laura Mayo
8:00pm-11:00pm, $15 at the door
The vocal presence of Laura Mayo represents the divine potential of jazz to move the human spirit. Echoing the tradition of Ella Fitzgerald, Anita O'Day and Keely Smith - she is a conduit to the foundation of the genre, while effortlessly expanding the boundaries of its form.

Born in Memphis, Laura has spent the better of a decade as the vocal ace of Nashville's premier recording studios. Her talents have been featured on national tours, performing with acts such as Cory Chisel and Quinn Deveaux.

Delivering her interpretation of jazz standards, Laura Mayo will be joined by a preeminent collection of Nashville instrumentalists including Matt Endahl (piano), Todd Parks (bass), and Chris Brown (drums).
Jimmy Sullivan
11:30pm-2:30am, $10 at the door
Born and raised in Virginia, Jimmy Sullivan's accomplished career as an upright and electric bassist began in Richmond and continued in New York City after earning a Bachelor of Music in Jazz Studies at the Virginia Commonwealth University School of the Arts. Sullivan works as a touring and session musician across multiple genres and has been based in Nashville since 2014.

This iteration of the Jimmy Sullivan Quartet will feature Adam Davis on guitar and Wes Little on drums.

Saturday Showcase w/ the Anthony Belfiglio/Paulo Oliveira Group and student jam
12:00pm-3:00pm, no cover
Saturday Showcases feature local bands comprised of some of Nashville's finest educators, with special guests sitting in each week. Shows are free and all ages are welcome! Join us for lunch and drinks! This week we have the Belmont Faculty Jazz Group and open student jam.
Marcus Finnie Band
5:30pm-7:30pm, $15 in advance, $20 at the door
As a Memphis native and Nashville resident, Marcus has Toured with Kirk Whalum, keb Mo, Taj Mahal, Lady Antebellum, Larry Carlton, Donna Summer, India Arie, Billy Preston, Earl Klugh and many others. Marcus has also recorded with Grammy and Stellar Award nominated and winning artists' Kirk Whalum, Keb mo & Taj Mahal, India Arie, Michael McDonald, Lalah Hathaway, Smokie Norful, Donnie McClurkin, American Idols' Ace Young, Rodney Crowell, Vickie Winans, Rachel Lampa, and several others.
Stephanie Adlington
8:00pm-11:00pm, $15 at the door
Stephanie Adlington, otherwise known as, "The Siren Of The South", is a working singer, songwriter, actor, and vocal coach. Born and raised in Grafton, WV, Miss Stephanie is a graduate of the prestigious Royal Academy of Music in London, England, and also attended the Eastman School of Music in Rochester, NY, and (pre-college) Carnegie Melon University in Pittsburgh, PA. While in London, Stephanie recorded with the folk-rock band Renaissance, which produced three critically acclaimed international albums. Known for her unique vocal styling, an evening with Miss Stephanie carries her audience back to the prohibition era - a scandalous rendezvous in a wicked speakeasy, where swagger goes and bourbon flows. Her show titled, "The Jazz, Pearls, and Bourbon Review" is a throwback to the glorious days of old school jazz: think top-shelf juke joint meets Southern hospitality. Drink in an infusion of bourbon, Johnny Mercer, Billie Holiday, Patsy Cline, and Fats Waller and you just sidled up to the bar next to, "The Siren Of The South".
Geoff Pfeifer
11:30pm-2:30am, $10 at the door
The Geoff Pfeifer Quartet, gritty, edgy, the real deal NYC style jazz. Saxophonist Geoff Pfeifer brings some of Nashville's top jazz cats out, and you'll be sure to feel the energy. Playing a mix of original material and Wayne Shorter tunes, Pfeifer leads the group.

Geoff Pfeifer, a Nashville based musician and composer, has been living and performing in Nashville since 2005. Geoff studied saxophone with Ted Nash and Ralph Lalama and composition with Mike Holober and Jim McNeely. He is a saxophonist and arranger with the R&B band Chubby and The Dots and plays the 2nd Tenor Saxophone chair in The Establishment Big Band.

Jazz Brunch with Pat Coil
11:00am-2:00pm, $20 at the door
All you can eat buffet and live jazz with Pat Coil.

Born in Jefferson City, Missouri, Pat is an accomplished pianist, composer, producer and arranger, as well as a highly respected studio musician. If you watch television, listen to the radio, or go to the movies, you have heard Pat and some form of his music. Pat has toured Japan, South America, Europe and the U.S. with such artists as Michael McDonald, Carmen McCrae, Olivia Newton John, Amy Grant, Vince Gill, Woody Herman and many others. Pat has recorded with many artists including Natalie Cole, Trisha Yearwood, Ernie Watts, Carmen McCrae, BeBe & CeCe Winans, Kenny Rogers, Travis Tritt, Peter Cetera, Woody Herman, Scott Henderson, and Michael McDonald. His talent spans the musical spectrum of jazz, pop, R&B, gospel, and country.

Living now in Nashville TN, Pat continues his successful career composing, recording, performing, producing, arranging and teaching. He has composed, produced and performed on hundreds of underscores heard on a variety of media all over the world. Pat taught jazz piano, combos, and improvisation at Middle Tennessee State University, and was an Associate Professor of Jazz Studies at the University Of North Texas.

Pat has recorded six solo jazz albums of his own, the third one being a collaboration with Lyle Mays. "True North" and his new album "Birdhouse" are available at patcoil.com, cdbaby.com and I-Tunes. Pat is currently on tour with Michael McDonald, and makes numerous appearances with his own group. Pat is currently working on a new release of his original music.
Cocktail Occasion w/ Regi Wooten & Brian Cornish
2:30pm-5:00pm, no cover
Enjoy Sunday afternoon cocktail flights from 2pm-5pm. This Sunday we have the musical virtuoso duo of Regi Wooten, "The Teacha", "Mr. Meditation" Brian Cornish, and special guests. Every Sunday from 2pm-5pm Rudy's offers an array of it's incredible cocktail flights.
The Duffy Jackson Show
6:00pm-8:30pm, $15 at the door
A true legendary jazz drummer, Jackson is the son of Chubby Jackson, and played drums as a young child making appearances with Count Basie, Duke Ellington, Woody Herman, and Buddy Rich before he finished high school. In 1971 he relocated to Los Angeles, where he played with Monty Alexander, Ray Brown, Herb Ellis, Lena Horne, Milt Jackson, and Barney Kessel. Following a tour of Japan with Benny Carter, he appeared on television for two years with Sammy Davis, Jr. (1974-1976). Later in the 1970s he played with Grover Mitchell and did a tour of Europe with the Count Basie Orchestra.

In the 1980s Jackson worked with Lionel Hampton, Al Jarreau, James Moody, and Sonny Stitt, and in 1985 re-joined the Basie orchestra while Thad Jones was its leader. Following this he worked with Illinois Jacquet and Artie Shaw, then re-joined the Basie Orchestra under Frank Foster. In the 1990s, he relocated to Fort Lauderdale, where he played with Harry Allen, Billy Ross, and the Manhattan Transfer.
Jazz Jam
9:00pm-12:00am, $10 at the door
Rudy's hosts the official pro jazz jam. Come out and experience some of music city's best as they take the stage with Nashville's next generation of jazz performers!

We welcome all ages to this show.

Re-Evolution
6:00pm-8:30pm, $10 at the door
Featuring Brian Cornish on saxophone, Regi Wooten on bass, Nioshi Jackson on drums, Adam Charney on guitar, and Marc Payne on piano. Re-Evolution is heavily influenced by traditional and classic jazz cutting edge artists such as John Coltrane, Miles Davis, Wes Montgomery, Bill Evans, McCoy Tyner, Elvin Jones, Thelonious Monk and many more...
Giovanni Rodriguez & 12 Manos
9:00pm-11:30pm, $10 at the door
Giovanni Rodriguez is an exciting multi-instrumentalist and Nashville favorite on the Salsa and jazz scene. An electric night of Salsa dancing! Ernesto Lago Violin (Cuba) - violin/vocals Alex Rivas (Cuba) - piano/vocals Yosvany Cordero (Cuba) - bongos/cowbell Brian Allen (Indiana) - bass Jesus Agreda (Venezuela) - timbales/drums Giovanni Rodriguez (Dominican Republic) - congas/vocals