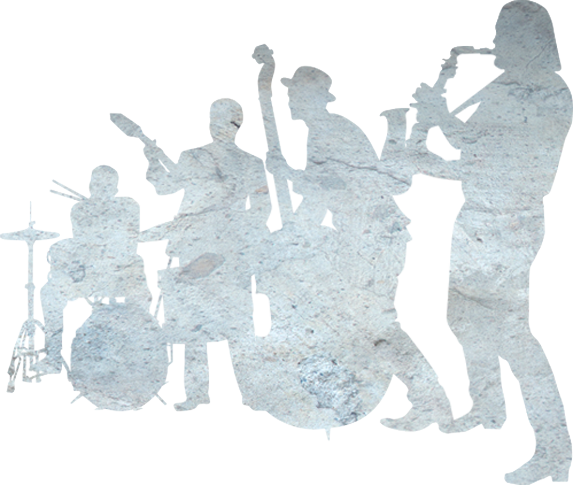 Music City's authentic late night jazz club
Serving classic New Orleans prohibition and pre-prohibition cocktails, local brews, and New Orleans cuisine.

HAPPY HOUR SPECIALS
Mon-Thurs 5-7pm
Martini Monday:
1/2 price Martinis, *Salsa night 9-11:30 1/2 price Margaritas, *Service Industry Night - half off select food & drinks
Tuesdays:
Half Price Old Fashioned and Beignets, $2 off all Drafts
Wednesdays Wooten & Wine:
$6 wines / $10 off bottles (Cava, Malbec, Pinot)
Thursdays:
$3 Swamp water shots, 2 for 1 draft and 1/2 price beignets
Sunday Brunch:
$5 Mimosas and Bloody Mary's & 2pm-5pm $15 cocktail flights
New Sunday Jazz Brunch!
$20 includes all you can eat buffet and the best live jazz in Nashville! Every Sunday, 11am-2pm.
TONIGHT'S SHOWS
Cliff Richmond & Friends
5:30pm-7:30pm, $8 at the door
Cliff Richmond & the CliffNotes serve up a unique blend of soulful, swinging & funky jazz, They incorporate a wide range of styles from mainstream jazz, to rhythm & blues, Latin to reggae. Founded by Cliff (guitar & vocals) the CliffNotes always features some of Nashville's most accomplished and versatile musicians and vocalists.

Rod McGaha
8:00pm-11:00pm, $20 at the door
Rod McGaha is exactly what working musicians strive to be, a potent combination of virtuosity and unfettered artistic passion. But who are we to say so? Fair question. It has been said by more than a few that the good musicians know who are the good musicians; therefore -

Max Roach (jazz legend): "(Rod is) An important new and original voice."

Clark Terry (jazz legend): "When I first heard Trees (Rod), I got that same feeling I got when I first heard Wynton Marsalis . Some musicians just have that thing!"

Jeff Coffin (Dave Matthews Band): "Rod McGaha is a one of a kind musician and has his own identity on the trumpet – an instrument that millions of people play- and that's saying something."

Kirk Whalum (Grammy award winner): "Rod McGaha doesn't think he has the luxury of ever releasing music he doesn't feel deeply. I for one am glad that he connects us to his heart each time he connects to his mouthpiece."

Victor Wooten (Grammy award winning bassist) " Rod is a special talent. Whether playing trumpet, writing, or arranging, he speaks with a voice that is uniquely his own. That is why I use him on my projects."

Whether you first heard him as the opening act for Take 6 or as one of the featured jazz soloists with Max Roach's critically-acclaimed group, or maybe even as a featured soloist playing in front of the Nashville Symphony Orchestra, one of your first thoughts had to be, "This guy makes playing great look really easy." That's because Rod has lived a musical life that was founded on consistent, hard work behind the scenes and passionate fun and pleasure on the stage. "If I didn't love playing so much, I would have quit - years ago."

A native born Chicagoan, Rod McGaha first showed up on Chicago's jazz scene as a young prodigy, during an era when young lions were making more than just a little roar. He constantly comments on how receiving the acceptance and guidance of legendary tenor saxophonist, Von Freeman was very important to him. "When I teach in clinics, I remember how eager I was to get better and how important it was for me to be called one of Von's "horses". When I teach kids today, I recognize that look in their eyes. I'm just as happy for them, as I was for me. I understand their excitement and their fear."

Rod is quick to admit that he was blessed to to have garnered the attention of legends like Von Freeman and Clark Terry at a young age, but it is probably most telling that although he received an invite from none other than Wynton Marsalis himself, to come to New York to audition for a spot as one of the newest young lions in Art Blakey's Jazz Messengers, he felt that life was calling him in a different direction, to be a different kind of lion.

By the time he was 22, Rod was busy trying to find "a way" to musically express his spiritual beliefs, while utilizing his knowledge and skills in African American modern improvisation (or as it is better known as, Jazz). And, apparently that "way" is an endlessly long way. Rod has played concerts in Egypt, Japan, Germany, South Africa, Poland and Mexico. He has played in bands for Kenny Rogers, Bebe and CeCe Winans and was even the music the director for the now alternative rock sensation Shelby Lynne. One could just list the stages on which he's played (Carnegie Hall, Lincoln Center and Chicago's legendary Jazz Showcase, to name just a few) and come to the conclusion that his has been a complete musical life. But Rod says the music is the only thing that really matters. "If I can make someone feel something through my music, then I know I'm doing it right. I want people to feel the way I felt listening to Clark Terry. I remember, I was listening to a recording of Clark Terry and it gave me great joy. He made me happy just with his music alone. That's the power of music!"

And, it is Rod's power in music that led the New York Times to proclaim that his album Preacherman was one of the top ten albums deserving greater recognition. Not one to ever rest on past achievements, Rod McGaha has continued to write and perform music that is both contemporary, and yet classic in some nature. Traveling the world and playing with such a diverse group of musical talents spurred him to create the well received United For Peace Orchestra, a 22 member juggernaut of a band, amalgamating over 7 different nationalities. "Being on stage with that band was like being on stage with an encyclopedia Britannica. There was knowledge and culture coming in from all different directions and the audience was just as inspired by it as we were." But complexity for complexity sake is not Rod's approach. Often, you'll see him onstage using nothing but a plunger and his trumpet, while playing a raw a capella blues. His musical philosophy is one reminiscent of the familiar Nikki Giovanni line, "... people try to speak English instead of trying to speak through it." Rod's primary goal is to speak through music in a way that brings joy to his audiences. And, as for all the rest? "All the rest is gravy, doc!" All the rest is gravy.

Geoff Pfeifer
11:30pm-2:00am, $10 at the door
The Geoff Pfeifer Quartet, gritty, edgy, the real deal NYC style jazz. Saxophonist Geoff Pfeifer brings some of Nashville's top jazz cats out, and you'll be sure to feel the energy. Playing a mix of original material and Wayne Shorter tunes, Pfeifer leads the group.

Geoff Pfeifer, a Nashville based musician and composer, has been living and performing in Nashville since 2005. Geoff studied saxophone with Ted Nash and Ralph Lalama and composition with Mike Holober and Jim McNeely. He is a saxophonist and arranger with the R&B band Chubby and The Dots and plays the 2nd Tenor Saxophone chair in The Establishment Big Band.

Jazz Brunch with Crystal Miller
11:00am-2:00pm, $20 at the door
All you can eat buffet and live jazz with Crystal Miller.

Crystal Miller will move you with the music that moves her. That's why, when you hear Crystal, you hear the combination of ALL of her musical experiences. When asked which genre of music she prefers, she'll tell you, "That's like asking a woman to choose one favorite pair of shoes--It's VIRTUALLY IMPOSSIBLE!!--different genres speak to me for different reasons"--like the memories of the R&B, Pop and Rock of her youth, to the stories and harmonies of Country and Bluegrass that she has sung with bands like Diane King and Littlestone, to the impassioned lyrics and sensual, soul-affirming rhythms of the Latin music that she now sings with the Marcela Pinilla Band. Combining those beats and rhythms with the jazz sensibilities learned during her time as a student at the Nashville Jazz Workshop, as well as singing with her Jazz fathers, the EZ Jazz Quartet, is Crystal's current passion. Music lovers will surely enjoy their favorites and be introduced to new faves, when Crystal Miller and her band perform.

Photo credit Todd Schanbaum
Cocktail Occasion
2:00pm-5:00pm, no cover
Every Sunday from 2pm-5pm Rudy's offers an array of it's increadible cocktail flights.
Caravan Tales
6:00pm-8:30pm, $10 at the door
From Brazil to Paris, from Jamaica to Caracas, the jazz of this trio is colored by the origins and the travels of its participants.

Jerome Degey, platinum producer, composer, arranger, and guitarist from Paris speaks and plays the Brazilian musical language fluently (Kenia, Rolando Faria, Les Etoiles). From Kingston Jamaica, Keith Jones, just back from his tours with French violinist Jean-Luc Ponty, started his fruitful L.A. career (Santana, Wayne Shorter, Al Jarreau, the Crusaders, Joe Sample) with Brazilian superstar Airto Moreira and Flora Purim. Isaac Velasquez is a drum prodigy coming from a long lineage of masters jazz musicians in Venezuela. Special Guest vocalist: singer-songwriter Grace Eden Young ("Grace & the Victory Riders") Gold Album Artist in Europe.
Jazz Jam
9:00pm-12:00am, $10 at the door
Rudy's hosts the official pro jazz jam. Come out and experience some of music city's best as they take the stage with Nashville's next generation of jazz performers!

We welcome all ages to this show.

Re-Evolution
6:00pm-8:30pm, $10 at the door
Featuring Brian Cornish on saxophone, Regi Wooten on bass, Nioshi Jackson on drums, Adam Charney on guitar, and Marc Payne on piano. Re-Evolution is heavily influenced by traditional and classic jazz cutting edge artists such as John Coltrane, Miles Davis, Wes Montgomery, Bill Evans, McCoy Tyner, Elvin Jones, Thelonious Monk and many more...
Giovanni Rodriguez & 12 Manos
9:00pm-11:30pm, $10 at the door
Giovanni Rodriguez is an exciting multi-instrumentalist and Nashville favorite on the Salsa and jazz scene. An electric night of Salsa dancing! Ernesto Lago Violin (Cuba) - violin/vocals Alex Rivas (Cuba) - piano/vocals Yosvany Cordero (Cuba) - bongos/cowbell Brian Allen (Indiana) - bass Jesus Agreda (Venezuela) - timbales/drums Giovanni Rodriguez (Dominican Republic) - congas/vocals

Double A Octet
6:00pm-8:30pm, $10 at the door
Double A Octet is the musical creation of Nashville based musicians Roy Agee and Chris Autry. Taking hits from the traditional American songbook, the "Double A's" offer a fresh perspective on classic tunes. Agee (trombone) and Autry (bass), along with 5 horns and stellar rhythm section, offer unique arrangements and original compositions.

Being from Nashville has its advantages. The band has featured some of the greatest horn players in the city, And, fronted by world class vocalist, Tommy Keenum, the listener is transported back to the sound of the early 20th century. With hints of Frank Sinatra and Chet Baker, the songs of yesteryear meet modern-day jazz and always bring about a swingin' good time.
Antonella Kalavati
9:00pm-11:30pm, $10 at the door
Brazilian recording artist Antonella brings a unique sound to music, based on her love of Brazilian legends such as João Gilberto and Chico Buarque; while also being influenced by the artistry of Billie Holiday and Paul Simon. Her new single "Quimera" is available on iTunes and all streaming services.

Viktor Krauss
6:00pm-8:30pm, $10 at the door
Eclectic composer bassist Viktor Krauss was born in Champaign, IL, in 1969. His youth was spent listening to soundtracks and instrumental music, eventually leading him to the piano and trumpet. After witnessing the power and ominous presence of the double bass at a middle school concert, he found his true calling. Krauss has been a presence in Nashville Tennessee since 1992 with nearly 500 album credits as either a bassist, composer/songwriter or producer. On tour, Viktor has been Lyle Lovett's primary bassist since 1994. Starting with 1996's "Nashville", Krauss began a long tenure with Jazz great Bill Frisell. Other albums with Frisell include "Gone, Just Like a Train", "Good Dog, Happy Man", "East/West" and "Disfarmer." Other artists over his career have included Tom Jones, Shawn Colvin, Sheryl Crow, Carly Simon and Jerry Douglas. In 2015, Viktor, along with Robert Plant, Alison Krauss and Buddy Miller performed at the Kennedy Center honoring the blues/Americana legend, Leadbelly.

In 2004, Krauss recorded his solo debut of his original compositions, Far From Enough featuring an all-star band consisting of Frisell, Jerry Douglas, Steve Jordan, and sister Alison (peaked at No. 6 on the Billboard® Contemporary Jazz Chart). Krauss' second album, II , which featured core band guitarist Dean Parks and drummer Matt Chamberlain emerged three years later. Last year, new duo recording of original material with lever harpist extraordinaire Maeve Gilchrist "Vignette". Primarily instrumental music, Viktor cites that this music could be described as "a soundtrack without a movie with nods to 'jazz and classic rock'." In 2006, Viktor was awarded a fellowship for the prestigious Film Composers' Lab at the Sundance Institute and his film composing credits include music for directors Ken Burns and the late Robert Altman. Viktor's original compositions from his solo recordings are used daily as musical "bumpers" for National Public Radio between programs.

Joining Viktor will be guitarist, Todd Lombardo, drummer, Robert Crawford and Pianist De Marco Johnson.
Wootenless Wednesday
9:00pm-11:30pm, $12 at the door
A cast of Nashville's best and funkiest jazz cats dig deep into the roots of funk, jazz, blues, rock, and soul. You never know who might jump on stage! Don't miss a beat!

Gypsy Hombres
6:00pm-8:30pm, $10 at the door
The acoustic violin/guitar based trio, The Gypsy Hombres, blend traditional jazz with European, South American, and classical music to create a sound unlike any other musical group. The Hombres' repertoire embraces a wide variety of composers and styles; from Brahms and Chopin to George Gershwin, Duke Ellington and Louis Armstrong to international folk songs, all while retaining the gypsy spirit. But besides just adding their own arrangements and personalities to standards, they are also accomplished composers with several original songs featured on their various recordings.

Equally at ease with swing, tangos, and waltzes, the Hombres provide plenty of inspiration for dancing, and their free spirit and natural improvisation can win over any audience.

Not just entertaining, their music is ideal for the serious listener, because of their high level of musical ability. In fact, their musicianship is so impressive, the Nashville Chamber Orchestra commissioned their composer in residence, Conni Ellisor, to write a piece incorporating some of the Hombres original songs, melodies and reifs. The result was "Nuage de la Nuit", a twenty-seven minute tribute to the legendary gypsy guitarist Django Reinhardt, featuring the Gypsy Hombres. The performance was broadcast by National Public Radio.
Kirabelle & Johnny: A Tribute to Johnny Mercer
9:00pm-12:00am, $10 at the door
Kirabelle & Johnny: A night of songs in honor of one of America's best-loved Songwriters of The Great American songbook.
Kirabelle, Nashville based vocalist/songwriter will share stories and songs of and by Johnny Mercer."

Charles Wigg Walker
5:30pm-7:30pm, $8 at the door
Join Rudy's for the return of our Friday happy hour soul and jazz series with Charles "Wigg" Walker, Nashville's original soul singer, and his six piece band and horn section. Born in Nashville, Tennessee on July 12, 1940, Charles "Wigg" Walker is one of the few remaining original soul singers from back in the day when old school R&B/soul was brand new on the music scene. Wigg's experience and maturity in the field of soul music gives him authenticity and perspective that is unmatched.

In 1960, Charles moved to New York City and in 1962 Charles began recording with Chess Records out of Chicago, Charles soon signed on as lead singer with the J.C. Davis Band and began touring the country opening for the greats of the era including James Brown, Jackie Wilson, Etta James, Wilson Pickett, Little Willie John, Otis Redding, and Sam Cooke. The J.C. Davis Band recorded some real barnstormers for Chess like "Sweet Sweet Love" and "The Chicken Scratch." In 1964, Charles formed his own group, Little Charles and the Sidewinders. They became one of the most in demand soul bands in New York City's nightclub scene, performing at the Apollo Theater, Small's Paradise and venturing out to Las Vegas and Atlantic City. They subsequently recorded for Chess and Decca labels. The Sidewinders stayed together through the 60's, and in 1969 Charles cut some sides for Botanic Records. The Sidewinders reformed in 1973 and worked as a show band in hotels, nightclubs, and casinos without the benefit of a recording contract. In 1979, Charles signed on with Motown as a staff writer.

With a resurgence of old school soul and R&B Wigg is finding his groove with a younger audience while rekindling memories for the old school crowd.

Charles "Wigg" Walker - vocals
Pat Bergeson - guitar
Charles Treadway - organ
Roland Barber - trombone
Evan Cobb - sax
Pete Abbott - drums
Stephanie Adlington
8:00pm-11:00pm, $15 at the door
Stephanie Adlington, otherwise known as, "The Siren Of The South", is a working singer, songwriter, actor, and vocal coach. Born and raised in Grafton, WV, Miss Stephanie is a graduate of the prestigious Royal Academy of Music in London, England, and also attended the Eastman School of Music in Rochester, NY, and (pre-college) Carnegie Melon University in Pittsburgh, PA. While in London, Stephanie recorded with the folk-rock band Renaissance, which produced three critically acclaimed international albums. Known for her unique vocal styling, an evening with Miss Stephanie carries her audience back to the prohibition era - a scandalous rendezvous in a wicked speakeasy, where swagger goes and bourbon flows. Her show titled, "The Jazz, Pearls, and Bourbon Review" is a throwback to the glorious days of old school jazz: think top-shelf juke joint meets Southern hospitality. Drink in an infusion of bourbon, Johnny Mercer, Billie Holiday, Patsy Cline, and Fats Waller and you just sidled up to the bar next to, "The Siren Of The South".
David Williford
11:30pm-2:00am, $10 at the door
Woodwind player and composer David Williford was born and raised in Knoxville, TN. Currently residing in Nashville, he works as a performer, composer, and educator. With early musical experiences playing blues, soul, and rock with his father, and studying modern jazz and classical music with artists like Don Aliquo, he has found a diverse and soulful place in the changing music scene. His working band presents original music, free improvisations, and re-imagined standards to Nashville regularly.

Apart from his own projects, David has performed and recorded with a wide variety of artists as a player and arranger. Some highlights include Dynamo, Mike Hicks, The Nashville Jazz Composers Collective, Jeff Coffin, Sory Diabaté, Rick Wilkerson, The Great Barrier Reefs, Charles Butler, Michael Toman, and David Rodgers.

Alayna Renae
5:30pm-7:30pm, $5 at the door
Nashville based vocalist Alayna Renae's contemporary sound reflects the ever-changing fusion of Jazz and Neo-Soul. Alayna creates an atmosphere to transcend you from any situation. Inspired by singers like Ella Fitzgerald and Erykah Badu, she sings from her soul. Whether you hear familiar standards or original compositions, her music portrays where she is in her life journey. She's backed by some of Nashville's most up-and-coming instrumentalists who are sure to inspire you. Alayna is currently working on her first album entitled "Surprising Imagery" to be released early 2019.
Duffy Jackson Quartet
8:00pm-11:00pm, $20 at the door
A true legendary jazz drummer, Jackson is the son of Chubby Jackson, and played drums as a young child making appearances with Count Basie, Duke Ellington, Woody Herman, and Buddy Rich before he finished high school. In 1971 he relocated to Los Angeles, where he played with Monty Alexander, Ray Brown, Herb Ellis, Lena Horne, Milt Jackson, and Barney Kessel. Following a tour of Japan with Benny Carter, he appeared on television for two years with Sammy Davis, Jr. (1974-1976). Later in the 1970s he played with Grover Mitchell and did a tour of Europe with the Count Basie Orchestra.

In the 1980s Jackson worked with Lionel Hampton, Al Jarreau, James Moody, and Sonny Stitt, and in 1985 re-joined the Basie orchestra while Thad Jones was its leader. Following this he worked with Illinois Jacquet and Artie Shaw, then re-joined the Basie Orchestra under Frank Foster. In the 1990s, he relocated to Fort Lauderdale, where he played with Harry Allen, Billy Ross, and the Manhattan Transfer.
Oracle Blue
11:30pm-2:00am, $10 at the door
Oracle Blue is enticingly unequivocal when it comes to genre-branding, marrying musical nostalgia with newfangled soundscapes. Under the banners of Swank-Pop and Alt-Jazz they craft for themselves a realm entirely their own with strong female vocals garnished by multi-instrumentalists in the rhythm and horn sections.

The band's resume includes performances at Montreux, Vienne and Umbria Jazz Festivals, a DownBeat Student Music Award for Outstanding Performance in the Blues/Pop/Rock category, and the honor of being selected through competition by five-time GRAMMY Award winner Lalah Hathaway to open for two performances on her 2018 'Honestly' tour. Their debut album, Gilded Kingdoms, is comprised primarily of original works, and also includes reimaginings of jazz standards "Don't Explain" (Billie Holiday) and "On Green Dolphin Street" (Bronisalw Kaper). Gilded Kingdoms is available on iTunes, Spotify, Amazon, and at OracleBlueBand.com.