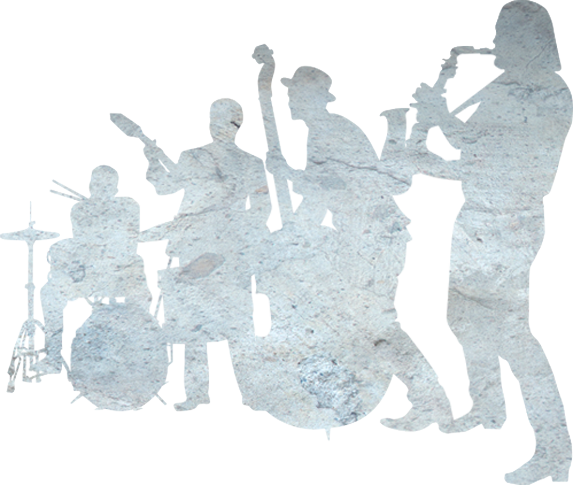 Music City's authentic late night jazz club
Serving classic New Orleans prohibition and pre-prohibition cocktails, local brews, and New Orleans cuisine.

HAPPY HOUR SPECIALS
Mon-Fri 5-7:30pm
Misterioso Mondays:
one of our most loved house cocktails for $8
Tuesdays -Rudy's loves Locals:
$4 Local Drafts, $5 Pickers, Corsair, or New Orleans beans & rice cup
Wednesdays Wooten & Wine:
$6 wines (Pinot Grigio, Malbec or Cava)
Thirsty Thursdays -Swing & Sazeracs:
$8 Sazeracs with purchase of ticket to show, $2 off drafts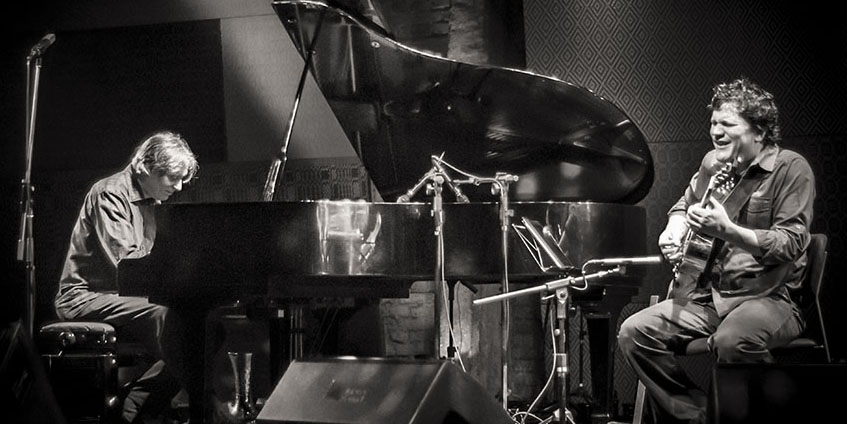 Howard Levy & Chris Siebold - September 16, 6pm & 8pm
Rudy's Jazz Room is proud to present multi-Grammy award winning harmonicist, pianist and composer Howard Levy and guitarist Chris Siebold, one night, two amazing shows!
Rudy's is an intimate jazz club with limited space. Reserve your tickets today to ensure a spot. Seats for both shows will be General Admission.
TONIGHT'S SHOWS
Mel Deal
6:00pm-8:30pm, $10 at the door
Mel Deal has been performing as a jazz guitarist in the Nashville area for over forty years. He was a close friend and student of the late jazz guitar great, Jimmy Raney. He also studied with Pat Martino, and Lenny Breau.

As an instrumentalist, he has performed with the Nashville Symphony, The Nashville Opera Co., The Huntsville Symphony Orchestra, The Nashville Chamber Orchestra, The Birmingham Symphony, Midland/Odessa Texas Symphony, and The Germantown Chamber Orchestra in Memphis, TN. Artists he has performed with include: Michael Feinstein, Melba Moore, Lorna Luft, Idina Menzel, Rita Coolidge, Willie Nelson, Neil Sedaka, Jimmy Webb, Ricky Woodard, Gatemouth Brown, Groove Holmes, Gene Bertoncini, Jack Wilkins, Mark Feldman, Paul McCandless, and Mundell Lowe.

In addition to a playing career, Mel is part of the faculty at The Nashville Jazz Workshop. He has taught jazz guitar clinics at The University Of N. Alabama, Hume Fogg and Battleground Academy, and was a guitar instructor at Montgomery Bell Academy for fifteen years.
NIMA Jazz Nominees Nashville Rescue Mission Benefit
9:00pm-11:30pm, $10 at the door
Nashville Industry Awards Jazz Nominees Perform to Benefit Nashville Rescue Mission on August 21st at Rudy's Jazz Room

The Nashville Industry Music Awards (NIMA) and Rudy's Jazz Room will host an evening of performances to benefit the Nashville Rescue Mission on Tuesday, August 21st. The evening's featured performers are all nominees in this year's Nashville Industry Music Awards (NIMAs). The NIMA Awards recognize acclaimed independent, local musicians active in the Nashville community and beyond.

The Nashville Rescue Mission provides emergency services, life recovery skills, temporary lodging and basic needs to persons experiencing homelessness in Nashville. The Mission reports that over 500,000 meals were served in the 2016-2017 fiscal year alone.

"It feels good to give back and to truly be a part of an independent community with a conscience," said NIMA Jazz Council President Greg Bryant.

"As we continue to contribute to Nashville's music scene 7 nights a week with authentic jazz, we know that nights like these help us to be a truly unique venue in our community," said Rudy's Jazz Room Co-Owner Adam Charney.

Noted for their work as band members and accompanists of noted musicians as Taj Mahal, Keb Mo, Vince Gil, Jake Owen, Kelly Clarkson, Alabama Shakes Kirk Whalum, Charlie Hunter and Jack Pearson, the confirmed cast of Nashville musicians for the evening will include drummer Marcus Finnie, pianists David M. Rodgers and Paul Horton, vocalists Dara Tucker, Marcela Pinilla, Christina Watson, Stephanie Adlington and Nikki Elias, horn players Rahsaan Barber, Casey Brevka, Jovan Quallo, bassists Jimmy Sullivan and Greg Bryant and guitarist Ben Rice. More musicians will be announced in the coming days.

Oracle Blue
6:00pm-8:30pm, $10 at the door
Oracle Blue is enticingly unequivocal when it comes to genre-branding, marrying musical nostalgia with newfangled soundscapes. Under the banners of Swank-Pop and Alt-Jazz they craft for themselves a realm entirely their own with strong female vocals garnished by multi-instrumentalists in the rhythm and horn sections.

The band's resume includes performances at Montreux, Vienne and Umbria Jazz Festivals, a DownBeat Student Music Award for Outstanding Performance in the Blues/Pop/Rock category, and the honor of being selected through competition by five-time GRAMMY Award winner Lalah Hathaway to open for two performances on her 2018 'Honestly' tour. Their debut album, Gilded Kingdoms, is comprised primarily of original works, and also includes reimaginings of jazz standards "Don't Explain" (Billie Holiday) and "On Green Dolphin Street" (Bronisalw Kaper). Gilded Kingdoms is available on iTunes, Spotify, Amazon, and at OracleBlueBand.com.
Regi Wooten & Friends
9:00pm-11:30pm, $10 at the door
Every Wednesday, Regi Wooten assembles a cast of Nashville's best as they dig deep into the roots of funk, jazz, blues, rock, and soul. You never know who might jump on stage! Don't miss a beat!

Jimmy Sullivan
6:00pm-8:30pm, $10 at the door
Born and raised in Virginia, Jimmy Sullivan's accomplished career as an upright and electric bassist began in Richmond and continued in New York City after earning a Bachelor of Music in Jazz Studies at the Virginia Commonwealth University School of the Arts. Sullivan works as a touring and session musician across multiple genres and has been based in Nashville since 2014.

This iteration of the Jimmy Sullivan Quartet will feature Adam Davis on guitar and Wes Little on drums.
Swing dance instruction
9:00pm-9:30pm
Learn how to swing dance with swing dance lessons with Laynee Day.
The Willies
9:30pm-12:30am, $10 at the door
The Willies are Nashville based roots artists conjuring the spirit of that time before bordello jazz & dirty fingernail blues were the background music for baristas and doggy bakeries. But as veterans of the American underground, the Willies aren't interested in reenacting the rough and tumble legacy of 20's swing & blues... they embody that energy. And these genres are only starting points... vintage bottles to contain several lifetimes of experience in the jazz, blues and Americana underground.

Brad Bietry solo piano
5:30pm-7:30pm, no cover
#N/A
Stephanie Adlington
8:00pm-11:00pm, $20 at the door
Stephanie Adlington, otherwise known as, "The Siren Of The South", is a working singer, songwriter, actor, and vocal coach. Born and raised in Grafton, WV, Miss Stephanie is a graduate of the prestigious Royal Academy of Music in London, England, and also attended the Eastman School of Music in Rochester, NY, and (pre-college) Carnegie Melon University in Pittsburgh, PA. While in London, Stephanie recorded with the folk-rock band Renaissance, which produced three critically acclaimed international albums. Known for her unique vocal styling, an evening with Miss Stephanie carries her audience back to the prohibition era - a scandalous rendezvous in a wicked speakeasy, where swagger goes and bourbon flows. Her show titled, "The Jazz, Pearls, and Bourbon Review" is a throwback to the glorious days of old school jazz: think top-shelf juke joint meets Southern hospitality. Drink in an infusion of bourbon, Johnny Mercer, Billie Holiday, Patsy Cline, and Fats Waller and you just sidled up to the bar next to, "The Siren Of The South".
Geoff Pfeifer
11:30pm-2:00am, $10 at the door
Geoff Pfeifer is a Nashville based musician and composer. He has been living and performing in Nashville since 2005. Geoff studied saxophone with Ted Nash and Ralph Lalama and composition with Mike Holober and Jim McNeely. He is a saxophonist and arranger with the R&B band Chubby and The Dots and plays the 2nd Tenor Saxophone chair in The Establishment Big Band.

Jody Nardone Solo Piano
5:30pm-7:30pm, no cover
"Thanks to a dynamic style that can shift from the whispered beauty of Bill Evans to the percussive flights of McCoy Tyner, Nardone has emerged as one of Nashville's preeminent jazz pianists. His reputation is also blowing up nationwide, where he is receiving raves in Downbeat and Jazziz for his role in the Crimson Jazz Trio, a Nashville-to-L.A. combo led by former King Crimson drummer Ian Wallace and former Vital Information bassist Tim Landers."

-Michael McCall, Nashville Scene
Laura Mayo
8:00pm-11:00pm, $15 at the door
The vocal presence of Laura Mayo represents the divine potential of jazz to move the human spirit. Echoing the tradition of Ella Fitzgerald, Anita O'Day and Keely Smith - she is a conduit to the foundation of the genre, while effortlessly expanding the boundaries of its form.

Born in Memphis, Laura has spent the better of a decade as the vocal ace of Nashville's premier recording studios. Her talents have been featured on national tours, performing with acts such as Cory Chisel and Quinn Deveaux.

Delivering her interpretation of jazz standards, Laura Mayo will be joined by a preeminent collection of Nashville instrumentalists including Matt Endahl (piano), Todd Parks (bass), and Chris Brown (drums).
The Marsh Brothers Jazz Experience
11:30pm-2:00am, $10 at the door
The Marsh Brothers Jazz Experience, a Cincinnati-based jazz group that originated in 2016, play in a broad range of styles, including traditional jazz, hard-bop and funk. The group features Tyler Marsh on piano and Ethan Marsh on bass, as well as other accomplished musicians from Cincinnati. Their band, The Transcendents, opened for the legendary Spyro Gyra at Live at Ludlow Garage in 2017.

Tyler Marsh is a student at the University of Cincinnati College-Conservatory of Music, where he is a piano student in the Jazz Studies program was awarded the Cincinnati Jazz Hall of Fame Young Artist scholarship in 2017. Ethan Marsh is a double bass major at the School for Creative and Performing Arts in Cincinnati. After graduation this spring, he will attend the University of Cincinnati College-Conservatory of Music in their Jazz Studies program. Ethan is a member of the Cincinnati Youth Jazz Collaborative, led by Dr. Isidore Rudnick.

Sunday Organ Trio w/ Duffy Jackson and Charles Treadway
6:00pm-8:30pm, $15 at the door
Duffy Jackson with all-star group feat. Charles Treadway on organ and special guests

Duffy Jackson is the son of Chubby Jackson, and played drums as a young child, making appearances with Count Basie, Duke Ellington, Woody Herman, and Buddy Rich before he finished high school. In 1971 he relocated to Los Angeles, where he played with Monty Alexander, Ray Brown, Herb Ellis, Lena Horne, Milt Jackson, and Barney Kessel. Following a tour of Japan with Benny Carter, he appeared on television for two years with Sammy Davis, Jr. (1974-1976). Later in the 1970s he played with Grover Mitchell and did a tour of Europe with the Count Basie Orchestra.
Jazz Jam
9:00pm-11:30pm, $10 at the door
Rudy's hosts the official pro jazz jam. Come out and experience some of music city's best as they take the stage with Nashville's next generation of jazz performers!

We welcome all ages to this show.

Re-Evolution
6:00pm-8:30pm, $10 at the door
Featuring Brian Cornish on saxophone, Regi Wooten on bass, Nioshi Jackson on drums, Adam Charney on guitar, and Marc Payne on piano. Re-Evolution is heavily influenced by traditional and classic jazz cutting edge artists such as John Coltrane, Miles Davis, Wes Montgomery, Bill Evans, McCoy Tyner, Elvin Jones, Thelonious Monk and many more...
Giovanni Rodriguez & 12 Manos
9:00pm-11:30pm, $10 at the door
Giovanni Rodriguez is an exciting multi-instrumentalist and Nashville favorite on the Salsa and jazz scene. An electric night of Salsa dancing! Ernesto Lago Violin (Cuba) - violin/vocals Alex Rivas (Cuba) - piano/vocals Yosvany Cordero (Cuba) - bongos/cowbell Brian Allen (Indiana) - bass Jesus Agreda (Venezuela) - timbales/drums Giovanni Rodriguez (Dominican Republic) - congas/vocals

Bethany Merritt
6:00pm-8:30pm, $10 at the door
After receiving her Masters of Music in Jazz Studies from the University of Northern Colorado, Bethany Merritt returned to Nashville in 2017. Bethany draws inspiration from the classic tones of Blossom Dearie, Betty Carter, and Ella Fitzgerald, as well as creative contemporaries like Gretchen Parlato, Cyrille Aimee, and Esperanza Spalding. Bethany also has a passion for the unique sounds of modern vocal jazz ensembles, both as a member and director. Bethany's song styling is richly nuanced, cheeky yet ethereal, pure but commanding.

Piano - Ian Miller
Bass - Calvin Knowles
Drums - Nate Felty
Greg Bryant Expansion
9:00pm-11:30pm, $10 at the door
Born in Nashville, Greg Bryant became aware of music at an early age and gravitated towards the sounds of jazz, Blues, and R&B - being drawn to artists like Herbie Hancock, Weather Report, Miles Davis, BB King, Jimi Hendrix, Stevie Wonder, and James Brown. He studied piano as a child, did hip-hop as a teenager, and began playing bass in college in 1998. Bryant co-led and formed The Human Sound and the Cornerstone Jazz Trio. These musical units encouraged and provided the outlet for his musical discovery. While living in the Washington DC area for a time, participation in jazz club HR-57s jam sessions ignited the desire and passion in him to form his own group. In 2004, Greg Bryant moved back to Nashville and formed his own quintet with area players including Chris West (sax), Reagan Mitchell (sax), Jason Hoffheins (drums) and Brian Mesko (guitar.) Their weekly performances displayed their original compositions and conceptions of standards. In 2008, Greg began devoting his time to a new project ranging from quartet to sextet size called the Greg Bryant Expansion.