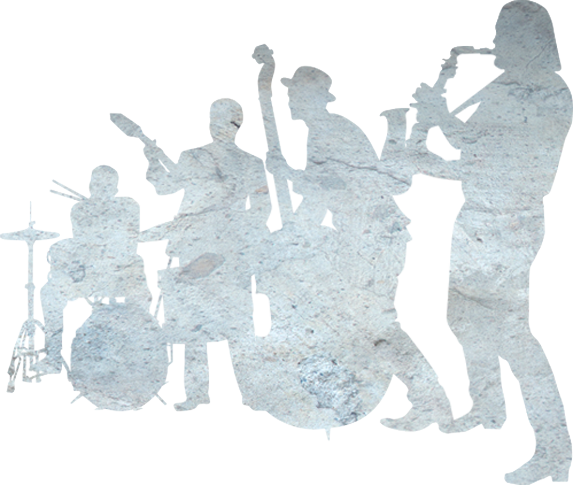 Music City's authentic late night jazz club
Serving classic New Orleans prohibition and pre-prohibition cocktails, local brews, and New Orleans cuisine.

HAPPY HOUR SPECIALS
Mon-Fri 5-7:30pm
Misterioso Mondays:
one of our most loved house cocktails for $8
Tuesdays -Rudy's loves Locals:
$4 Local Drafts, $5 Pickers, Corsair, or New Orleans beans & rice cup
Wednesdays Wooten & Wine:
$6 wines (Pinot Grigio, Malbec or Cava)
Thirsty Thursdays -Swing & Sazeracs:
$8 Sazeracs with purchase of ticket to show, $2 off drafts
New Sunday Jazz Brunch!
$20 includes all you can eat buffet and the best live jazz in Nashville! Every Sunday, 11am-2pm.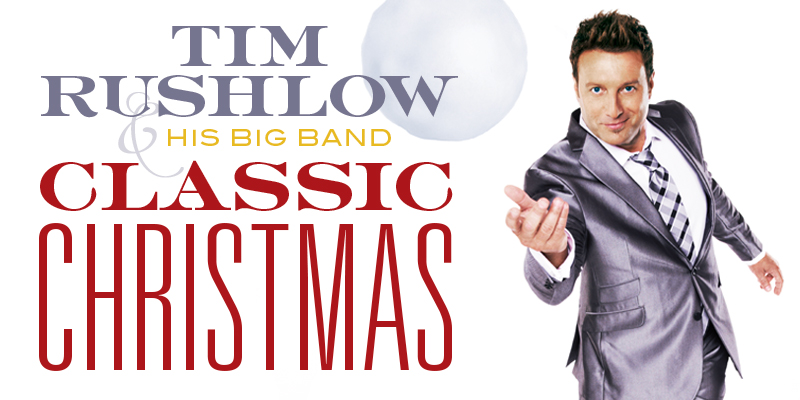 Tim Rushlow & His Big Band Classic Christmas - December 6-8, 14-15
Get ready! It's beginning to sound a lot like Christmas, because Tim Rushlow & His Big Band are coming to spread holiday joy with 10 magical Date Night dinner shows at Rudy's Jazz Room in December!
"The New King of Swing," Rushlow and his all-star Big Band – along with his daughter and featured guest vocalist Bailey Rushlow – will delight and entertain the crowd in the cozy, warm and intimate Prohibition-era setting of Rudy's Jazz Room with timeless Christmas classics that will touch the heart, along with "Rat Pack" hits from Frank Sinatra, Bobby Darin and Dean Martin, as well as fan favorites from Judy Garland, Buddy Holly and many others.
Rushlow and his Big Band carry on the musical romance and swagger of an earlier era and will transport patrons back to a time when Christmas was "Classic." Retro swing and ultra-cool, intoxicating musical class – coupled with Rudy's tasty libations and a delicious dinner of tasty New Orleans' finest cuisine will make for magical and unforgettable nights to remember.
Don't miss this unique, one-of-a-kind, must see entertainment experience with Tim Rushlow & His Big Band Classic Christmas at Rudy's Jazz Room!
TONIGHT'S SHOWS
Greg Bryant Expansion
6:00pm-8:30pm, $10 at the door
Born in Nashville, Greg Bryant became aware of music at an early age and gravitated towards the sounds of jazz, Blues, and R&B - being drawn to artists like Herbie Hancock, Weather Report, Miles Davis, BB King, Jimi Hendrix, Stevie Wonder, and James Brown. He studied piano as a child, did hip-hop as a teenager, and began playing bass in college in 1998. Bryant co-led and formed The Human Sound and the Cornerstone Jazz Trio. These musical units encouraged and provided the outlet for his musical discovery. While living in the Washington DC area for a time, participation in jazz club HR-57s jam sessions ignited the desire and passion in him to form his own group. In 2004, Greg Bryant moved back to Nashville and formed his own quintet with area players including Chris West (sax), Reagan Mitchell (sax), Jason Hoffheins (drums) and Brian Mesko (guitar.) Their weekly performances displayed their original compositions and conceptions of standards. In 2008, Greg began devoting his time to a new project ranging from quartet to sextet size called the Greg Bryant Expansion.
Joseph Wooten and Friends
9:00pm-11:30pm, $10 at the door
Joseph Wooten, aka "Hands of Soul" is one of the talented Wooten Brothers and since 1993 is the current keyboardist/vocalist for the Rock & Roll Hall of Fame inductee Steve Miller Band. Joseph is a master of many styles. Jazz, soul, funk, R&B... Be prepared for an enjoyable musical journey. You will listen... And you will dance too!

Diane Marino
6:00pm-8:30pm, $10 at the door
When you combine an accomplished vocalist, pianist, and arranger all in one individual, you have the dynamic Diane Marino. Diane was born in Manhattan, NYC. She started her early piano training of classical studies and jazz improvisation from the age of 10. Diane graduated from NYC'S 'Famed' High School for the Performing Arts and later received her B.M. degree from Mannes College of Music in Manhattan as a piano performance major where she studied piano with world-renowned concert pianist Murray Perahia. In her over 25 year career, Diane has performed Great American Song Book, traditional jazz, Latin and Brazilian jazz to captivated audiences in jazz venues, performing arts centers and festivals such as Birdland - NYC, Blues Alley - D.C., Vitello's Jazz Club - L.A., Arts Garage-Del Ray Beach, Twins Jazz-D.C., Nighttown-Cleveland, Heidi's Jazz Club-Cocoa Beach, Trumpets Jazz Club -NJ, Germantown Performing Arts Center, The Metropolitan Room-NYC, Bethesda Blues & Jazz - D.C, Montreux Atlanta Festival, Town Point Jazz Festival, Music City Jazz & Heritage Festival, to name a few.

Diane Marino (Piano/Vocals)
NYC native & M&M Records Recording Artist Diane Marino has recorded, performed, and shared the stage with jazz legends Houston Person, Ralph Lalama, Joe Henderson, Ricky Woodard, Clayton Cameron, Wycliffe Gordon, Kirk Whalum, and more. She has recorded six CD's- all of which have received widespread airplay and critical acclaim.
Diane has performed Great American Song Book, traditional jazz, Latin and Brazilian jazz to captivated audiences at festivals, performing arts centers and national jazz venues.

Don Aliquo (Sax/Flute)
Saxophonist Don Aliquo has been described as a player "with an articulate flow of always surprising ideas, sophisticated with a dexterous technique and an incredibly smooth tenor sound that seduces rather than shouts." Although his early influences are saxophonists John Coltrane, Stanley Turrentine and Dexter Gordon, his recent playing also displays the influences of Lester Young, Stan Getz and Joe Henderson as well.Don is currently Professor of Saxophone and Jazz Studies at Middle Tennessee State University where he also served as the Director of Jazz Studies from 2002-2012.

Frank Marino (Bass)
An accomplished bassist of vast diversity and a NY native, Frank Marino has performed /recorded with Houston Person, Wycliffe Gordon, Clayton Cameron, Harry Allen, Ralph Lalama, just to name a few. As founder of M&M Records and The Piano Den Recording Studio, he has produced, recorded and played on all Jazz pianist/vocalist Diane Marino's CD's.

Neil Tufano (Drums)
Drummer Neil Tufano started playing professionally at age 16 and by age 21 he was touring with famed Jazz Piano Giant Monty Alexander. Spending most of his drumming career in New York freelancing with a multitude of artists, he carved out a successful career, covering a variety of musical genres. In 2004 he moved to Nashville TN, as Neil puts it "to try something new ". Being well versed in all styles, he was a perfect fit for the demands of sessions and the Nashville music scene. You can find Neil today at his state of the art recording studio where he writes music, teaches and produces other artists
Swing dance instruction
9:00pm-9:30pm
Learn how to swing dance with swing dance lessons with Laynee Day.
The Willies
9:30pm-12:30am, $10 at the door
The Willies are Nashville based roots artists conjuring the spirit of that time before bordello jazz & dirty fingernail blues were the background music for baristas and doggy bakeries. But as veterans of the American underground, the Willies aren't interested in reenacting the rough and tumble legacy of 20's swing & blues... they embody that energy. And these genres are only starting points... vintage bottles to contain several lifetimes of experience in the jazz, blues and Americana underground.

Liz Johnson & Kelli Cox
5:30pm-7:30pm, no cover
Liz Johnson and Kelli Cox have been playing jazz together for almost 20 years. Regulars on the jazz scene in Nashville, both have been band leaders, session musicians, and members of numerous big bands and jazz ensembles. Their long standing quartet gig at F. Scott's Restaurant gave them a chance to develop the kind of rapport and intuition that only happens with time. Liz has sung at the Montreaux Jazz Festival and been featured on National Radio programming such as Jazz with Bob Parlocha. In 2012 Ron Wynn of the Tennessean wrote "Liz has put her name on the short list of Music City's top jazz vocalists." Kelli has played with artists such as Bobby Vinton, Les Elgart, LeAnne Rimes, Lori Morgan, Richard Marx, Jon Hendricks, and latin artists Frankie Ruiz Jr., and Willie Crespo. Between Liz and Kelli, they have recorded 5 full length albums under their own names and have taught jazz at the Nashville Jazz Workshop, Vanderbilt University, Belmont, and Trevecca Nazarene University, sharing our musical heritage with the next generation.
The Barber Brothers Quintet
8:00pm-11:00pm, $20 at the door
Geoff Pfeifer
11:30pm-2:00am, $10 at the door
Geoff Pfeifer is a Nashville based musician and composer. He has been living and performing in Nashville since 2005. Geoff studied saxophone with Ted Nash and Ralph Lalama and composition with Mike Holober and Jim McNeely. He is a saxophonist and arranger with the R&B band Chubby and The Dots and plays the 2nd Tenor Saxophone chair in The Establishment Big Band.

Shaun Munday
5:30pm-7:30pm, $10 at the door
Shaun Munday is a one-of-a kind talent. He blends soul-drenched vocals with show-stopping bass guitar technique. Shaun captures audiences with a full band sound and plays the bass better than most people play a guitar.

He is a graduate of the Berklee School of Music in Boston, MA where he studied and performed with some of the greatest artists and educators in the industry including John Mayer, Esperanza Spalding, Matthew Garrison (Herbie Hancock), Antonio Sanchez (Pat Metheny) and Jetro Da Silva (Whitney Houston).

Shaun has shared the stage with Corinne Bailey Rae, Andra Day, Mary Wilson of The Supremes, blues legend Robert Cray, reggae royalty Aston Barrett and The Wailers (Bob Marley's band), country music star Collin Raye, Devon Allman and Yonrico Scott of the Royal Southern Brotherhood. His overall music style is inspired by Donny Hathaway, Al Green and Marvin Gaye.

Shaun released his self-titled debut album in March 2017 to rave reviews. Bass Player Magazine said, "Munday proves that he's going to be a bass heavyweight, as his flawless slap work and his melodically challenging lines are only ever outshined by his buttery crooning."
Michael Whittaker Presents The Furious 5
8:00pm-11:00pm, $20 at the door
Jazz pianist and producer Michael Whittaker present an incredible night of music with some of Nashville's A list musicians at Rudy's Jazz Room!. Michael and his "Furious 5" will include 2 world renowned drummers on the same stage the incredible Marcus Finnie and LA drum legend from "tribal Tech" Kirk Covington. Joining them on bass is legendary bassist Jeff Berlin, and on sax, ewi and vocoder is the sax virtuoso Dominic Amato. This night will be sure to be a fiery night of jazz, funk fusion and groove! Please join us and share this rare event ! Clover is $20 and will be sure to fill fast, call Rudys to reserve your spot!
MILEStones: Tribute to Miles Davis
11:30pm-2:00am, $10 at the door
MILEStones is a Nashville based musical acknowledgement to jazz legend Miles Davis dedicated to paying homage to the late great trumpeter's music. With a focus on the two "great quintets" he led in the 1950's and 60's, MILEStones sets out to bring back to life the mood and aura that made his music so distinct, utilizing the exact arrangements and instrumentation that he recorded on so many of his classic albums. Led by drummer Brian Czach, MILEStones will take you on a nostalgic journey back to the music that changed the landscape of jazz music forever.

Jazz Brunch with Crystal Miller
11:00am-2:00pm, $20 at the door
All you can eat buffet and live jazz with Crystal Miller.

Crystal Miller will move you with the music that moves her. That's why, when you hear Crystal, you hear the combination of ALL of her musical experiences. When asked which genre of music she prefers, she'll tell you, "That's like asking a woman to choose one favorite pair of shoes--It's VIRTUALLY IMPOSSIBLE!!--different genres speak to me for different reasons"--like the memories of the R&B, Pop and Rock of her youth, to the stories and harmonies of Country and Bluegrass that she has sung with bands like Diane King and Littlestone, to the impassioned lyrics and sensual, soul-affirming rhythms of the Latin music that she now sings with the Marcela Pinilla Band. Combining those beats and rhythms with the jazz sensibilities learned during her time as a student at the Nashville Jazz Workshop, as well as singing with her Jazz fathers, the EZ Jazz Quartet, is Crystal's current passion. Music lovers will surely enjoy their favorites and be introduced to new faves, when Crystal Miller and her band perform.

Photo credit Todd Schanbaum
Sunday Organ Trio w/ Charles Treadway
6:00pm-8:30pm, $15 at the door
All-star group featuring Charles Treadway on organ and special guests. Organist Charles Treadyway plays with some of the top players in Nashville, bringing sounds of reminiscent of Jimmy Smith, Joey DeFrancesco, Jimmy McGriff, and other greats.
Jazz Jam
9:00pm-12:00am, $10 at the door
Rudy's hosts the official pro jazz jam. Come out and experience some of music city's best as they take the stage with Nashville's next generation of jazz performers!

We welcome all ages to this show.

Re-Evolution
6:00pm-8:30pm, $10 at the door
Featuring Brian Cornish on saxophone, Regi Wooten on bass, Nioshi Jackson on drums, Adam Charney on guitar, and Marc Payne on piano. Re-Evolution is heavily influenced by traditional and classic jazz cutting edge artists such as John Coltrane, Miles Davis, Wes Montgomery, Bill Evans, McCoy Tyner, Elvin Jones, Thelonious Monk and many more...
Giovanni Rodriguez & 12 Manos
9:00pm-11:30pm, $10 at the door
Giovanni Rodriguez is an exciting multi-instrumentalist and Nashville favorite on the Salsa and jazz scene. An electric night of Salsa dancing! Ernesto Lago Violin (Cuba) - violin/vocals Alex Rivas (Cuba) - piano/vocals Yosvany Cordero (Cuba) - bongos/cowbell Brian Allen (Indiana) - bass Jesus Agreda (Venezuela) - timbales/drums Giovanni Rodriguez (Dominican Republic) - congas/vocals

Brook Sutton And Friends Feat. Sandy Tipping and Jamie Lynn Citerin
6:00pm-8:30pm, $10 at the door
Brook Sutton and Friends featuring Nioshi Jackson on drums, Marc Payne on piano, Roland Barber on trombone, and Pattie Cossentino on Saxophone and flute.

An accomplished stage and studio performer, Brook Sutton's New Orleans roots accompany him as he travels the world playing with a variety of acts. Brook's versatility and passion for memorable collaborations is immediately obvious to anyone he joins on stage or in the studio.

With a Master's degree in music education and an undergrad in recording production, he is also an award-winning engineer / producer and teacher, who works with an extremely varied cross-section of Nashville's talented independent acts out of an 8,000 square-foot converted church known as The Studio Nashville.

Brook lives with his wife and 7 year old daughter in East Nashville, and wishes to remind everyone that he lived in East Nashville BEFORE it became the hippest place in town. He also bemoans the demise of the four-dollar hamburger as his neighborhood has become the hippest place in town.
James DaSilva
9:00pm-11:30pm, $10 at the door
James DaSilva is a jazz artist, session guitarist, composer, arranger, and educator living in Nashville, TN. He has performed live and in the studio with acclaimed artists and musicians such as the Annie Moses Band, David Liebman, Mike Farris and the Roseland Rhythm Revue, Cyrus Chestnut, Dr. Lonnie Smith, John Ellis, Rodney Whitaker, Bob Franceschini, Jeff Coffin, Felix Pastorius, Mark Lettieri, Victor Wooten, Wycliffe Gordon and many others.

Since 2013, James has served as a music instructor at the Conservatory of Annie Moses and the Fine Arts Summer Academy (F.A.S.A.). He is a staff arranger/orchestrator at ManAlive Records in Franklin, TN and also a music transcriber and engraver with Living Stone Music Co and Hal Leonard. He lives in Nashville, TN with his wife Camille and son Gabriel.

Joseph Wooten and Friends
9:00pm-11:30pm, $10 at the door
Joseph Wooten, aka "Hands of Soul" is one of the talented Wooten Brothers and since 1993 is the current keyboardist/vocalist for the Rock & Roll Hall of Fame inductee Steve Miller Band. Joseph is a master of many styles. Jazz, soul, funk, R&B... Be prepared for an enjoyable musical journey. You will listen... And you will dance too!