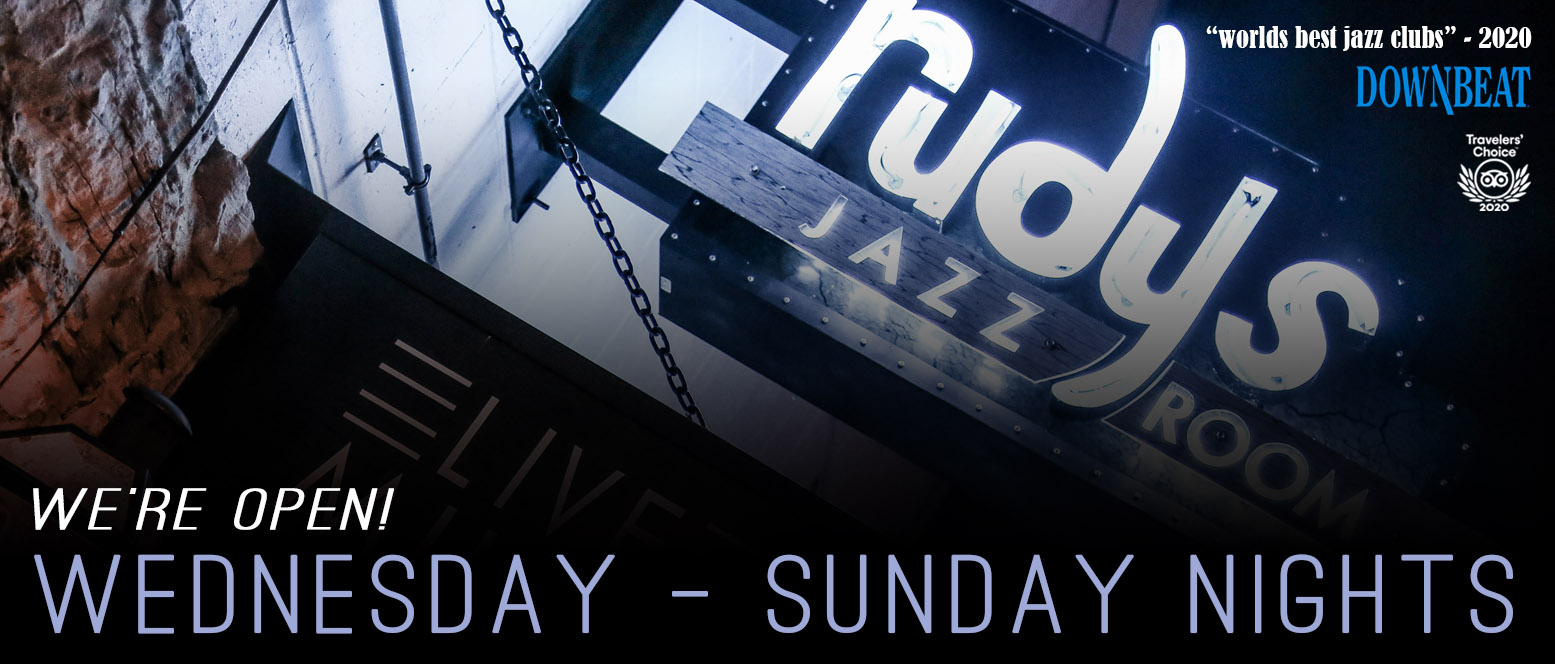 We are excited to be back with live music shows every Thursday, Friday and Saturday night each week! We currently have two sections; a socially distanced section in the back of our room and non-socially distanced sections in the front of our room and at our bar. Below are some of the measures we have taken for everyone's safety and check out our Covid Safety page for more info:
Capacity Limit
Room Cleaning Before All Shows
Masks Required
Temperature Checks for all Employees
HVAC Ultraviolet Sanitizing Lights Installed
Hand Sanitizing Stations
Active Ongoing Cleaning
Vital-Oxide Fogging Prior to Opening Each Day
Haze Machine w/ Propylene Glycol
Stage Equipment Cleaning
Check our calendar for upcoming shows, our information page on seating, and this page as well as our socials for announcements of additional open days.
Because of COVID-19 and city mandates restricting the use of our space such that we cannot operate as necessary in order to pay all of our bills, we must still rely on public assistance and generosity to get through these times.  We ask, if you have the means, value what Rudy's brings to your life and would like to support the continuation of what we do by bringing live jazz to Nashville and nurturing the live creative process in an intimate setting, that you consider donating what you can and feel comfortable with to our cause, no matter how small it may be.
Help Support Rudy's Jazz Room
TONIGHT'S SHOWS
Marcus Finnie Band
6:00pm-8:15pm, $25 at the door
With an all-star stellar lineup including some of Nashville's most renowned musicians, the Marcus Finnie Band showcases exceptional talent and superlative musicianship within and between each member, transcending into an unparalleled, inspirational and masterful musical experience. Featuring Marcus Finnie on drums with David Rodgers on piano, Miguel Alvarado on sax, Adam McPhail on guitar, Brian Allen on bass and Emmanuel Echem on trumpet.
As a Memphis native and Nashville resident,
Marcus Finnie
has toured with Kirk Whalum, Keb Mo, Taj Mahal, Lady Antebellum, Larry Carlton, Donna Summer, India Arie, Billy Preston, Earl Klugh and many others. Marcus has also recorded with Grammy and Stellar Award nominated and winning artists' Kirk Whalum, Keb Mo & Taj Mahal, India Arie, Michael McDonald, Lalah Hathaway, and several others.
California native
David Rodgers
is one of the most exciting talents in Nashville's jazz scene today. Winner of the 2016 James Miltenberger International Jazz Piano Competition and active member of Keb' Mo's band as keyboardist, he has also recorded on numerous records including Keb's Grammy-winning Oklahoma (2019). He has toured and performed worldwide at the Montreux Jazz Festival, North Sea Jazz Festival, and the Playboy Jazz Festival, among many others.
Adam McPhail
, 28, holds a Master of Commercial Music Performance from Belmont University and a Bachelor of Music (Jazz Studies) from the University of Southern Mississippi. Adam has shared the stage or recorded with many artists/groups such as B.B. King, Shirley Caesar, Kirk Whalum, Michael W. Smith, K. Michelle, All-4-One, Dorinda Clark-Cole, The Mississippi Symphony Orchestra, Cory Wong, Chris Daughtry, Erica Campbell, Bucky Covington, Maranda Curtis, Koryn Hawthorne, Jekalyn Carr, VaShawn Mitchell, Dynamo, Evvie McKinney, Todd Galberth, Adam Doleac, Melinda Doolittle, Mark Lettieri, Jeff Coffin, Roosevelt Collier, and many others. While touring across the country, he has opened for artists/groups such as Little Big Town, Tim McGraw, The Robert Glasper Experiment, Big & Rich, FORQ, Shaun Martin, Lonestar, George Clinton, Becca Stevens, and Scotty McCreery.
Hailing from Columbus, Indiana,
Brian Allen
started playing the bass at age eleven. His playing won him several awards throughout high school, including the prestigious Louis Armstrong Jazz award. After graduating, he moved to Los Angeles to attend Musicians Institute. There he received his Bachelor's Degree in Music and also won the outstanding student of the year. Brian Allen was most recently on tour with Jonathan Davis of Korn in 2018. He is one of Nashville's top recording bassists. He was nominated Bass Player of the year by the Academy of Country Music in 2018. Brian is also teaching a clinic series that will be touring in 2019 called Rhythm Section Master Class. Brian has performed a diverse range of live shows as well as recording sessions. His playing spans the musical spectrum from jazz to rock and everything in between.
Trumpeter, composer and arranger
Emmanuel Echem
completed his B.M. in Commercial Music and Music Technology at Belmont University, and has since then firmly established himself as a capable lead and section player, as well as an adept soloist with a unique and soulful improvisational style which frequently draws comparisons to trumpet masters such as Clifford Brown, Freddie Hubbard, and Roy Hargrove. His performance and recording credits include Joss Stone, Lauren Daigle, Charlie Wilson, Boyz II Men, Allen Stone, Dumpstaphunk, LeAnn Rimes, Johnny Reid, the Gaither Vocal Band, Dan + Shay, Jeff Coffin, Dynamo, Wayne Bergeron, The Weeks, Wycliffe Gordon, Frankie Negrón, John Clayton, Keb' Mo', La Sonora Dinamita, the Neal Morse Band ft. Mike Portnoy, Roy "Futureman" Wooten and the Circle of Harmony Orchestra, and the Nashville Jazz Orchestra, among many others.
Jody Nardone Trio
9:00pm-11:15pm, $22 at the door
"Thanks to a dynamic style that can shift from the whispered beauty of Bill Evans to the percussive flights of McCoy Tyner, Nardone has emerged as one of Nashville's preeminent jazz pianists. His reputation is also blowing up nationwide, where he is receiving raves in Downbeat and Jazziz for his role in the Crimson Jazz Trio, a Nashville-to-L.A. combo led by former King Crimson drummer Ian Wallace and former Vital Information bassist Tim Landers."

-Michael McCall, Nashville Scene

Ladies of Jazz
6:00pm-8:15pm central, $18 at the door
Featuring an exciting lineup of talent, Rudy's Jazz Room's "Ladies of Jazz" showcase presents three of Nashville's favorite female vocalists collaborating together, displaying a variety of original and distinct vocal talents and backed by some of the most astute and accredited musicians in Nashville's jazz community with Jimmy Sullivan on bass, Melvin Macias on piano, and Bryan Brock on drums.

Wendy Burns
Wendy Burns of Nashville, TN, is a flute and ukulele playing jazz vocalist who since the age of 9, has studied and performed songs from the 1940's Jazz Big Band era. Burns has been described as having a unique voice that fits the era. She has also performed on the Grand Ole Opry and has sessioned and performed with many of the Nashville Classic Country greats. In her experience, she has paired with greats such as Eric Heatherly and Black Sabbath. With a deep passion for Jazz Standards, and as a hopeless romantic, jazz has become her noted forte. Her set list includes the songs of the "Great American Songbook."

Her Influences are Judy Garland, Doris Day, Frank Sinatra, Tommy Dorsey, The Andrew Sisters, Billie Holiday, and Helen Forrest, to name a few. You will be enthralled by Wendy's renditions of these timeless ditties. You will also hear some of her original tunes in vaudeville fashion featuring "Grover" her ukulele.

"When singing the classics, I've always tried to sing the melodies as close to the original version as possible. I feel you can get closest to the composer's feelings by doing that, it's an art form of beauty. To think that someone in a time long ago did their best to put their feelings into words and melody to portray whatever they were feeling in that very moment for a heartfelt reason in a very particular way just means so much to me. I'm feel connected in doing that or maybe I'm just a hopeless romantic and madly in love with the idea of living back in that time. Love and Rumba" -Wendy Burns

Crystal Miller
Crystal Miller will move you with the music that moves her. That's why, when you hear Crystal, you hear the combination of ALL of her musical experiences. When asked which genre of music she prefers, she'll tell you, "That's like asking a woman to choose one favorite pair of shoes--it's virtually impossible!!--different genres speak to me for different reasons"--like the memories of the R&B, Pop and Rock of her youth, to the stories and harmonies of Country and Bluegrass, to the impassioned lyrics and sensual, soul-affirming rhythms of the Latin music that she's grown to love performing.

Combining those beats and rhythms with jazz sensibilities is Crystal's current passion. An alum of the Nashville Jazz Workshop, Crystal has also spent years honing her craft, singing at various venues and with various local bands, such as the EZ Jazz Quartet, Diane King & Littlestone, Cliff Richmond, the Marcela Pinilla Pinilla Band and more recently, the Craig & MacGregor Band (Berkeley, CA). Music lovers will surely enjoy their favorites and be introduced to new faves, when Crystal Miller performs.

Laura Mayo
The vocal presence of Laura Mayo represents the divine potential of jazz to move the human spirit. Echoing the tradition of Ella Fitzgerald, Anita O'Day and Keely Smith - she is a conduit to the foundation of the genre, while effortlessly expanding the boundaries of its form.

Born in Memphis, Laura has spent the better of a decade as the vocal ace of Nashville's premier recording studios. Her talents have been featured on national tours, performing with acts such as Cory Chisel and Quinn Deveaux.
The Cosmic Collective
9:00pm-11:15pm central, $18 at the door
Cosmic Collective is a transmuting ensemble of jazz musicians. The group's effervescent chemistry evolves from performance to performance contingent upon the accompanying star sidemen, making each show a truly unforgettable, unique, and personal experience. Band Lineup: Tyler Enslow, Nikki Elias, Brad Covington, Miguel Alvarado

Charles Wigg Walker
6:00pm-8:15pm central, $22 at the door
Join Rudy's for the return of our Friday soul and jazz series with Charles "Wigg" Walker, Nashville's original soul singer, and his six piece band and horn section. Born in Nashville, Tennessee on July 12, 1940, Charles "Wigg" Walker is one of the few remaining original soul singers from back in the day when old school R&B/soul was brand new on the music scene. Wigg's experience and maturity in the field of soul music gives him authenticity and perspective that is unmatched.

In 1960, Charles moved to New York City and in 1962 Charles began recording with Chess Records out of Chicago, Charles soon signed on as lead singer with the J.C. Davis Band and began touring the country opening for the greats of the era including James Brown, Jackie Wilson, Etta James, Wilson Pickett, Little Willie John, Otis Redding, and Sam Cooke. The J.C. Davis Band recorded some real barnstormers for Chess like "Sweet Sweet Love" and "The Chicken Scratch." In 1964, Charles formed his own group, Little Charles and the Sidewinders. They became one of the most in demand soul bands in New York City's nightclub scene, performing at the Apollo Theater, Small's Paradise and venturing out to Las Vegas and Atlantic City. They subsequently recorded for Chess and Decca labels. The Sidewinders stayed together through the 60's, and in 1969 Charles cut some sides for Botanic Records. The Sidewinders reformed in 1973 and worked as a show band in hotels, nightclubs, and casinos without the benefit of a recording contract. In 1979, Charles signed on with Motown as a staff writer.

With a resurgence of old school soul and R&B Wigg is finding his groove with a younger audience while rekindling memories for the old school crowd.
Stephanie Adlington
9:00pm-11:15pm central, $22 at the door
Stephanie Adlington, otherwise known as, "The Siren Of The South", is a working singer, songwriter, actor, and vocal coach. Born and raised in Grafton, WV, Miss Stephanie is a graduate of the prestigious Royal Academy of Music in London, England, and also attended the Eastman School of Music in Rochester, NY, and (pre-college) Carnegie Melon University in Pittsburgh, PA. While in London, Stephanie recorded with the folk-rock band Renaissance, which produced three critically acclaimed international albums. Known for her unique vocal styling, an evening with Miss Stephanie carries her audience back to the prohibition era - a scandalous rendezvous in a wicked speakeasy, where swagger goes and bourbon flows. Her show titled, "The Jazz, Pearls, and Bourbon Review" is a throwback to the glorious days of old school jazz: think top-shelf juke joint meets Southern hospitality. Drink in an infusion of bourbon, Johnny Mercer, Billie Holiday, Patsy Cline, and Fats Waller and you just sidled up to the bar next to, "The Siren Of The South".

Jonathan Wires Quartet
6:00pm-8:15pm central, $22 at the door
A stellar lineup with Jonathan Wires on bass, Matt Endahl on piano, David Williford on sax and Marlon Patton on drums.  Bassist, composer, and educator Jonathan Wires is originally from New Hampshire, and received his Bachelor of Arts in Music Performance from the University of Memphis. In 2011, he pursued a Master's Degree in Jazz Studies from Middle Tennessee State University, which brought him to Nashville, TN. In addition to performing and composing, Jonathan has been an active educator at both Middle Tennessee State University (MTSU) and Nashville State Community College. Under Jeff Coffin's Ear Up label, Jonathan released his first recording entitled "Weaving" which features Jeff Coffin, Matt Endahl, and Joshua Hunt with guest appearances by Lindsey Miller, Don Aliquo, James Westfall, and Jamey Simmons.
Regi Wooten & Friends
9:00pm-11:15pm central, $22 at the door
Known as "The Teacha", Regi Wooten in one of the most innovative, talented and dynamic musicians around the scene, and has pushed the boundaries of jazz, funk, soul, R&B, rock, and even bluegrass to some of the most extreme musical limits. From picking, slapping, strumming, thumping, and tapping to some of the most ear bending advanced chords you'll hear on any instrument, Regi has earned world-wide notoriety and comparisons to other innovators such as Jimi Hendrix, Frank Zappa and Chuck Berry. Perfecting, creating and discovering new techniques and jazz theory while incorporating and layering into strong funk grooves for keen listeners to uncover and pick up on is one of his many notable fortes.

At only nine years old Regi started teaching his younger brother Victor Wooten bass guitar and Joseph Wooten keyboards, and soon the Wooten Brothers Band was formed featuring; Regi on ukelele, Roy on drums, Rudy on Saxophone, Joe on Keys and Victor on bass. Regi was ten years old at the time, Roy was nine, Rudy was eight, Joseph was five and Victor was two. The rest, as they say, is Musical History.

Assembling a cast of Nashville's best, Regi Wooten and Friends dig deep into the roots of funk, jazz, blues, rock, and soul. You never know who might jump on stage! Don't miss a beat!