No reservations, all seating is first come first seated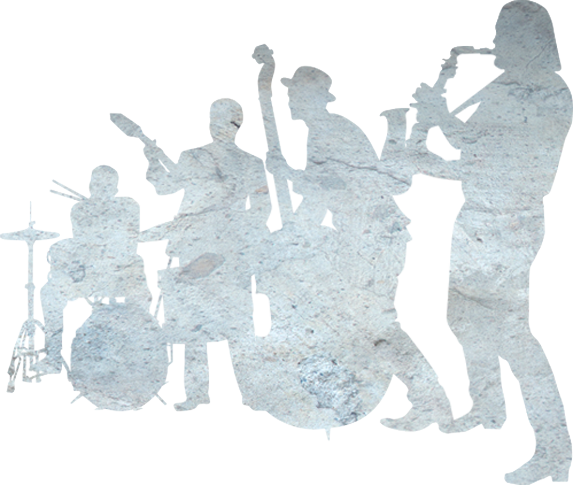 Music City's authentic late night jazz club
Serving classic New Orleans prohibition and pre-prohibition cocktails, local brews, and New Orleans cuisine.
HAPPY HOUR SPECIALS
Mon-Wed 5-7pm, Thurs 5pm-8:30pm
Martini Monday:
1/2 price Martinis, *Salsa night 9-11:30 1/2 price Margaritas, *Service Industry Night - half off select food & drinks
Tuesdays:
Half Price Old Fashioned and Beignets, $2 off all Drafts
Wednesdays Wooten & Wine:
$6 wines / $10 off bottles (Cava, Malbec, Pinot)
Thursdays

(until 8:30pm):
$8 French Quarter inspired cocktails (Sazerac, Lavender Sidecar, French 75) and 1/2 price beignets
Sunday Brunch:
$5 Mimosas and Bloody Mary's & 2pm-5pm $15 cocktail flights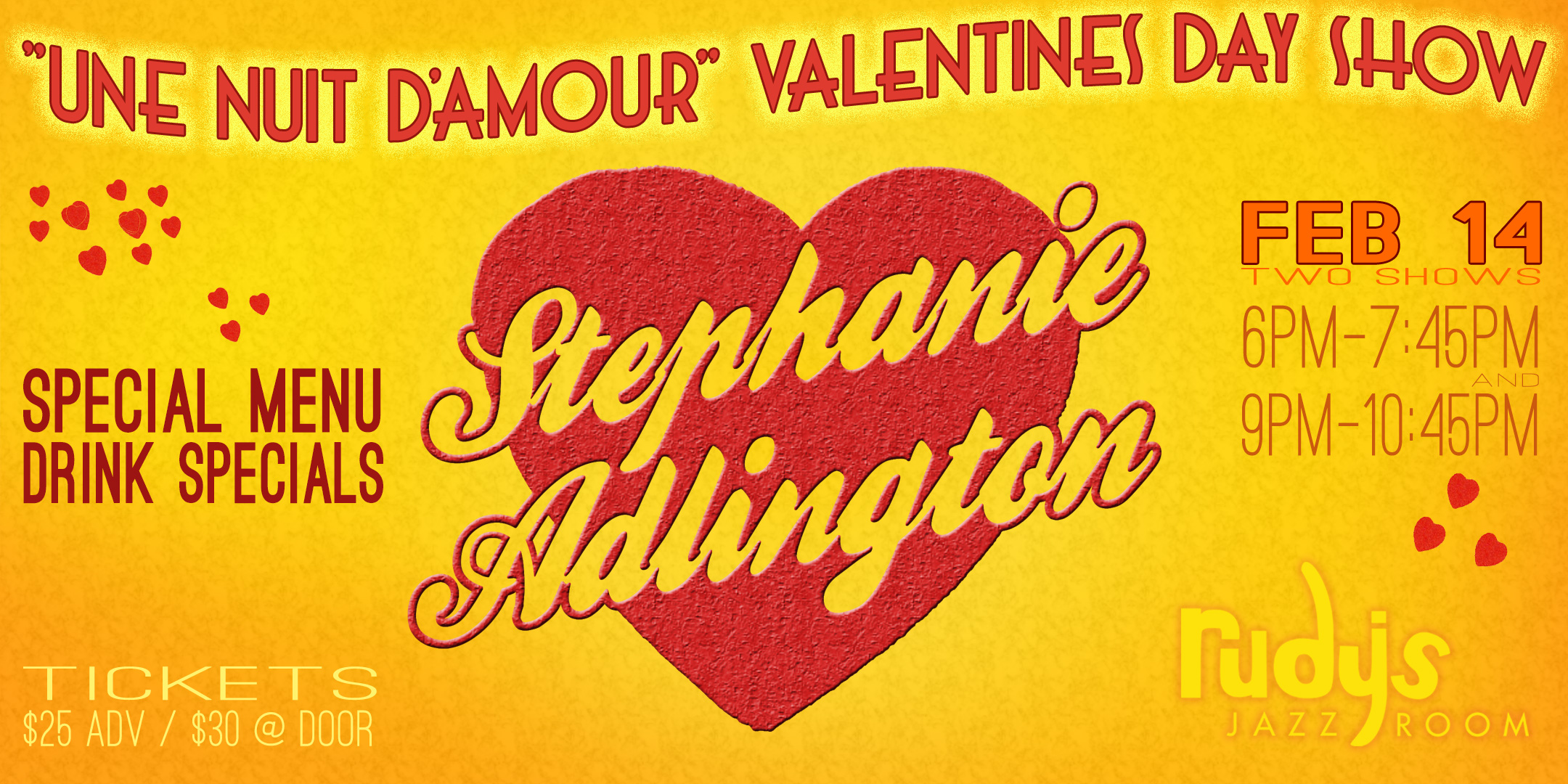 Whether you are single, attached or celebrating with friends this Valentine's Day, we invite you to spend the evening celebrating with not only the ones you adore, but with our greatest love here at Rudy's Jazz Room...the Music!
We are offering a very special night of music, food and drinks in a sultry setting, sure to set your night on fire! Join us with the "Siren Of The South", Miss Stephanie Adlington, while we take you through a musical evening which celebrates all kinds of love!
TONIGHT'S SHOWS
Pat Bergeson
6:00pm-8:30pm, $10 at the door
Guitarist, Harmonica player Pat Bergeson grew up in Batavia Illinois and moved to NYC where he honed his Jazz skills for 10 years. He was brought to Nashville by Chet Atkins in 1993 after hearing him on a demo tape. Pat recorded was featured on two of Chet's recordings "Read My Licks" and "Sneaking Around" with Jerry Reed. He has since worked with Lyle Lovett, Dolly Parton, Johnny Cash, Suzy Bogguss, Tommy Emmanuel, Joey DeFrancesco, Annie Sellick, Alison Krauss ,Bill Frisell, Michael McDonald, Madeleine Peyroux, Benny Golson, etc.
Don Aliquo Quartet
9:00pm-11:30pm, $10 at the door
Pushing musical boundaries while honoring the tradition, Aliquo's quartet will perform a mix of originals and classics in a dynamic set tailored for "late night" listening.

Saxophonist Don Aliquo is an active recording artist, composer and educator. He has performed and/or recorded with internationally known artists Rufus Reid, Jim McNeely, Harold Danko, Roger Humphries, Gary Burton, Obed Calvaire and many others.


David williford
6:00pm-8:30pm, $10 at the door
Woodwind player and composer David Williford was born and raised in Knoxville, TN. Currently residing in Nashville, he works as a performer, composer, and educator. With early musical experiences playing blues, soul, and rock with his father, and studying modern jazz and classical music with artists like Don Aliquo, he has found a diverse and soulful place in the changing music scene. His working band presents original music, free improvisations, and re-imagined standards to Nashville regularly.

Apart from his own projects, David has performed and recorded with a wide variety of artists as a player and arranger. Some highlights include Dynamo, Mike Hicks, The Nashville Jazz Composers Collective, Jeff Coffin, Sory Diabaté, Rick Wilkerson, The Great Barrier Reefs, Charles Butler, Michael Toman, and David Rodgers.
Regi Wooten & Friends
9:00pm-11:30pm, $12 at the door
Every Wednesday, Regi Wooten assembles a cast of Nashville's best as they dig deep into the roots of funk, jazz, blues, rock, and soul. You never know who might jump on stage! Don't miss a beat!

Hot Club Gypsy Jazz Thursdays; Rudy's French Connection
6:00pm-8:30pm, $10 at the door
Hot Club Gypsy Jazz Thursdays; Rudy's French Connection

Every Thursday we honor our New Orleans and French roots and Rudy's comes alive with a variety of small groups in the Django style of gypsy jazz swing. There's no better place to chill, cozy up and relax after work. Enjoy $8 French Quarter inspired cocktails (Sazerac, Lavender Sidecar, French 75), have a glass of Côtes du Rhône, and enjoy some gumbo or beignets while listening to the rhythm and mood of hot club jazz in Nashville's most intimate and romantic room.
Diane Marino Quartet
9:00pm-12:00am, $10 at the door
When you combine an accomplished vocalist, pianist, and arranger all in one individual, you have the dynamic Diane Marino. Diane was born in Manhattan, NYC. She started her early piano training of classical studies and jazz improvisation from the age of 10. Diane graduated from NYC'S 'Famed' High School for the Performing Arts and later received her B.M. degree from Mannes College of Music in Manhattan as a piano performance major where she studied piano with world-renowned concert pianist Murray Perahia. In her over 25 year career, Diane has performed Great American Song Book, traditional jazz, Latin and Brazilian jazz to captivated audiences in jazz venues, performing arts centers and festivals such as Birdland - NYC, Blues Alley - D.C., Vitello's Jazz Club - L.A., Arts Garage-Del Ray Beach, Twins Jazz-D.C., Nighttown-Cleveland, Heidi's Jazz Club-Cocoa Beach, Trumpets Jazz Club -NJ, Germantown Performing Arts Center, The Metropolitan Room-NYC, Bethesda Blues & Jazz - D.C, Montreux Atlanta Festival, Town Point Jazz Festival, Music City Jazz & Heritage Festival, to name a few.
Diane Marino (Piano/Vocals)
NYC native & M&M Records Recording Artist Diane Marino has recorded, performed, and shared the stage with jazz legends Houston Person, Ralph Lalama, Joe Henderson, Ricky Woodard, Clayton Cameron, Wycliffe Gordon, Kirk Whalum, and more. She has recorded six CD's- all of which have received widespread airplay and critical acclaim.
Diane has performed Great American Song Book, traditional jazz, Latin and Brazilian jazz to captivated audiences at festivals, performing arts centers and national jazz venues.
Don Aliquo (Sax)
Saxophonist Don Aliquo has been described as a player "with an articulate flow of always surprising ideas, sophisticated with a dexterous technique and an incredibly smooth tenor sound that seduces rather than shouts." Although his early influences are saxophonists John Coltrane, Stanley Turrentine and Dexter Gordon, his recent playing also displays the influences of Lester Young, Stan Getz and Joe Henderson as well.
Frank Marino (Bass)
An accomplished bassist of vast diversity and a NY native, Frank Marino has performed /recorded with Houston Person, Wycliffe Gordon, Clayton Cameron, Harry Allen, Ralph Lalama, just to name a few. As founder of M&M Records and The Piano Den Recording Studio, he has produced, recorded and played on all Jazz pianist/vocalist Diane Marino's CD's.
Neil Tufano (Drums)
Drummer Neil Tufano started playing professionally at age 16 and by age 21 he was touring with famed Jazz Piano Giant Monty Alexander. Spending most of his drumming career in New York freelancing with a multitude of artists, he carved out a successful career, covering a variety of musical genres. In 2004 he moved to Nashville TN, as Neil puts it "to try something new ". Being well versed in all styles, he was a perfect fit for the demands of sessions and the Nashville music scene. You can find Neil today at his state of the art recording studio where he writes music, teaches and produces other artists
www.dianemarino.com

Marcela Pinilla
5:30pm-7:30pm, $10 at the door
Latin alternative singer Johana Marcela Pinilla's musical journey has taken her all around the world. She has had the pleasure of performing in many languages and in many countries from across South America to China, Malaysia, Indonesia, Singapore, and the United States. The influence of both her journey across the globe and the vast array of musical styles she encountered along the way, give Marcela (as most of the people know her) a sound that is uniquely her own.

Born in Bogotá, Colombia, Marcela's professional career started at age 14 and by age 15, she joined her first international tour. During that time she earned the respect of musicians in her community, which opened doors for her to be invited to collaborate in several music projects. While touring in Asia, she became fascinated with jazz and scat singing. As her passion and musical talent grew, she had the opportunity to join the band Jazz Latino and performed with the group at notable jazz festivals such as Sunrise Music Festival, the Kuala Lumpur Music Festival, and the Kuching Jazz Festival.

In May 2013, Marcela Pinilla released her first full-length album, PASSION. A blend of Latin alternative music influenced by jazz, blues and soul the album showcases the artist's limitless versatility. PASSION features collaborations with several musicians including Elsten Torres and two world-renowned Grammy award winners saxophonist Kirk Whalum, and bassist Victor Wooten.

Marcela was nominated at the Nashville Industry Music Awards as best jazz vocalist in 2016 and 2017 and has performed all over Nashville including with her band at the Schermerhorn Symphony Center. Marcela shares, "I love bringing people together. No matter how diverse my audience is, for that particular performance, we are all brothers and sisters living in peace. This is the main reason why I write songs and sing."
MILEStones: Tribute to Miles Davis
8:00pm-11:00pm, $20 at the door
MILEStones is a Nashville based musical acknowledgement to jazz legend Miles Davis dedicated to paying homage to the late great trumpeter's music. With a focus on the two "great quintets" he led in the 1950's and 60's, MILEStones sets out to bring back to life the mood and aura that made his music so distinct, utilizing the exact arrangements and instrumentation that he recorded on so many of his classic albums. Led by drummer Brian Czach, MILEStones will take you on a nostalgic journey back to the music that changed the landscape of jazz music forever.
Geoff Pfeifer
11:30pm-2:00am, $10 at the door
The Geoff Pfeifer Quartet, gritty, edgy, the real deal NYC style jazz. Saxophonist Geoff Pfeifer brings some of Nashville's top jazz cats out, and you'll be sure to feel the energy. Playing a mix of original material and Wayne Shorter tunes, Pfeifer leads the group.

Geoff Pfeifer, a Nashville based musician and composer, has been living and performing in Nashville since 2005. Geoff studied saxophone with Ted Nash and Ralph Lalama and composition with Mike Holober and Jim McNeely. He is a saxophonist and arranger with the R&B band Chubby and The Dots and plays the 2nd Tenor Saxophone chair in The Establishment Big Band.

Saturday Showcase w/ Nikki Elias
12:00pm-3:00pm, no cover
Saturday Showcases is our weekly no-cover all ages lunch showcase featuring local bands, educators, young artists and Special guests. Shows are free and all ages are welcome! Join us for lunch and drinks!
Grace & the Victory Riders
5:30pm-7:30pm, $10 at the door
Grace & the Victory Riders combine world flavors and rhythms, where soul-jazz travels the world to spice up the groove. Singer-songwriter and Gold album recording artist Grace Eden Young has been influenced by her travels all over the world; she has lived in Africa, India, Jamaica, North America, and Europe. Her journey eventually brought her to Paris, where she first gained a following.

Jérôme Degey is a platinum producer, composer, arranger, and guitarist from Paris, lives now in Nashville. He has performed internationally in many countries in Europe, Africa, Asia, and the Americas, mixing jazz, world, and soul music.

Charles Treadway is considered the top organist in Nashville. He has played with the finest jazz and blues musicians and beyond in various settings, and is reminiscent of Jimmy Smith, Joey DeFrancesco, Jimmy McGriff, and other greats.

Giovanni Rodriguez is recognized as one of the city's leading percussionists, but he's also an accomplished bassist. No stranger to Nashville fans of jazz and Latin music, he leads the Latin band "12 Manos", is one of three co-leaders of the band "El Movimiento" and is a regular sideman for bands of many different genres.

Drummer Nioshi Jackson moved to Nashville in 1997 and has since then toured with Trisha Yearwood, Michael McDonald, and Ricky Skaggs. He has shared the stage with Richie Sambora, Big & Rich/MuzikMafia, Blake Shelton, Kid Rock and has had the opportunity to open shows for Bon Jovi, John Mellencamp, Smokey Robinson, John Lee Hooker, Luke Bryan, and Jason Aldean.
Jody Nardone Trio
8:00pm-11:00pm, $20 at the door
"Thanks to a dynamic style that can shift from the whispered beauty of Bill Evans to the percussive flights of McCoy Tyner, Nardone has emerged as one of Nashville's preeminent jazz pianists. His reputation is also blowing up nationwide, where he is receiving raves in Downbeat and Jazziz for his role in the Crimson Jazz Trio, a Nashville-to-L.A. combo led by former King Crimson drummer Ian Wallace and former Vital Information bassist Tim Landers."

-Michael McCall, Nashville Scene
Oracle Blue
11:30pm-2:00am, $10 at the door
Oracle Blue is enticingly unequivocal when it comes to genre-branding, marrying musical nostalgia with newfangled soundscapes. Under the banners of Swank-Pop and Alt-Jazz they craft for themselves a realm entirely their own with strong female vocals garnished by multi-instrumentalists in the rhythm and horn sections.

The band's resume includes performances at Montreux, Vienne and Umbria Jazz Festivals, a DownBeat Student Music Award for Outstanding Performance in the Blues/Pop/Rock category, and the honor of being selected through competition by five-time GRAMMY Award winner Lalah Hathaway to open for two performances on her 2018 'Honestly' tour. Their debut album, Gilded Kingdoms, is comprised primarily of original works, and also includes reimaginings of jazz standards "Don't Explain" (Billie Holiday) and "On Green Dolphin Street" (Bronisalw Kaper). Gilded Kingdoms is available on iTunes, Spotify, Amazon, and at OracleBlueBand.com.

Stephanie Adlington
11:00am-2:00pm, $20 at the door
Stephanie Adlington, otherwise known as, "The Siren Of The South", is a working singer, songwriter, actor, and vocal coach. Born and raised in Grafton, WV, Miss Stephanie is a graduate of the prestigious Royal Academy of Music in London, England, and also attended the Eastman School of Music in Rochester, NY, and (pre-college) Carnegie Melon University in Pittsburgh, PA. While in London, Stephanie recorded with the folk-rock band Renaissance, which produced three critically acclaimed international albums. Known for her unique vocal styling, an evening with Miss Stephanie carries her audience back to the prohibition era - a scandalous rendezvous in a wicked speakeasy, where swagger goes and bourbon flows. Her show titled, "The Jazz, Pearls, and Bourbon Review" is a throwback to the glorious days of old school jazz: think top-shelf juke joint meets Southern hospitality. Drink in an infusion of bourbon, Johnny Mercer, Billie Holiday, Patsy Cline, and Fats Waller and you just sidled up to the bar next to, "The Siren Of The South".
Kyle Cox
2:30pm-5:00pm, no cover
Kyle Cox's 3rd full-length album, Perhaps One Day is an ode to the jazz vocal groups of the 30's and 40's. His first self-produced effort seeks to embrace the sounds of The Mills Brothers, Billie Holiday, and the Ink Spots - to write a tribute to the genre and a love letter to the era. What became of it is his most focused and well-crafted collection of recordings yet. Along with a beautiful execution of the recordings, Kyle's show also consists of playful banter & heartfelt storytelling, which make seeing him live a wonderful experience from note to note & everything in between.
The Duffy Jackson Show
6:00pm-8:30pm, $12 at the door
See the fabulous Duffy Jackson Show with some of Nashville's most seasoned jazz professionals every Sunday night at Rudy's Jazz Room, all Ages Welcome!

A true legendary jazz drummer, Jackson is the son of Chubby Jackson, and played drums as a young child making appearances with Count Basie, Duke Ellington, Woody Herman, and Buddy Rich before he finished high school. In 1971 he relocated to Los Angeles, where he played with Monty Alexander, Ray Brown, Herb Ellis, Lena Horne, Milt Jackson, and Barney Kessel. Following a tour of Japan with Benny Carter, he appeared on television for two years with Sammy Davis, Jr. (1974-1976). Later in the 1970s he played with Grover Mitchell and did a tour of Europe with the Count Basie Orchestra.

In the 1980s Jackson worked with Lionel Hampton, Al Jarreau, James Moody, and Sonny Stitt, and in 1985 re-joined the Basie orchestra while Thad Jones was its leader. Following this he worked with Illinois Jacquet and Artie Shaw, then re-joined the Basie Orchestra under Frank Foster. In the 1990s, he relocated to Fort Lauderdale, where he played with Harry Allen, Billy Ross, and the Manhattan Transfer.
Jazz Jam
9:00pm-12:00am, $10 at the door
Rudy's hosts the official pro jazz jam. Come out and experience some of music city's best as they take the stage with Nashville's next generation of jazz performers!

We welcome all ages to this show.

Re-Evolution
6:00pm-8:30pm, $20 at the door
Featuring Brian Cornish on saxophone, Regi Wooten on bass, Nioshi Jackson on drums, Adam Charney on guitar, and Marc Payne on piano. Re-Evolution is heavily influenced by traditional and classic jazz cutting edge artists such as John Coltrane, Miles Davis, Wes Montgomery, Bill Evans, McCoy Tyner, Elvin Jones, Thelonious Monk and many more...
Giovanni Rodriguez & 12 Manos
9:00pm-11:30pm, $20 at the door
Giovanni Rodriguez is an exciting multi-instrumentalist and Nashville favorite on the Salsa and jazz scene. An electric night of Salsa dancing! Ernesto Lago Violin (Cuba) - violin/vocals Alex Rivas (Cuba) - piano/vocals Yosvany Cordero (Cuba) - bongos/cowbell Brian Allen (Indiana) - bass Jesus Agreda (Venezuela) - timbales/drums Giovanni Rodriguez (Dominican Republic) - congas/vocals

Viktor Krauss
6:00pm-8:30pm, $10 at the door
Eclectic composer bassist Viktor Krauss was born in Champaign, IL, in 1969. His youth was spent listening to soundtracks and instrumental music, eventually leading him to the piano and trumpet. After witnessing the power and ominous presence of the double bass at a middle school concert, he found his true calling. Krauss has been a presence in Nashville Tennessee since 1992 with nearly 500 album credits as either a bassist, composer/songwriter or producer. On tour, Viktor has been Lyle Lovett's primary bassist since 1994. Starting with 1996's "Nashville", Krauss began a long tenure with Jazz great Bill Frisell. Other albums with Frisell include "Gone, Just Like a Train", "Good Dog, Happy Man", "East/West" and "Disfarmer." Other artists over his career have included Tom Jones, Shawn Colvin, Sheryl Crow, Carly Simon and Jerry Douglas. In 2015, Viktor, along with Robert Plant, Alison Krauss and Buddy Miller performed at the Kennedy Center honoring the blues/Americana legend, Leadbelly.

In 2004, Krauss recorded his solo debut of his original compositions, Far From Enough featuring an all-star band consisting of Frisell, Jerry Douglas, Steve Jordan, and sister Alison (peaked at No. 6 on the Billboard® Contemporary Jazz Chart). Krauss' second album, II , which featured core band guitarist Dean Parks and drummer Matt Chamberlain emerged three years later. Last year, new duo recording of original material with lever harpist extraordinaire Maeve Gilchrist "Vignette". Primarily instrumental music, Viktor cites that this music could be described as "a soundtrack without a movie with nods to 'jazz and classic rock'." In 2006, Viktor was awarded a fellowship for the prestigious Film Composers' Lab at the Sundance Institute and his film composing credits include music for directors Ken Burns and the late Robert Altman. Viktor's original compositions from his solo recordings are used daily as musical "bumpers" for National Public Radio between programs.

Joining Viktor will be guitarist, Todd Lombardo, drummer, Robert Crawford and Pianist De Marco Johnson.
Rory Hoffman, Alec Newnam & Nate Felty
9:00pm-11:30pm, $10 at the door
Rory Hoffman is a Nashville based multi-instrumentalist. Raised on a small ranch in North Dakota, Rory grew up recording and touring with the family Gospel band. He started teaching himself to play guitar and piano at age 3. By age 5 he was the drummer in the family band. He currently plays over a dozen stringed, keyboard and wind instruments.

Rory has played the Grand Ole Opry numerous times, as a soloist and as a sideman with Ricky Skaggs, Kathy Mattea and John Cowan. Working with these stars and others has enabled him to play several notable festivals, including Telluride with John Cowan, and Djangofest as part of the John Jorgenson quintet. Kacey Musgraves has asked Rory to play on her Christmas album, and to be part of the 2016 tour promoting that release. He has performed in Norway, Italy and Jamaica thus far and deeply enjoys any opportunities to travel the world, experiencing the culture and sharing music. When not out on the road touring, Rory is proud to be in several local Nashville bands, including 50 Shades of Hay, and the Gypsy hombres.

"Just Jazz Guitar" and "Guitar Player" magazines have written feature articles about Hoffman's unique guitar style. Rory is 2-time winner of Musician of the Year from Nashville's ICMA, and is a 2012 inductee into the South Dakota Country Music Hall of Fame.

Alec Newnam
Born in New Jersey to musician parents who worked with the likes of Frank Sinatra, Jimmy McGriff, James Brown, Tony Bennett and Ray Charles, bassist Alec Newnam has lived in Nashville since 2008. His wide-ranging musical studies and interests have led to him being active in the city's many various music scenes. Alec has performed and/or recorded with with Kelsey Waldon, Duffy Jackson, Jim Lauderdale, Marcus Finnie, Trisha Yearwood, Paul Horton, Greg Garing, Jeff Coffin, The Nashville Jazz Duo, and many others.

Nate Felty
Originally from Syracuse, New York, Nate Felty is an experienced live/session drummer and educator who enjoys performing a wide range of musical styles. Nate has been living and working in Nashville, Tennessee since 2012 and earned his Masters in Commercial Music at Belmont University in 2014.

Nate is the drummer for Nashville-based, nationally touring country/roots artist, Kelsey Waldon. With Waldon, he has shared the stage on tour with Grammy Award-winning artists such as Ricky Skaggs & Kentucky Thunder, Marty Stuart and His Fabulous Superlatives, and John Prine.

Since his arrival in Nashville, Nate has performed and recorded with notable touring bands from Nashville. Among these are The Amanda Broadway Band, Abby Anderson, Devon Gilfillian, Marquee Mayfield, and 9-piece funk/fusion Dynamo. While with Dynamo, the group earned Nashville Industry Music Awards (NIMA's) in 2015 for "Best Funk/Fusion Band" and "Album of the Year" for their 2015 release, Find Your Way.

When not on tour, Nate is an adjunct professor of drum set at Sewanee University of the South and performs with The Emerald Empire Band for corporate events. Nate continues to make his imprint on Nashville's local music community, performing with notable musicians such Roy Agee (Prince), Jeff Coffin (Dave Matthews Band), Micah Hulscher (Margo Price), Jay White (Amos Lee, Cory Henry), Mike Hicks (Rascal Flatts), David Rodgers (Keb Mo), De Marco Johnson (Marc Broussard) and Paul Horton (Alabama Shakes).