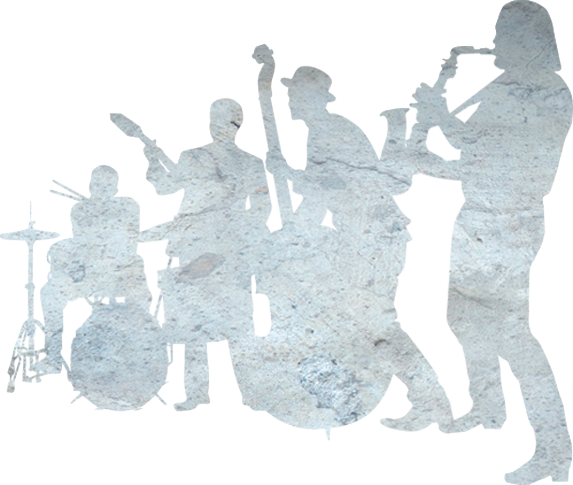 Music City's authentic late night jazz club
Serving classic New Orleans prohibition and pre-prohibition cocktails, local brews, and New Orleans cuisine.

HAPPY HOUR SPECIALS
Mon-Fri 5-7:30pm
Misterioso Mondays:
one of our most loved house cocktails for $8
Tuesdays -Rudy's loves Locals:
$4 Local Drafts, $5 Pickers, Corsair, or New Orleans beans & rice cup
Wednesdays Wooten & Wine:
$6 wines (Pinot Grigio, Malbec or Cava)
Thirsty Thursdays -Swing & Sazeracs:
$8 Sazeracs with purchase of ticket to show, $2 off drafts
Fridays Wine & Dine:
$19 Jazz Combo includes cup of New Orleans beans & rice, side salad, and choice of glass of Malbec or Pinot Grigio
TONIGHT'S SHOWS
Marc Payne Trio
5:30pm-7:30pm
One of the most talented young up and coming jazz pianists in Nashville, Marc Payne is sure to dazzle you with beautiful chords, lines, rhythms, and harmonies.
Joseph Wooten and The Hands Of Soul
8:00pm-11:00pm, $15 at the door
Joseph Wooten, aka "Hands of Soul" is one of the talented Wooten Brothers and since 1993 is the current keyboardist/vocalist for the Rock & Roll Hall of Fame inductee Steve Miller Band. Joseph is also a talented songwriter, motivational speaker, composer, and producer and recently added author to his resume with the release of his new book, "It All Matters", available on Amazon.

Joseph is a master of many styles. Jazz, soul, funk, R&B... Be prepared for an enjoyable musical journey. You will listen... And you will dance too!
David Williford
11:30pm-2:30am, $10 at the door
Woodwind player and composer David Williford was born and raised in Knoxville, TN. Currently residing in Nashville, he works as a performer, composer, and educator. With early musical experiences playing blues, soul, and rock with his father, and studying modern jazz and classical music with artists like Don Aliquo, he has found a diverse and soulful place in the changing music scene. His working band presents original music, free improvisations, and re-imagined standards to Nashville regularly.

Apart from his own projects, David has performed and recorded with a wide variety of artists as a player and arranger. Some highlights include Dynamo, Mike Hicks, The Nashville Jazz Composers Collective, Jeff Coffin, Sory Diabaté, Rick Wilkerson, The Great Barrier Reefs, Charles Butler, Michael Toman, and David Rodgers.

Payne And The Butts
6:00pm-8:30pm, $10 at the door
Payne and The Butts is a trio of youngsters who play well beyond their years. The band consists of Marc Payne, 18; and Paul Butts, 13 who play keyboards and Bo Butts, 11; on drums. Their interpretation of modern and jazz classics will amaze you.
Jazz Jam
9:00pm-11:30pm, $10 at the door
Rudy's hosts the official pro jazz jam. Come out and experience some of music city's best as they take the stage with Nashville's next generation of jazz performers!

Re-Evolution
6:00pm-8:30pm, $10 at the door
Rudy's house band featuring Brian Cornish on saxophone, Regi Wooten on bass, Nioshi Jackson on drums, Adam Charney on guitar, and Marc Payne on piano. Re-Evolution is heavily influenced by traditional and classic jazz cutting edge artists such as John Coltrane, Miles Davis, Wes Montgomery, Bill Evans, McCoy Tyner, Elvin Jones, Thelonious Monk and many more...
Giovanni Rodriguez & 12 Manos
9:00pm-11:30pm, $10 at the door
Giovanni Rodriguez is an exciting multi-instrumentalist and Nashville favorite on the Salsa and jazz scene. An electric night of Salsa dancing! Ernesto Lago Violin (Cuba) - violin/vocals Alex Rivas (Cuba) - piano/vocals Yosvany Cordero (Cuba) - bongos/cowbell Brian Allen (Indiana) - bass Jesus Agreda (Venezuela) - timbales/drums Giovanni Rodriguez (Dominican Republic) - congas/vocals

Dallas Starke
6:00pm-8:30pm, $10 at the door
Dallas Starke, a New York native and now Nashville resident, will pleasantly surprise you with throwbacks to the best jazz eras in history. Her voice has a melancholy compared to Billie Holliday and depth parallel to great blues singers of past generations.
Cliff Richmond & The Cliffnotes
9:00pm-11:30pm, $10 at the door
Cliff Richmond & the CliffNotes serve up a unique blend of soulful, swinging & funky jazz, They incorporate a wide range of styles from mainstream jazz, to rhythm & blues, Latin to reggae. Founded by Cliff (guitar & vocals) the CliffNotes always features some of Nashville's most accomplished and versatile musicians and vocalists.


Moe Denham
6:00pm-8:30pm
Nashville-based session musician Moe Denham has tamed the beast over decades as a sideman to some of the biggest names in jazz and blues: Count Basie and Clarence Gatemouth Brown, for example. He's opened for Ray Charles, B.B. King and The Platters. And he's performed with such diverse talents as Neil Young, Bela Fleck and Ernest Tubb.
Wooten Wednesday
9:00pm-11:30pm, $10 at the door
What day is it, Nashville? It's Wooten Wednesday of course! Every Wednesday, Regi Wooten assembles a cast of Nashville's best as they dig deep into the roots of funk, jazz, blues, rock, and soul. You never know who might jump on stage! Don't miss a beat!

Marc Payne Solo Piano
5:30pm-7:30pm
One of the most talented young up and coming jazz pianists in Nashville, Marc Payne is sure to dazzle you with beautiful chords, lines, rhythms, and harmonies.
Swing dance instruction
8:20pm-9:00pm
Learn how to swing dance with swing dance lessons with Laynee Day.
Thursday Night Swing Dance w/ Megan and Her Goody Goodies
9:00pm-12:00am, $10 at the door
Megan and her Goody Goodies are a Nashville-based swing band specializing in vintage swing music from the late 30s and early 40s.

Marc Payne Solo Piano
5:30pm-7:30pm
One of the most talented young up and coming jazz pianists in Nashville, Marc Payne is sure to dazzle you with beautiful chords, lines, rhythms, and harmonies.
Jennifer Bruce and The Lori Mechem Quartet
8:00pm-11:00pm, $15 at the door
Powerhouse vocalist Jennifer Bruce teams up with the incomparable Lori Mechem Quartet with Roger Spencer on bass, Duffy Jackson on drums and Andy Reiss on guitar. JENNIFER BRUCE a native Californian, started her career as a vocalist at the tender age of 10 performing at Disneyland and USO tours. She is a versatile vocalist influenced by many musical styles but has always had a love for the Great American Songbook and Jazz. A self proclaimed old soul, Jennifer has a rich, sultry, soulful voice, and excels at song interpretation. She was a featured vocalist on Nashville's General Jackson Showboat for three years and toured the country with comedian Steve Hall & Shotgun Red for many years as a featured entertainer. Currently, Jennifer has been performing with her contemporary jazz group, DejaNu and is getting ready to release their second album in April 2018. LORI MECHEM is a respected jazz pianist, composer and educator. In addition to directing production shows and conducting musical theater, she has performed with artists such as Dizzy Gillespie, Red Holloway, Jimmy Smith, Cal Collins, Roy McCurdy, Terry Gibbs, Pete Christlieb, Ed Thigpen, Houston Person, Kevin Mahogany, Everett Greene, Kirk Whalum, Anthony Wilson, Oscar Castro Neves, Bobby Millitello, Marvin Stamm, Ann Jillian, Edie Gorme and the McGuire Sisters. A native of Anderson Indiana, Lori received a Bachelor of Music in Jazz Studies from Ball State University in Muncie, Indiana. Lori's CD "Welcome to Brazil" was nominated for "Best Jazz Album of the Year" by the Nashville Music Awards in 1997. Lori and her husband Roger Spencer are the founders of Nashville's first jazz school, The Nashville Jazz Workshop. Lori is the Director of Education at the Workshop which hosts the Jazz Cave, Nashville's longest running Jazz performance venue for the past 17 years.
The UNusual Suspects
11:30pm-2:30am, $10 at the door
The Funk 'N B revival. Funk your blues away Where R 'N B gets blessed by the 1. The funky sounds of Parliament/Funkadelic, James Brown, Ohio Players and Sly Stone along with R&B stylings of Chaka Khan and Teena Marie; will soothe your soul.

Paul Horton
5:30pm-7:30pm
Born and raised in Athens, Alabama, Paul Horton has been creating music since he was 7 years old. Mostly self taught, he decided to become serious at the age of 14 after discovering the buried treasure of jazz albums in his parent's record collection. He traveled to Muscle Shoals regularly to study theory and harmony with Pete Avallone before eventually moving to Murfreesboro in 2000 to enroll in the Jazz Studies program at Middle Tennessee State University after being awarded a performance scholarship. He left Murfreesboro in 2002 for a brief stay back home in Alabama, but returned to middle Tennessee and settled in Nashville in 2005.

Since 2014 Paul has been a touring keyboardist with the group ALABAMA SHAKES and also appears on the band's 2011 release "Boys & Girls" and the 2015 Grammy Award winning album "Sound & Color". He has performed at several festivals around the world including Glastonbury, Bonnaroo, Coachella, and Lollapalooza. He has made numerous television appearances that include The Tonight Show with Jimmy Fallon, Jimmy Kimmel Live, Conan, The Late Show with David Letterman, Jools Holland Live, The Late Show with Stephen Colbert, and Saturday Night Live.

He also leads his own projects including his quartet Rogue State, a duo/trio co-lead with bassist Greg Bryant called CONCURRENCE, and a solo electronic experiment he performs under as NoStress.

He's had the honor of recording or performing with Nasheet Waits, Tommy Crane, Dawes, Blake Mills, Jeff Coffin, Damion Reid, "Spanky" Alford, The Preservation Hall Jazz Band, PRINCE, Alan Hampton, Helen Sung, Derrek Phillip's Manufactory, and many others.
Mason Embry Trio
8:00pm-11:00pm, $15 at the door
Mason Embry has been a music professional since the mid-1990s. He is a graduate of the University of Louisville, where his focus was jazz piano performance. He has extensive experience as a pianist/keyboardist, background vocalist, music director, arranger, songwriter, engineer, producer, and teacher.

In 2007, Mason relocated to Nashville, TN and now pursues a career as a diverse musician - jazz pianist, arranger, and producer and capable of authentically playing and producing music in any style or genre.

His debut recording for Green Hill Music, Swingin' On A Star, is an instrumental collection of signature songs from some of the greatest male crooners of the 20th century. He is also a signed artist with Burton Avenue Music and appears regularly on solo projects and as a featured performer.
Greg Bryant Expansion
11:30pm-2:30am, $10 at the door
Born in Nashville, Greg Bryant became aware of music at an early age and gravitated towards the sounds of jazz, Blues, and R&B - being drawn to artists like Herbie Hancock, Weather Report, Miles Davis, BB King, Jimi Hendrix, Stevie Wonder, and James Brown. He studied piano as a child, did hip-hop as a teenager, and began playing bass in college in 1998. Bryant co-led and formed The Human Sound and the Cornerstone Jazz Trio. These musical units encouraged and provided the outlet for his musical discovery. While living in the Washington DC area for a time, participation in jazz club HR-57s jam sessions ignited the desire and passion in him to form his own group. In 2004, Greg Bryant moved back to Nashville and formed his own quintet with area players including Chris West (sax), Reagan Mitchell (sax), Jason Hoffheins (drums) and Brian Mesko (guitar.) Their weekly performances displayed their original compositions and conceptions of standards. In 2008, Greg began devoting his time to a new project ranging from quartet to sextet size called the Greg Bryant Expansion.