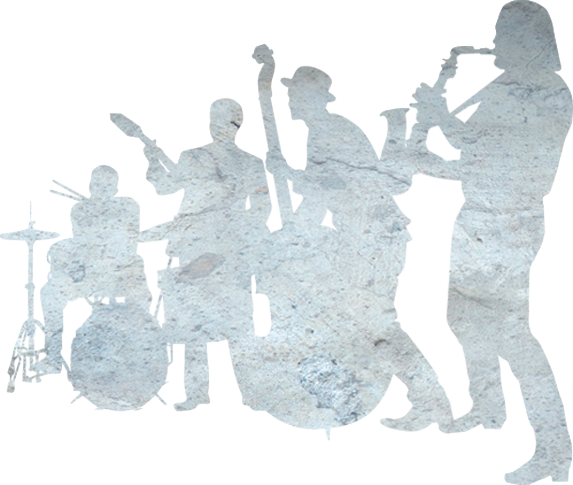 Music City's authentic late night jazz club
Serving classic New Orleans prohibition and pre-prohibition cocktails, local brews, and New Orleans cuisine.

HAPPY HOUR SPECIALS
Mon-Fri 5-7:30pm
Misterioso Mondays:
one of our most loved house cocktails for $8
Tuesdays -Rudy's loves Locals:
$4 Local Drafts, $5 Pickers, Corsair, or New Orleans beans & rice cup
Wednesdays Wooten & Wine:
$6 wines (Pinot Grigio, Malbec or Cava)
Thirsty Thursdays -Swing & Sazeracs:
$8 Sazeracs with purchase of ticket to show, $2 off drafts
Fridays Wine & Dine:
$19 Jazz Combo includes cup of New Orleans beans & rice, side salad, and choice of glass of Malbec or Pinot Grigio
TONIGHT'S SHOWS
Mel Deal
6:00pm-8:30pm, $10 at the door
Mel Deal has been performing as a jazz guitarist in the Nashville area for over forty years. He was a close friend and student of the late jazz guitar great, Jimmy Raney. He also studied with Pat Martino, and Lenny Breau.

As an instrumentalist, he has performed with the Nashville Symphony, The Nashville Opera Co., The Huntsville Symphony Orchestra, The Nashville Chamber Orchestra, The Birmingham Symphony, Midland/Odessa Texas Symphony, and The Germantown Chamber Orchestra in Memphis, TN. Artists he has performed with include: Michael Feinstein, Melba Moore, Lorna Luft, Idina Menzel, Rita Coolidge, Willie Nelson, Neil Sedaka, Jimmy Webb, Ricky Woodard, Gatemouth Brown, Groove Holmes, Gene Bertoncini, Jack Wilkins, Mark Feldman, Paul McCandless, and Mundell Lowe.

In addition to a playing career, Mel is part of the faculty at The Nashville Jazz Workshop. He has taught jazz guitar clinics at The University Of N. Alabama, Hume Fogg and Battleground Academy, and was a guitar instructor at Montgomery Bell Academy for fifteen years.
Bob Harsen Band
9:00pm-11:30pm, $10 at the door
As a graduate from Berklee College of Music with a Bachelors Degree of Music in Performance, Bob Harsen has
Toured/Recorded/Performed with Tiger Okoshi, Randy Brecker, Paul Butterfield Blues Band, Rachel Z. & Kilimanjaro while still residing in Boston. Bob also was on faculty at Berklee College of Music from 1986-88 teaching Drums & Electronic Drums, Percussion classes.

In 1988 Bob moved to Los Angeles and toured, recorded and performed with many musicians including Richard Elliot, Melissa Manchester, Peabo Bryson, Bobby Caldwell, Eric Marienthal, Brian Bromberg, Max Bennett, Mitch Forman, Frank Gambale, Lee Oskar, Glenn Hughes, Jack Sheldon Big Band & Quartet, Brandon Fields, John Patittucci, Tim Weisberg, Steve Perry, Rikki Lee Jones, Bette Midler, Sally Kellerman, Ann Margaret, David Garfield, Jon Pena, Luis Conte, Adam Cohen.

Bob has played the Montreal Drum Festival 2001, Clinics worldwide/NAMM Shows/Frankfurt Music Messe for Yamaha,Zildian,Remo,Regal Tip,Audio Technica,Pork Pie, Meinl

Currently residing in Nashville,TN Bob does session work, gigs & clinics and is endorsed by Gretsch Drums,Regal Tip Sticks,Remo Heads,DW Hardware & Audio-Technica Microphones.


DeGenova Trio
6:00pm-8:30pm, $10 at the door
Somewhere between a soul pop concert, South Side jazz club, slam poetry reading, and punk rock dive bar, lives the music of Cole DeGenova... As a pianist, vocalist, and composer Cole DeGenova has spent most of his life crafting his eclectic artistic voice, beginning his career at age 16 as a jazz pianist around his native Chicago. As a bandleader, he started his funky alternative soul group Cole DeGenova & The Peoples Republic at the prestigious Berklee College of Music, where he released his first album JUST PEOPLE AGAIN in 2009, followed by his second album ANOTHER COUNTRY in 2012.

Now based in Chicago and Los Angeles, he is both an in demand studio musician as well as a touring performer around the globe. He has worked with Lupe Fiasco, Brett Dennen, Chance the Rapper, Gallant, Meshell N'Degeocello, Paula Cole, James Carter, engineer Eddie Kramer, producer/drummer Dave King, Naughty Professor, The Heard, and experimental jazz trio Hanging Hearts. He was also featured on the Latin Grammy winning album "Fantastico" by Lucky Diaz and the Grammy-nominated album "Ology" by Gallant. His third album THE RADIO HERO MIXTAPE was released spring of 2015 and the song "Hollywood Girl" was chosen as a Finalist in the 2015 American Songwriting Awards. He is currently working with producer Georgia Anne Muldrow on his upcoming 4th album REALLY HUMAN, set to be released in 2018.
Wooten Wednesday
9:00pm-11:30pm, $10 at the door
What day is it, Nashville? It's Wooten Wednesday of course! Every Wednesday, Regi Wooten assembles a cast of Nashville's best as they dig deep into the roots of funk, jazz, blues, rock, and soul. You never know who might jump on stage! Don't miss a beat!

Marc Payne Solo Piano
5:30pm-7:30pm, no cover
One of the most talented young up and coming jazz pianists in Nashville, Marc Payne is sure to dazzle you with beautiful chords, lines, rhythms, and harmonies.
Swing dance instruction
8:20pm-9:00pm
Learn how to swing dance with swing dance lessons with Laynee Day.
Thursday Night Swing Dance w/ The Willies
9:00pm-12:00am, $10 at the door
The Willies are Nashville based roots artists conjuring the spirit of that time before bordello jazz & dirty fingernail blues were the background music for baristas and doggy bakeries. But as veterans of the American underground, the Willies aren't interested in reenacting the rough and tumble legacy of 20's swing & blues... they embody that energy. And these genres are only starting points... vintage bottles to contain several lifetimes of experience in the jazz, blues and Americana underground.

Marc Payne Solo Piano
5:30pm-7:30pm, no cover
One of the most talented young up and coming jazz pianists in Nashville, Marc Payne is sure to dazzle you with beautiful chords, lines, rhythms, and harmonies.
Connye Florance
8:00pm-11:00pm, $20 at the door
Singer songwriter legend Leon Russell (This Masquerade, A Song for You) refered to Connye Florance as "Velvet and Wine". Connye's deliciously smooth jazz vocals won her accolades as Jazz Discovery's "Vocalist of the Year" in 2000, just after her 1999 independent release Turn My Heart won a Nashville Grammy nomination for Album of the Year. Her music has gained international attention from jazz fans and adult contemporary listeners alike.

Connye's dynamic delivery and creamy-rich style have delighted countless audiences, from nightclub and theater performances on and off Broadway to headline and featured appearances at area jazz festivals and venues, alongside such notables as Steinway artist Beegie Adair, master trumpeter Randy Brecker, saxophonist Kirk Whalum, The Nashville Jazz Orchestra, and with her regularly stellar ensemble of musicians. Critics consistently call Connye's style "warm... captivating" and "like French silk pie; rich and delicious". Her fans simply call her "the real deal".
Greg Bryant Expansion
11:30pm-2:30am, $10 at the door
Born in Nashville, Greg Bryant became aware of music at an early age and gravitated towards the sounds of jazz, Blues, and R&B - being drawn to artists like Herbie Hancock, Weather Report, Miles Davis, BB King, Jimi Hendrix, Stevie Wonder, and James Brown. He studied piano as a child, did hip-hop as a teenager, and began playing bass in college in 1998. Bryant co-led and formed The Human Sound and the Cornerstone Jazz Trio. These musical units encouraged and provided the outlet for his musical discovery. While living in the Washington DC area for a time, participation in jazz club HR-57s jam sessions ignited the desire and passion in him to form his own group. In 2004, Greg Bryant moved back to Nashville and formed his own quintet with area players including Chris West (sax), Reagan Mitchell (sax), Jason Hoffheins (drums) and Brian Mesko (guitar.) Their weekly performances displayed their original compositions and conceptions of standards. In 2008, Greg began devoting his time to a new project ranging from quartet to sextet size called the Greg Bryant Expansion.

Bruce Dudley Solo Piano
5:30pm-7:30pm, no cover
Bruce Dudley has been playing piano professionally for over 40 years. His recent recordings include: Semblance, Mostly Monk, and The Solo Sessions. One writer for Jazz Times wrote, "Bruce Dudley's Mostly Monk respectfully takes the music of Thelonious Monk and lifts it to a new level with his musical imagination and masterful creativity." Rahsaan Barber, founder of Jazz Music City Records wrote, "The Solo Sessions is a fresh addition to Dudley's discography, presenting new compositions from the pianist as well as standards from the the Great American Songbook, all played with Dudley's trademark lyricism, touch, and wit." As well as appearing as pianist on the recordings by Evan Cobb, Imer Santiago, Sandra Dudley, Rachel Price, JazFX, and others, Dr. Dudley has performed concerts with popular and jazz artists such as Aretha Franklin, Crystal Gayle, Randy Brecker, Herb Ellis, Fraser McPherson, Eddie Daniels, George Russell, and others. He has played keyboards in the orchestras of over 35 touring Broadway shows, including Wicked, Jersey Boys, Grease, My Fair Lady, Aida, State Fair, The King and I, Guys and Dolls, Annie, Peter Pan, and Will Rodgers Follies.
Duffy Jackson Quartet
8:00pm-11:00pm, $20 at the door
Jackson is the son of Chubby Jackson, and played drums as a young child, making appearances with Count Basie, Duke Ellington, Woody Herman, and Buddy Rich before he finished high school. In 1971 he relocated to Los Angeles, where he played with Monty Alexander, Ray Brown, Herb Ellis, Lena Horne, Milt Jackson, and Barney Kessel. Following a tour of Japan with Benny Carter, he appeared on television for two years with Sammy Davis, Jr. (1974-1976). Later in the 1970s he played with Grover Mitchell and did a tour of Europe with the Count Basie Orchestra.

In the 1980s Jackson worked with Lionel Hampton, Al Jarreau, James Moody, and Sonny Stitt, and in 1985 re-joined the Basie orchestra while Thad Jones was its leader. Following this he worked with Illinois Jacquet and Artie Shaw, then re-joined the Basie Orchestra under Frank Foster. In the 1990s, he relocated to Fort Lauderdale, where he played with Harry Allen, Billy Ross, and the Manhattan Transfer."
Geoff Pfeifer
11:30pm-2:30am, $10 at the door
Geoff Pfeifer is a Nashville based musician and composer. He has been living and performing in Nashville since 2005. Geoff studied saxophone with Ted Nash and Ralph Lalama and composition with Mike Holober and Jim McNeely. He is a saxophonist and arranger with the R&B band Chubby and The Dots and plays the 2nd Tenor Saxophone chair in The Establishment Big Band.

Patrick Atwater
6:00pm-8:30pm, $10 at the door
Nashville bassist Patrick Atwater will lead a quintet of some of Nashville's top jazz musicians. The quintet will cover a wide range of material including hard swinging renditions of jazz standards, unique arrangements of popular songs, and interesting original music.
Jazz Jam
9:00pm-11:30pm, $10 at the door
Rudy's hosts the official pro jazz jam. Come out and experience some of music city's best as they take the stage with Nashville's next generation of jazz performers!

We welcome all ages to this show.

Re-Evolution
6:00pm-8:30pm, $10 at the door
Rudy's house band featuring Brian Cornish on saxophone, Regi Wooten on bass, Nioshi Jackson on drums, Adam Charney on guitar, and Marc Payne on piano. Re-Evolution is heavily influenced by traditional and classic jazz cutting edge artists such as John Coltrane, Miles Davis, Wes Montgomery, Bill Evans, McCoy Tyner, Elvin Jones, Thelonious Monk and many more...
Giovanni Rodriguez & 12 Manos
9:00pm-11:30pm, $10 at the door
Giovanni Rodriguez is an exciting multi-instrumentalist and Nashville favorite on the Salsa and jazz scene. An electric night of Salsa dancing! Ernesto Lago Violin (Cuba) - violin/vocals Alex Rivas (Cuba) - piano/vocals Yosvany Cordero (Cuba) - bongos/cowbell Brian Allen (Indiana) - bass Jesus Agreda (Venezuela) - timbales/drums Giovanni Rodriguez (Dominican Republic) - congas/vocals

Jaimee Paul
6:00pm-8:30pm, $10 at the door
Jaimee Paul has built a vocal career as a session singer by day, and jazz singer by night. In 2008, Jaimee was signed to Green Hill Music as their first female vocalist, and her debut record, "At Last", reached #1 on the iTunes Jazz charts. She has since recorded several more albums with Green Hill, including "Bonded", debuting at #6 on the charts, and produced by multi-Grammy award winning producer, Michael Omartian. Her latest Christian cd, "Hear My Prayer" was recently nominated for a Dove award for "Best Inspirational Album". She not only spends time in the studio, but on the road as well. She spent 2 and a half years singing background for country legend, Wynonna Judd, and spent 2013 singing backgrounds for Kelly Clarkson, including a tour with Maroon 5. She and her jazz band, with her husband, Leif Shires, on trumpet, have travelled the world playing for all kinds of audiences, performing arts centers and symphonies. You never know what they will be up to next.
Cliff Richmond & The Cliffnotes
9:00pm-11:30pm, $10 at the door
Cliff Richmond & the CliffNotes serve up a unique blend of soulful, swinging & funky jazz, They incorporate a wide range of styles from mainstream jazz, to rhythm & blues, Latin to reggae. Founded by Cliff (guitar & vocals) the CliffNotes always features some of Nashville's most accomplished and versatile musicians and vocalists.